Reading and Writing in College
Developmental English Instructor Product Details Page - Fusion: Integrated Reading and Writing, Book 2 (1133312497)
Acceleration Project CA CCs
Chabot College's accelerated English course is one of the longest running accelerated models nationwide.
California Acceleration Project | Integrated Reading and Writing Courses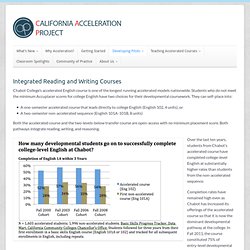 ALP_Faculty_Handbook_12_12
Developmental English - Interactions: A Thematic Reader, 8th Edition-9780495908296 - Ann Moseley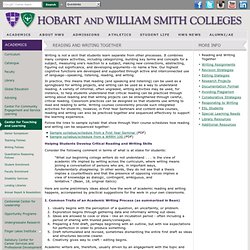 Academics: Reading and Writing Together
Writing is not a skill that students learn separate from other processes.
Developmental English - The Reader's Corner: Expanding Perspectives Through Reading, 4th Edition-9780495802563 - Carol C. Kanar
Developmental English - Insightful Writing: A Process Rhetoric with Readings, 1st Edition-9780618870264 - David Sabrio
Three Ways to Read and Discuss Texts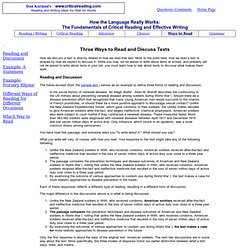 How we discuss a text is directly related to how we read that text. More to the point here, how we read a text is shaped by how we expect to discuss it. While you may not be asked to write about texts at school, and probably will not be asked to write about texts in your job, you must learn how to talk about texts to discover what makes them work.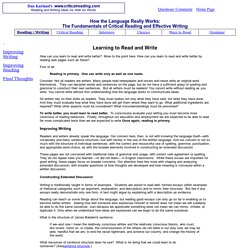 Learning to Read and Write
How can you learn to read and write better? More to the point here: How can you learn to read and write better by reading web pages such as these? First of all: Reading is primary. One can write only as well as one reads.
Reading and Writing publishes high-quality, scientific articles pertaining to the processes, acquisition, and loss of reading and writing skills. The journal fully represents the necessarily interdisciplinary nature of research in the field, focusing on the interaction among various disciplines, such as linguistics, information processing, neuropsychology, cognitive psychology, speech and hearing science and education. Coverage in Reading and Writing includes models of reading, writing and spelling at all age levels; orthography and its relation to reading and writing; computer literacy; cross-cultural studies; and developmental and acquired disorders of reading and writing. It publishes research articles, critical reviews, theoretical papers, case studies and book reviews. The journal also publishes short articles and pilot reports with preliminary results.
Reading and Writing – incl. option to publish open access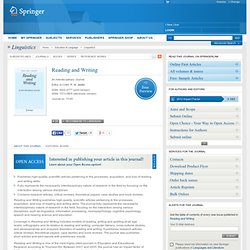 'Reading Like a Writer,' by Francine Prose
Improving College Reading Skills
he following are samples of group writing activities offered by the Center for Instruction Development and Research at University of Washington at Seattle. A. Ask students to work together revising a document that has already been written. This is a useful activity for work on focus, organization, support, and use of jargon. You might have them rewrite something for a different purpose or audience.
Two Entry Notebooks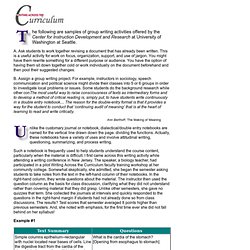 Shanahan on Literacy
Reading and Writing
Writing and reading are closely related and, some would say, inseparable. Better writers tend to be better readers, and better readers produce better writing. It makes sense that the strategies children use to read are the same ones they use to write. Parents and teachers can take advantage of the connection between reading and writing by showing their students how enjoyable reading is. For a more comprehensive discussion of motivational tips below, please read "An Offer They Cannot Refuse."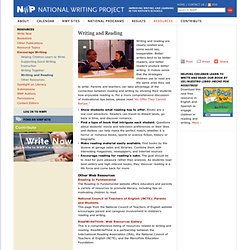 Writing and Reading
At tomorrow's pedagogy workshop here on campus (2.17.10), we'll be reading and discussing Mariolina Salvatori's College English article "Conversations with Texts: Reading in the Teaching of Composition" (1996). While acknowledging that I'm oversimplifying, I want to mention four important points in the article, and think through them (now, 14 years later) in terms of pedagogy inflected by digital writing tools. Salvatori herself describes the project of her article as "an argument on behalf of the theoretical and practical appropriateness of using 'reading' as a means of teaching 'writing'" (441). Within this frame, she works through several related ideas; I'd like to think though the following four: 1.
Reading, Writing, Marking, & Difficulty: Re-Reading Salvatori in Light of Digital Writing Practices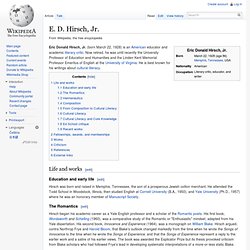 E. D. Hirsch, Jr.
Eric Donald Hirsch, Jr. (born March 22, 1928) is an American educator and academic literary critic . Now retired, he was until recently the University Professor of Education and Humanities and the Linden Kent Memorial Professor of English Emeritus at the University of Virginia .
Reading & Writing Center - Home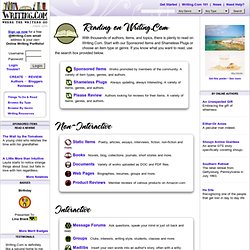 Reading
Create | Get Started | Writing.Com 101 | News | Need Help? With thousands of authors, items, and topics, there is plenty to read on Writing.Com. Start with our Sponsored Items and Shameless Plugs or choose an item type or genre. If you know what you want to read, use the search box provided below.
Nancy%20Morrow%20The%20Role%20of%20Reading%20in%20the%20College%20Composition%20Class
goen
From high school to college Some students make very smooth transitions from writing in high school to writing in college, and we heartily wish all of you an easy passage. But other students are puzzled and frustrated by their experiences in writing for college classes. Only months earlier your writing was winning praise; now your instructors are dissatisfied, saying that the writing isn't quite "there" yet, saying that the writing is "lacking something." You haven't changed--your writing is still mechanically sound, your descriptions are accurate, you're saying smart things. But they're still not happy.
Writing in College - 1. Some crucial differences between high school and college writing
Refiguring the Ph.D. in English Studies: Writing, Doctoral Education, and Suny-Albany's Fusion-Based Curriculum by Stephen M. North - Reviews, Discussion, Bookclubs, Lists
lit in comp
by Jill Degraw The most recent discussion of the use of literature in composition classrooms began at the 1992 Conference on College Composition and Communication. During that conference, Erika Lindemann and Gary Tate presented their views, which were published, in revised form, in College English in March 1993 (Lindemann, "Three Views" 287). This issue, with some ramifications and digressions from it, was discussed in several succeeding volumes of College English . The issue, as initially outlined in the Lindemann and Tate articles, was whether or not reading literature should be part of the freshman composition course.
At the San Francisco State campus of the California State University (CSU) where I teach, nearly half the entering class of first year students place into developmental level English courses based on their score on a systemwide English Placement Test. We know, from data accumulated from over 20 years of EPT administrations, that it is their performance on the reading section the test that disproportionately accounts for their placement in developmental level English classes. At virtually all CSU campuses, this means students enroll in a writing course to address their difficulties with reading.
Teaching Basic Writing Online
WritingToRead_01
Connections Between Language by Hand and Language by Eye Todd Richards Abstract Four approaches to the investigation of connections between language by hand and language by eye are described and illustrated with studies from a decade-long research program. In the first approach, multigroup structural equation modeling is applied to reading and writing measures given to typically developing writers to examine unidirectional and bidirectional relationships between specific components of the reading and writing systems.
Writing and Reading
Though the connection between reading and writing seems to be a "given," reading was not always a dominant force in writing classrooms. In the nineteenth century, students did not typically write analyses of what they read, but instead wrote themes on prescribed topics, such as Vanity, Democracy, Ethics, and so on.
Integrating Reading and Writing | Institute for Writing and Rhetoric
The CCC Online Archive: Peshe C. Kuriloff. What Discourses Have in Common: Teaching the Transaction between Writer and Reader.
79.04.01: Writing Through Reading
Writing Guide: Critical Reading