Reading and Writing in College
Study Skills | Howtostudy.org - When you hit the books - and they hit back.
Developmental English Instructor Product Details Page - Fusion: Integrated Reading and Writing, Book 2 (1133312497)
June 2011: Faculty from across California gather in San Diego to plan for accelerated English and pre-Statistics courses they will teach in 2011-12 Large research studies inside and outside California have established that the more levels of developmental courses a student must take, the less likely the student is to ever complete college courses in English and Math. The California Acceleration Project stresses that we can't keep attributing this problem to students' low skills or low motivation. Instead, we must examine our curricular sequences themselves. In a series of 8 regional workshops in 2010-11, initiative leaders Katie Hern and Myra Snell made the case that high attrition rates are structurally guaranteed in multi-semester developmental sequences. The more "exit points" where students can fall away by not passing or not enrolling in the next course, the smaller the number of students who will complete the final course.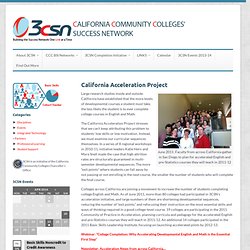 Acceleration Project CA CCs
Chabot College's accelerated English course is one of the longest running accelerated models nationwide. Students who do not meet the minimum Accuplacer scores for college English have two choices for their developmental coursework. They can self-place into: A one-semester accelerated course that leads directly to college English (English 102, 4 units), orA two-semester non-accelerated sequence (English 101A-101B, 8 units)
California Acceleration Project | Integrated Reading and Writing Courses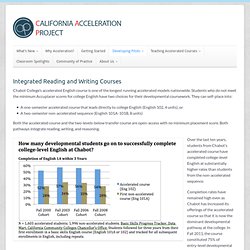 ALP_Faculty_Handbook_12_12
Prepared by Tracey Hall & Nicole Strangman Please visit the AIM Center home page. Introduction One way to help make a curriculum more supportive of students and teachers is to incorporate graphic organizers.
Graphic Organizers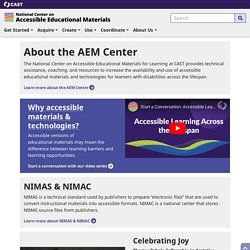 College Readiness Assignments for Texas | The Network for College Readiness Assignment Field Testing in Texas
Developmental English - Interactions: A Thematic Reader, 8th Edition-9780495908296 - Ann Moseley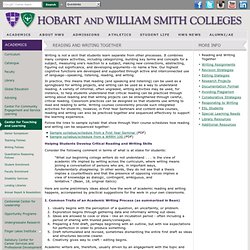 Academics: Reading and Writing Together
Writing is not a skill that students learn separate from other processes. It combines many complex activities, including categorizing, building key terms and concepts for a subject, measuring one's reaction to a subject, making new connections, abstracting, figuring out significance, and developing arguments—to name a few. Our highest cognitive functions are developed and supported through active and interconnected use of language—speaking, listening, reading, and writing. In practice, this means that reading (and speaking and listening) can be used as a springboard for writing projects, and writing can be used as a way to understand reading.
Developmental English - The Reader's Corner: Expanding Perspectives Through Reading, 4th Edition-9780495802563 - Carol C. Kanar
Table of Contents Introduction: Learning to LearnReading: David Sabrio, "Learning Styles"What's Your Learning Style?Reading: David Sabrio and Mitchel Burchfield, "Multiple Intelligences"Student Essay: Richie Saavedra, "Not a Perfect Person"I. Looking Inside the Writing Process1. Writing and LearningThe Writing ProcessReading EffectivelyOrganizing, Drafting, and ShapingStudent Essay: Melissa Anne Scott, "Tips for a New Preschool Teacher"Student Essay: Ricky Varela, "My Hobby"2: Discovering IdeasRevisionReading: Dianne Hales, "Getting Yourself Back on Track"Reading: Ben Fong-Torres, "He Wails for the World"Student Essay: Michael Verderber, "An Alienated Asian"3.: Revision and StyleRevising for Some Common Sentence-Level ProblemsAchieving Clarity and Eliminating AwkwardnessII.
Developmental English - Insightful Writing: A Process Rhetoric with Readings, 1st Edition-9780618870264 - David Sabrio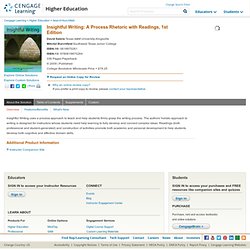 Three Ways to Read and Discuss Texts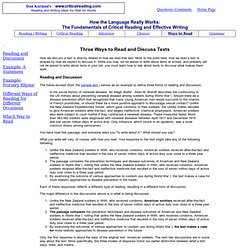 How we discuss a text is directly related to how we read that text. More to the point here, how we read a text is shaped by how we expect to discuss it. While you may not be asked to write about texts at school, and probably will not be asked to write about texts in your job, you must learn how to talk about texts to discover what makes them work.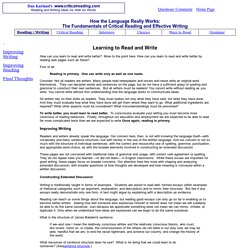 Learning to Read and Write
How can you learn to read and write better? More to the point here: How can you learn to read and write better by reading web pages such as these? First of all: Reading is primary. One can write only as well as one reads.
Copyright Information For Authors Submission of a manuscript implies: that the work described has not been published before (except in form of an abstract or as part of a published lecture, review or thesis); that it is not under consideration for publication elsewhere; that its publication has been approved by all co-authors, if any, as well as – tacitly or explicitly – by the responsible authorities at the institution where the work was carried out. Author warrants (i) that he/she is the sole owner or has been authorized by any additional copyright owner to assign the right, (ii) that the article does not infringe any third party rights and no license from or payments to a third party is required to publish the article and (iii) that the article has not been previously published or licensed. The author signs for and accepts responsibility for releasing this material on behalf of any and all co-authors.
Reading and Writing – incl. option to publish open access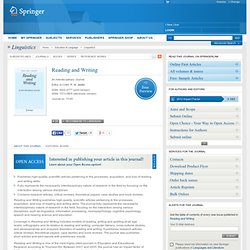 'Reading Like a Writer,' by Francine Prose
Improving College Reading Skills
he following are samples of group writing activities offered by the Center for Instruction Development and Research at University of Washington at Seattle. A. Ask students to work together revising a document that has already been written. This is a useful activity for work on focus, organization, support, and use of jargon. You might have them rewrite something for a different purpose or audience.
Two Entry Notebooks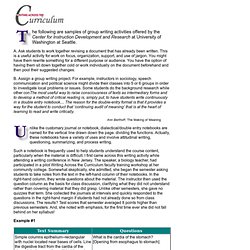 Recently, Education Week published an interesting piece about a Florida program aimed at extending the school days of children in the 100 lowest-performing elementary schools in the state. These schools were mandated to add an extra hour of reading instruction to their days. The result: 75% of the schools improved their reading scores, 70 of them coming off the lowest-performing list. Duh! Those who know my work in the schools are aware that amount of instruction is always the first thing that I look at.
Shanahan on Literacy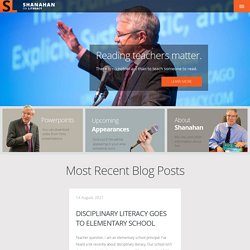 Reading and Writing
Writing and reading are closely related and, some would say, inseparable. Better writers tend to be better readers, and better readers produce better writing. It makes sense that the strategies children use to read are the same ones they use to write. Parents and teachers can take advantage of the connection between reading and writing by showing their students how enjoyable reading is. For a more comprehensive discussion of motivational tips below, please read "An Offer They Cannot Refuse."
Writing and Reading
At tomorrow's pedagogy workshop here on campus (2.17.10), we'll be reading and discussing Mariolina Salvatori's College English article "Conversations with Texts: Reading in the Teaching of Composition" (1996). While acknowledging that I'm oversimplifying, I want to mention four important points in the article, and think through them (now, 14 years later) in terms of pedagogy inflected by digital writing tools. Salvatori herself describes the project of her article as "an argument on behalf of the theoretical and practical appropriateness of using 'reading' as a means of teaching 'writing'" (441). Within this frame, she works through several related ideas; I'd like to think though the following four: 1.
Reading, Writing, Marking, & Difficulty: Re-Reading Salvatori in Light of Digital Writing Practices
E. D. Hirsch, Jr.
Eric Donald Hirsch, Jr. (born March 22, 1928) is an American educator and academic literary critic. Now retired, he was until recently the University Professor of Education and Humanities and the Linden Kent Memorial Professor Emeritus of English at the University of Virginia.
Reading
Nancy%20Morrow%20The%20Role%20of%20Reading%20in%20the%20College%20Composition%20Class
goen
Writing in College - 1. Some crucial differences between high school and college writing
Refiguring the Ph.D. in English Studies: Writing, Doctoral Education, and Suny-Albany's Fusion-Based Curriculum by Stephen M. North - Reviews, Discussion, Bookclubs, Lists
Teaching Basic Writing Online
WritingToRead_01
Writing and Reading
Integrating Reading and Writing | Institute for Writing and Rhetoric
The CCC Online Archive: Peshe C. Kuriloff. What Discourses Have in Common: Teaching the Transaction between Writer and Reader.
79.04.01: Writing Through Reading
Writing Guide: Critical Reading