Weddings
A Real Winter Wedding with Red Wellies - Swoon. Ok how serendipitous is this… I just created a winter wedding inspiration board with red wellies and lo and behold, Carmen and Ingo send over to me a real wedding that features the exact same red wellies.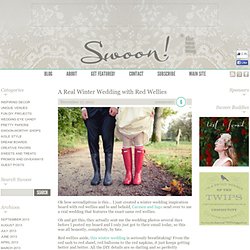 Oh and get this, they actually sent me the wedding photos several days before I posted my board and I only just got to their email today, so this was all honestly, completely, by fate. Red wellies aside, this winter wedding is seriously breathtaking! Lucy Dylan Weddings » Blog Archive » Lemonade Bar. I love the trend of lemonade bars!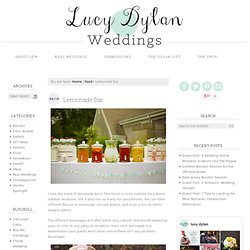 This trend is more suitable for a warm outdoor reception, but it also has so many fun possibilities. You can have different flavors of lemonade, infused waters, and even a non-alcoholic sangria option. The different beverages will offer some very vibrant (and mouth-watering) pops of color to any party or reception. From mint lemonade to a watermelon your guests won't even notice there isn't any alcoholic beverages. Life of a Vintage Lover. A Handmade Outer Banks Wedding. Austin Weddings | Austin Wedding Blog.
---