Patterns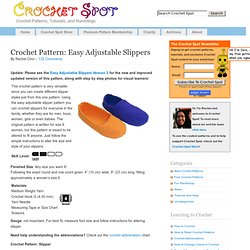 Update: Please see the Easy Adjustable Slippers Version 2 for the new and improved updated version of this pattern, along with step by step photos for visual learners ! Finished Size : Any size you want it! Following the exact round and row count given: 4" (10 cm) wide, 9" (23 cm) long, fitting approximately a women's size 6 Gauge : not important. For best fit, measure foot size and follow instructions for altering slipper.
Easy Adjustable Slippers
International Yarns | Free Project | Janis Vest
Chain (ch), single crochet (sc), slip stitch (sl st), treble crochet (tr) Fsc: Foundation single crochet (This technique creates a foundation chain and a row of single crochet stitches in one) – Step 1: Place a slip knot on hook, ch 2, insert hook in 2nd ch from hook and draw up a loop; yarn over and draw through one loop on hook (the "chain"); yarn over and draw through 2 loops on hook (the "single crochet"). Step 2: Insert hook into the "chain" of the previous stitch and draw up a loop, yarn over and draw through one loop on hook (the "chain"), yarn over and draw through 2 loops on hook (the "single crochet"). Repeat for the length of foundation. rev sc: Reverse single crochet—Work single crochet in opposite direction by inserting hook in next stitch (to the right if right-handed, and to the left if left-handed), yarn over and draw up a loop, yarn over and draw through both loops on hook.
Get all dolled up in fabulous fifties style with these blue beauties! Choose the adult or child size, or make both for a mother-daughter set. By Regina Rioux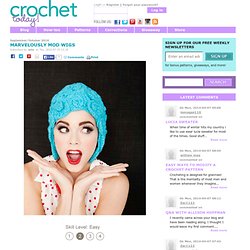 Marvelously Mod Wigs
[ Close Privacy Policy ] Privacy Policy / Your California Privacy Rights Revised and posted as of March 4, 2013 Prime Publishing, LLC ("Company," "we" or "us") reserves the right to revise this Privacy Policy at any time simply by posting such revision, so we encourage you to review it periodically. In order to track any changes to this Privacy Policy, we will include a historical reference at the top of this document.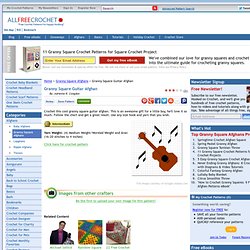 Granny Square Guitar Afghan
FREE Crochet Patterns - Maggie's Crochet - Maggie Weldon
Easy Wrap Comfort Scarf Crochet Pattern
Square Pegs Round Holes Crochet Pattern
Fandango Throw Crochet Pattern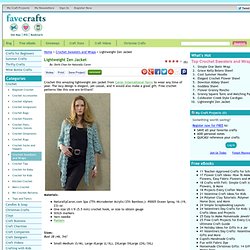 Crochet this amazing lightweight zen jacket from Caron International Yarns to wear any time of year. The lacy design is elegant, yet casual, and it would also make a great gift. Free crochet patterns like this one are brilliant! Materials : NaturallyCaron.com Spa (75% Microdenier Acrylic/25% Bamboo;): #0005 Ocean Spray, 16 (19, 23) oz One size US I/9 (5.5 mm) crochet hook, or size to obtain gauge Stitch markers Yarn needle PATTERN Small-Medium (S/M), Large-XLarge (L/XL), 2XLarge-3XLarge (2XL/3XL)
Lightweight Zen Jacket
[ Close Privacy Policy ] Privacy Policy / Your California Privacy Rights Revised and posted as of March 4, 2013 Prime Publishing, LLC ("Company," "we" or "us") reserves the right to revise this Privacy Policy at any time simply by posting such revision, so we encourage you to review it periodically.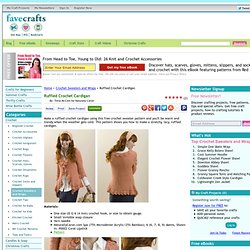 Ruffled Crochet Cardigan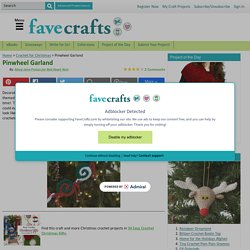 Crochet Christmas ornament patterns are a blast to make. Try this crochet pattern for Pinwheel Garland and add some whimsy to your Christmas tree. Garland measures 32½" long. Materials : RED HEART "Holiday" : 1 Ball each 9040 Red/Silver A, 6040 Green/Silver B, and 1040 White/Silver C. Crochet Hooks : 4mm [US G-6].
Pinwheel Garland
Hello fellow crafty people :) What is a Soccasin? It is a unisex moccasin-style slipper with a built-in sock leg to keep little feet very toasty and warm. I have designed the length of the sock leg to hug the ankles when folded down but you can alter the length at will. This pattern can also be used for a Ballet Slipper or a Slipper.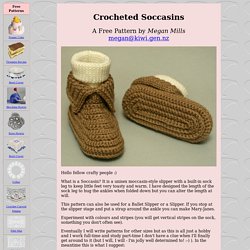 Soccasins
Sock image
Sweet Heart Crochet Pattern
A valentine gift for you - a free tutorial for a crocheted heart! This pattern is completely free but if you would like to make a donation to support my work and show your appreciation then I will send you an 11 page PDF version that you can download to print or be able to use when you are not on-line. The PDF version also includes a complete text version of the pattern for a simple black and white printing option (just print the last two pages). Donations can be made through Paypal, and truly, any amount is appreciated, no amount is too small :) As soon as I receive notification of a donation I will email your Sweet Heart Crochet Pattern PDF to you. Your pattern will be mailed to the email connected to Paypal unless otherwise noted in a message to me. Thank you so much for your consideration and I hope you enjoy this free pattern!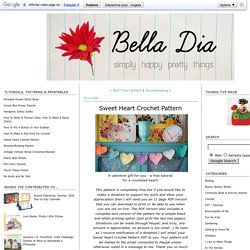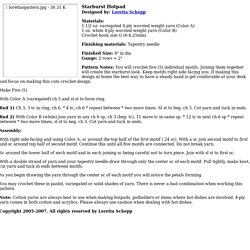 Loretta's Starburst Hotpad Pattern
Starburst Hotpad Designed by: Loretta Schepp Materials: 1-1/2 oz. variegated 4-ply worsted weight yarn (Color A) 1 oz. white 4-ply worsted weight yarn (Color B) Crochet hook size G (6-4.25mm) Ergonomic Desk (optional) Finishing materials: Tapestry needle Finished Size: 8" in dia Gauge: 2 rows = 2"
Newsletters | Crochet World Magazine | The Magazine For Crochet Lovers
The delightful texture of a diagonal shell pattern gives this beautiful fall design by Kathleen Stuart warmth everyone will appreciate! The individual take-along block styling lets you stitch during warm weather and then assemble later, so you'll be ready when chilly winds start to blow. Mimic the rich fall colors shown in this stunning afghan or use your scraps to create your own one-of-a-kind design.
Crocheted Square Patterns
Crocheted Refrigerator Magnets
Alternating double crochet and slip stitch are used to form the texture portions of this pattern. I've worked out three different starting chain lengths for a narrow wristband (or exercise sweatband), wristwarmer and a longer wrist/arm warmer. Abbreviations: ch = chain, chs = chains, ea = each, dc = double crochet, sc = single crochet, sl st = slip stitch, sp = space, st = stitch, st ch = starting chain How To Slip Stitch: Insert the crochet hook in the next stitch to be worked, wrap the yarn over the hook, pull the yarn through the stitch to be worked and the loop already on the hook, all at the same time.
Crunch Texture Wristbands - Crochet Pattern
Extra Luscious Ruffle Bath Puff I've never been one for washcloths, having always preferred the luxurious suds created by a bath puff. With one skein of yarn and simple stitches you can crochet yourself what will hopefully become the best bath puff you've ever owned. Make sure your stitches are loose to allow for maximum sudsing power.
Free Crochet Bath Puff Pattern
Crochet Alphabet
Hey y'all! I can only make up to 10 pages on here, unless Blogger decides to be nice and change that rule. So, too bad for you and your scroll buttons, the entire alphabet will be contained in this one massive page. How 'bout that?
Frog Head Hat
Frog Head Hat for newborns. ((Please look through the other patterns in my blog for helpful links to crochet stitches used.) Green Yarn. (I used Simply Soft) Red Yarn (I used Simply Soft Wine -- it is best to use the same type/size yarn for both hat and rim.) ~If you use a thicker yarn-the hat will be larger.
Knit and Crochet Now! TV
Lacy Flower Runner
Not-so Simple Kerchief
Popcorn Swirl Bedspread
Varna Toddler Jacket
3″ CROCHETED HEART « Fabric Follies Two
How Tuesday: make crochet flowers
Basic Rose
flower necklace/scarf gnat on the windshield
International | Free Project | Maxi Miters Afghan