Paper
Stitched Kids' Art Note Cards : Daily source of DIY craft projects and inspiration, patterns, how-tos | Craftzine.com. By Future Craft Collective In our house the piles of random artwork are vast and ever present.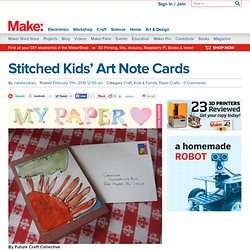 We all like to draw, paint, and sketch, and when one is drawing, painting, sketching, it encourages all others in the house to do the same. We love the process but don't always know what to do with the widespread piles of artwork that are the result. We use some for wrapping paper. We use others for writing letters to send to far-flung family and friends. Google Map Envelopes : Daily source of DIY craft projects and inspiration, patterns, how-tos | Craftzine.com. One of my goals in the new year has been to write more "snail mail" letters to friends.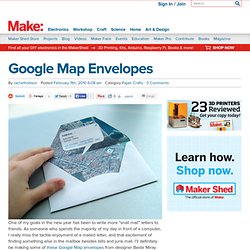 As someone who spends the majority of my day in front of a computer, I really miss the tactile enjoyment of a mailed letter, and that excitement of finding something else in the mailbox besides bills and junk mail. I'll definitely be making some of these Google Map envelopes from designer Beste Miray Dogan to send to friends. Mapenvelop is a mailing envelope lined with an image from Google Maps. Not just any image, but a map of exactly where the letter originated. [via @SisterDiane] Vintage Cereal Collection. Mother's Day Cards.
Origami paper wreath. Here is a fun way to make use of leftover paper, gift wrap scraps or this year's old calendar pages, while also getting into the holiday spirit – make an origami paper wreath!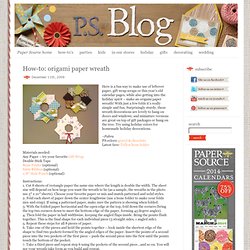 With just a few folds it's really simple and fun. Surprisingly sturdy, these wreath decorations are lovely to hang on doors and windows, and miniature versions are great on top of gift packages or hung on the tree. Vintage Book Planner Tutorial. I desperately needed a day planner.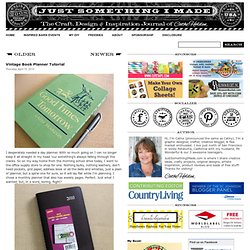 With so much going on I can no longer keep it all straight in my head 'cuz something's always falling through the cracks. So on my way home from the morning school drive today, I went to the office supply store to shop for one. Paper Flower Tutorial. I came across these incredible paper flowers and I just had to make them (then made like 100, I loved them so much) Now, I've created a tutorial to share the love!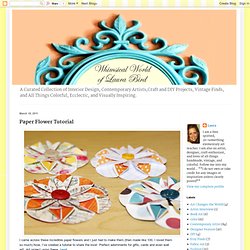 Perfect adornments for gifts, cards and even wall art! Art project using these, here! Paper Lantern Ornaments. Want a cute, simple decoration that you can make in minutes?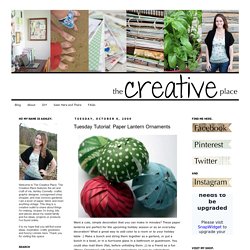 These paper lanterns are perfect for the upcoming holiday season or as an everyday decoration! What a great way to add color to a room or to your holiday table :) Make a bunch and string them together as a garland, or put a bunch in a bowl, or in a hurricane glass in a bathroom or guestroom. You could also mail them (flat, before unfolding them ;)) to a friend as a fun "Merry Christmas" gift with quick instructions on how to unfold them. I decided to use holiday paper, but was thinking these would also be fun as everyday decorations with leftover scraps of scrapbooking paper or found/vintage paper.
What you'll need: - Paper - enough to cut 15 strips - ½"x4" (7.5"x4") - 2 small brads - Ruler, 1/16" hole punch or pushpin to poke holes, exacto blade or rotary cutter and a cutting mat. Paper doll dress bookmark. Petal-shaped gift boxes.
---