Inspiration Me and my hotpants are headed off to Rhinebeck this weekend. Which means that Halloween is creeping up on us. Don't fret! There's still time to crochet a brain! If you or a loved one needs a last-minute costume and would like to dress up as a mad scientist, zombie prey, The Brain, or some combination of the above, check out my "Brainy Maniac" pattern in the September-October issue of Crochet Today!
Flint Knits » Blog Archive » HEY. YOU. Halloween is just around the corner.
For the Love of Crochet Along
Handmade by Mother
"Did you find everything you need?", asked the cashier at Trader Joe's. "Everything but the sugar," I replied. The cashier called over to the manager to ask about the sugar, and the manager said it had been discontinued.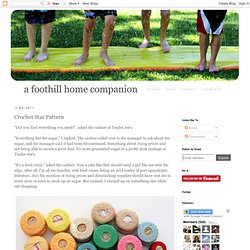 Crochet Star Pattern
390270703355_0.jpg (JPEG Image, 96x96 pixels)
Free Form Designs