Inspiration
Flint Knits » Blog Archive » HEY. YOU. Halloween is just around the corner.
Stitches. For the Love of Crochet Along. Handmade by Mother. Crochet Star Pattern. "Did you find everything you need?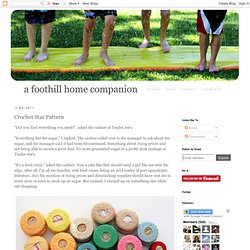 ", asked the cashier at Trader Joe's. "Everything but the sugar," I replied. The cashier called over to the manager to ask about the sugar, and the manager said it had been discontinued. 390270703355_0.jpg (JPEG Image, 96x96 pixels) Free Form Designs.
---