Inspiration Me and my hotpants are headed off to Rhinebeck this weekend. Which means that Halloween is creeping up on us. Don't fret! There's still time to crochet a brain! If you or a loved one needs a last-minute costume and would like to dress up as a mad scientist, zombie prey, The Brain , or some combination of the above, check out my "Brainy Maniac" pattern in the September-October issue of Crochet Today !
Flint Knits » Blog Archive » HEY. YOU. Halloween is just around the corner.
For the Love of Crochet Along
Handmade by Mother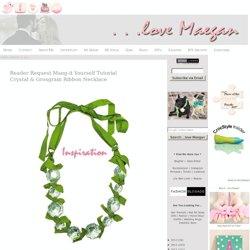 This Reader Request Maeg-it Yourself was inspired by and made for Kaitlyn who submitted the Amanda Pearl Vintage Crystal & Grosgrain Necklace $298.00 . Thank you Kaitlyn, and Congrats! I hope you like it ...but if not, I'll gladly keep it for myself ;) Email your whereabouts to lovemaegan@gmail.com and I'll send it to you asap. And for the rest of you ...an easy DIY.
...love Maegan: Reader Request Maeg-it Yourself TutorialCrystal & Grosgrain Ribbon Necklace Fashion+Home+Lifestyle Blog
"Did you find everything you need?", asked the cashier at Trader Joe's. "Everything but the sugar," I replied. The cashier called over to the manager to ask about the sugar, and the manager said it had been discontinued.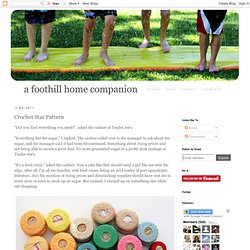 Crochet Star Pattern
390270703355_0.jpg (JPEG Image, 96x96 pixels)
Crochet Inspiration
Free Form Designs
Shop Adults | Vickie Howell