Inspiration
Flint Knits » Blog Archive » HEY. YOU. Halloween is just around the corner.
For the Love of Crochet Along
Over on my blog I have been posting about how I want 2014 to be the year whereby I get to grips with being able to follow crochet patterns and end with with it looking as it should!! To make a start, over Christmas I made up the two pink flower coasters using the kit from issue 22 of Mollie Makes. To say I was pleased would be an understatement and my first coaster was completed sat up in bed with a cup of tea! Due to Christmas there was a bit of a gap before I had a chance to make the second one and after a couple of false starts I finished that one as well. It is only a small step but I have also made three head/ ear warmers since then as well.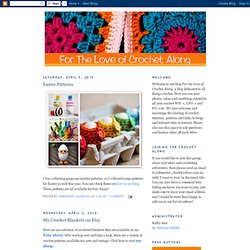 Sherbet Sweater Pattern (Lea 067) from Laine Dor Yarns, Montreal, c. 1985 On Thursday, February 9th, the World Wildlife Fund is asking everyone in northern climes to turn down the heat and wear a sweater to slow global warming and save the Earth. According to their Sweater Day website: "If every Canadian lowered the heat a few degrees this winter, it'd be like taking 300,000 vehicles off the road!"
Handmade by Mother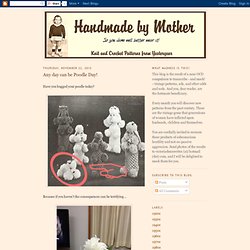 "Did you find everything you need?", asked the cashier at Trader Joe's. "Everything but the sugar," I replied. The cashier called over to the manager to ask about the sugar, and the manager said it had been discontinued.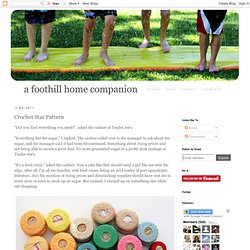 Crochet Star Pattern
390270703355_0.jpg (JPEG Image, 96x96 pixels)
Free Form Designs