Indian Food
Welcome to Fauzia's Kitchen Fun | Fauzia's Kitchen Fun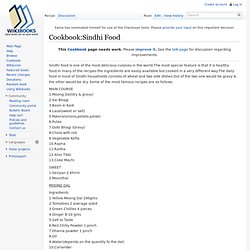 Sindhi Food Cookbook
Sindhi food is one of the most delicious cuisines in the world.The most special feature is that it is healthy food.In many of the recipes the ingredients are easily available but cooked in a very different way.The daily food in most of Sindhi households consists of wheat and two side dishes.Out of the two one would be gravy & the other would be dry. Some of the most famous recipes are as follows. MAIN COURSE 1.Moong Dal(dry & gravy) 2.Sai Bhagi 3.Basin ki Kadi 4.Lassi(sweet or salt) 5.Pakora(onions,potato,palak) 6.Pulao 7.Gobi Bhagi (Gravy) 8.Chola with roti 9.Vegetable Kofta 10.Rajma 11.Raitha 12.Aloo Tikki 13.Coke Machi SWEET 1.Seviyan Ji Khirni 2.Moonthal Ingredients 1.Yellow Moong Dal 200gms 2.Tomatoes 2 average sized 3.Green Chillies 4 pieces 4.Ginger 8-10 gms 5.Salt to Taste 6.Red Chilly Powder 1 pinch 7.Dhania powder 1 pinch 8.Oil 9.Water(depends on the quantity fo the dal) 10.Coriander 11.Pepper powder 1 table spoon
Absolutely Perfect Palak Paneer Recipe
January 5th, 2007 filed under Paneer (Indian Cheese), Vegetables Curry / Gravy Palak Paneer is creamy spinach with paneer (indian home made paneer). This is a very popular with youngsters and served in every indian resturant.
Palak (Spinach) Paneer | Manjula's Kitchen | Indian Vegetarian Recipes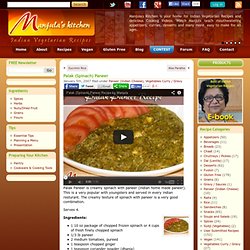 This is definitely not a Valentine's Day dish. It's not special and it's completely and utterly pedestrian, at least in Pakistani households. Regardless, I wanted to share it with you today because it's the first dish I ever cooked for my husband. Way back when, five years ago, in April, I met my husband through my sister. She met him and put him in touch with me, he was in grad school in Toronto and I was in grad school in Montreal and in my sister's mind that was enough reason for us to get along.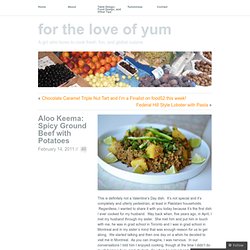 Aloo Keema: Spicy Ground Beef with Potatoes « for the love of yum
Things are hectic lately. We're about to move, which is always a stressful time. Yes, finally, I am moving to a big city, Toronto. My husband used to live there, so it won't be too hard adjusting. Despite all my complaining about where I live now, I am going to miss it. My apartment feels so homey, anyone who visits says the same thing.
Chicken Shami Kebabs « for the love of yum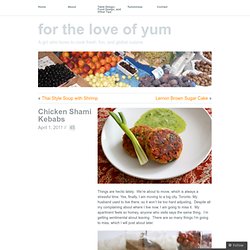 HOME | ABOUT | MEDIA | FAQs | INDIAN 101 | A-Z INDIAN HOME COOKING | RECIPES Recipe Index Dips, Sauces and Chutneys Soups and Stews
Hooked on Heat Recipe Index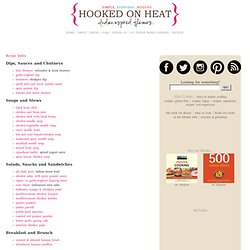 Curry In Kadai
Are your Beerakaya aka Ridgegourd peels making their way to trash.. wait.. just check out this awesome chutney that's made with the nutrient and fiber rich rigde gourd peels. Believe me vegetable peels never tasted this good! This recipe has been handed down to me from my grandmother, who is a kitchen pro. She has that midas touch, so even the simplest recipes work wonders for our palettes.. She keeps saying this "Uppu karam sarigga padithe cheppu ayina baguntundhi", Even the footwear tastes good if you cook it with right spice and salt! Sauteed ridge gourd peels and green chillies are ground in mortar and pestle along with tamarind and onion finished with cilantro tastes heaven with ghee rice or steaming hot rotis.