DESIGN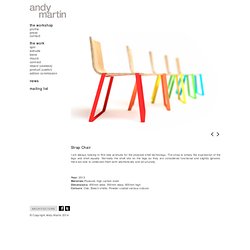 Strap Chair I am always looking to find new avenues for the plywood shell technology. The strap is simply the expression of the legs and shell equally. Normally the shell sits on the legs as they are considered functional and slightly ignored. Here we look to celebrate them both aesthetically and structurally. Year: 2012 Materials:Plywood, high carbon steel Dimensions: 450mm wide, 500mm deep, 800mm high Colours: Oak, Beech shells, Powder coated various colours
Andy Martin . Strap Chair
Hilla Shamia's Portfolio
inoow design lab
This page (together with the documents referred to on it) tells you the terms of use on which you may make use of our website www.cole-and-son.com (our site), whether as a guest or a registered user. Please read these terms of use carefully before you start to use the site. By using our site, you indicate that you accept these terms of use and that you agree to abide by them. If you do not agree to these terms of use, please refrain from using our site.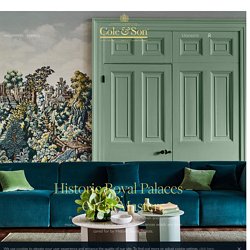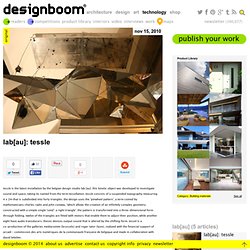 lab[au]: tessle
nov 15, 2010 lab[au]: tessle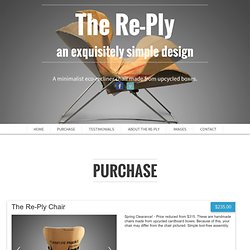 The Re-Ply Chair
The recliner – redesigned from the box up. Boxes are collected, stacked, cut, laminated, molded and folded into a strong, comfortable shell. A triangular steel base allows the chair to rock and recline.
Caractéristiques techniques Dimensions: 70 x 40 x 40 cm - 2 coques emboîtables, Bac: 70 x 40 x 15 cm, Couvercle: 70 x 40 x 25 cm, Ouverture: 18 x 21 cm, Poids: 3,7 kg. Matériaux: ABS résistant à l'urée 100 % recyclable - anti UV Accessoires livrés: 1 pelle en ABS, 1 boîte à pastilles anti-odeurs en ABS, 2 pastilles anti-odeurs (durée 1 mois / pastille).
Les produits - SinDesign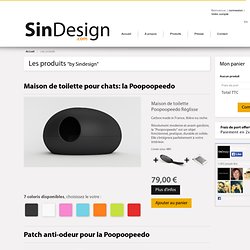 Le berceau fauteuil d'allaitement pour bébé
Kids Furniture
Design and development of childrens furniture
| Hushamok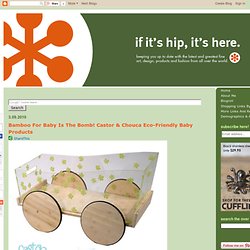 Bamboo For Baby Is The Bomb! Castor & Chouca Eco-Friendly Baby Products
ShareThis Innovative French brand Castor & Chouca creates eco-friendly bamboo baby products inspired by innovations in the medical field as well as design. Crafted in France, the pieces and collections combine modern simplicity with futuristic design and a concern for the world we live in. Their green high end furniture is crafted with ecological and recyclable raw materials (massive bamboo-slat, linen, organic cotton, recyclable components) the furniture is made to last and not to be thrown away. With products for infants to toddlers to juniors, their lines are broken down into four collections, one of which is actually recycled and repurposed products.
Any one who has ever lived with a newborn knows that the first few weeks of round-the-clock feedings are mind-numbingly exhausting for new parents. The Koo, a new transformer bassinet/rocking chair and late-night feeding system, hopes to make the new parent burden a little easier by smoothing out the edges on the late-night feeding routine, by providing everything a new mom (or dad) needs all in one convenient package. We spotted the Koo at the International Contemporary Furniture Fair this past week, and we could see all the moms in the vicinity fawning over this multitasking superhero of baby furniture.. Built by Lunar, the Koo is a bassinet that turns into a rocker and back again, a genius maneuver that not only eases baby's transition from feeding to sleeping, but also minimizes both the product's carbon footprint and its physical one.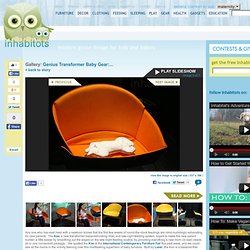 Genius Transformer Baby Gear: The Koo Transforms From Bassinet to Rocker Koo Rocker/Bassinet by Lunar – Inhabitots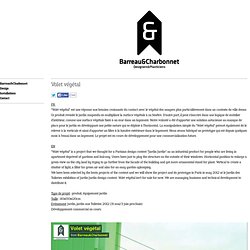 Volet végétal
''Volet végétal'' est une réponse aux besoins croissants du contact avec le végétal des usagers plus particulièrement dans un contexte de ville dense. Ce produit revisite le jardin suspendu en multipliant la surface végétale à sa fenêtre. D'autre part, il peut s'inscrire dans une logique de mobilier d'intérieur, comme une surface végétale fixée à un mur dans un logement. Notre volonté a été d'apporter une solution astucieuse au manque de place pour le jardin en développant une petite nature qui se déploie à l'horizontal.