Otros
Get flash to fully experience Pearltrees
Nowadays, a lot of popular consoles have USB adapters for their gamepads, but if you really want that nostalgic feel, here's how to convert your old gamepad into a USB controller for your PC. Whether playing video games with the keyboard just doesn't do it for you, or you're really trying to recreate that old game console feel , this is a mod sure to bring back memories from simpler times. You don't need any super deep knowledge of electronics to pull this off, although be forewarned that there is a bit of soldering involved. Other than that, though, the project isn't too difficult— it's just a matter of connecting ribbon cable to each individual button.
Make a game pad with an accelerometer inside ! This project tutorial will show you how you can convert a console game pad into a USB keyboard mouse for playing games on your PC. The USB game pad can be used with nearly any software, such as a MAME emulator, game, simulation software, or for custom user interfaces.
En este articulito quiero recopilar toda la información y experiencia que tengo con el sustrato nutritivo para acuarios, el 99% de la información esta sacada de la paciencia, explicaciones y consejos de Antonio Trías, mi merito solo esta en recopilarlo. Y evidentemente voy a ser tremendamente sencillo en mis explicaciones ya que no tengo conocimientos de química y solo conseguiría meter la pata. El sustrato es uno de los 4 pilares en los que se sustenta el buen mantenimiento de las plantas de acuario, los otros 3 serian la luz, el abonado y el Co2 y digo esto en primer lugar porque es muy importante comprender que los cuatro pilares deben estar equilibrados, sino solo conseguiremos empeorar la situación y que las algas campen a sus anchas, de nada nos sirve un buen sustrato nutritivo si carecemos de Co2 o no tenemos bastante luz.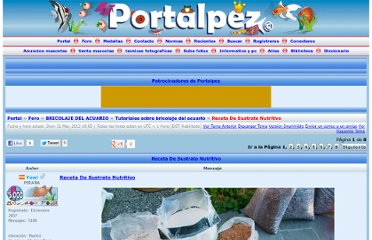 Hola a todos. Pues como estoy montando un acuario bastante grande, me encontré con el problema de tener que colocar una gran cantidad de sustrato nutritivo, para conseguir, en un futuro, un acuario bastante plantado, con lo que debido a lo caro que resultaba utilizar un abono comercial, me decidí por hacerlo yo mismo. Como para otros muchos temas, la página de Andrés Roca, me ha ayudado mucho a entender y poner en práctica muchas cosas que me han servido en esta afición, y como no podía ser de otra manera, en este tema también. El sustrato nutritivo que ahora os voy a explicar, no deja de ser la aplicación de los consejos que Andrés Roca explica en Debes registrarte o logearte para ver este enlace. solo que documentados con fotografías y aplicados a mis necesidades concretas.