Organizations
Untitled. Pointer Rescue Needs Your Help! Dogs Hope Cricket's Rescue Corner Great Plains Pointer Rescue American Kennel Club (AKC)American Pointer Club(AKC "parent" club for the Pointer breed in the US)Wilderness Pointer Club of Virginia, Inc.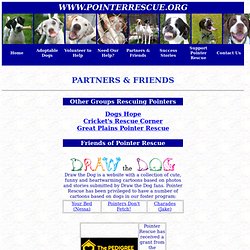 (VA, WV, MD, DC, northern NC, and southern PA)Pointer Associates of New England (PANE)ThePoop.com - Comprehensive listing of rescue organizationsWeimaraner Rescue in TexasMid-Atlantic German Shorthaired Pointer Rescue, Inc.Lucky Ones, Inc. S.P.C.A. of So. MDThe Cecil County SPCA, Inc. (MD)American Brittany RescueAtlanta Animal Rescue FriendsMetro Pets Organization(Lists humane organizations and rescue groups for MD/DC/VA) South Jersey Rescue. West Jersey Volunteers for Animals. Salem County Humane Society. ADOPTION POLICIES & PROCEDURES "FOR THE PROTECTION OF THE INNOCENT" All persons interested in adopting must comply with the following policies and procedures: You must fill out an adoption questionnaire application.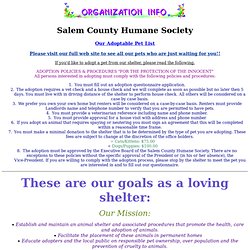 The adoption requires a vet check and a house check and we will complete as soon as possible but no later then 5 days. You must live with in driving distance of the shelter to perform house check. All others will be considered on a case by case basis. We prefer you own your own home but renters will be considered on a case-by-case basis. Maddie & Friends Inc. Reducing the Number of Unwanted Animals "One Spay at a Time" See our Adoptable Pets Click here to see our Happy Tails!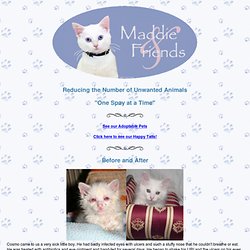 Before and After. Finally Home Farm. QUACK. A.R.W.N.Y. - NJ. Please visit the ARWNY official web site here to see all the special Akitas in need of a new loving home.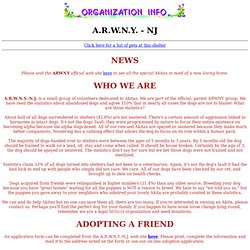 A.R.W.N.Y. -N.J. is a small group of volunteers dedicated to Akitas. Tri State Weimaraner Rescue Inc. Anyone interested in adopting one of our rescue dogs but fill out an adoption application which is available on our website.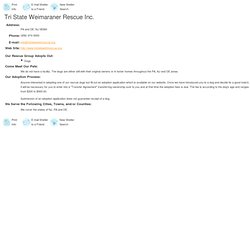 Once we have introduced you to a dog and decide its a good match, it will be necessary for you to enter into a "Transfer Agreement" transferring ownership over to you and at that time the adoption fees is due. The fee is according to the dog's age and ranges from $200 to $400.00. Submission of an adoption application does not guarantee receipt of a dog.
---