March 8
B-Squares
Wondertüte's Gift a Follower - The perfect gift for all your friends and followers.
youtube next lab
Feeders from Go! Pet Design | Dog Milk
I'm completely in love with all of the fun products design by Go! Pet Design, but I'm particularly fond of their Vintage Style Ammo Box Pet Feeders. Each vintage style pet feeder is handmade in Brooklyn, NY from reclaimed wood with 2×2 quart stainless steel bowls that feed most medium to large dogs. Of course, little dogs can chow-down and drink up too!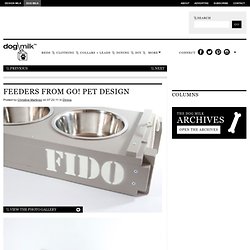 DwellStudio | Modern Home Décor
am
Downloadcrew US Software Store - discounted downloadable software