Genealogy
Don't Overlook Agricultural Census
Don't Overlook the Agricultural Census By James Pylant Although the population schedules of the federal censuses are far more telling as far as identifying members of a household, agricultural schedules also record information of interest to the genealogist. These records are largely overlooked, perhaps because researchers are just not familiar with them. Most libraries do not have these film rolls, which like the population schedules, were filmed by the National Archives. Beginning with the Seventh Federal Census (1850), a schedule of "Agricultural Productions" listed the holdings of individual farms.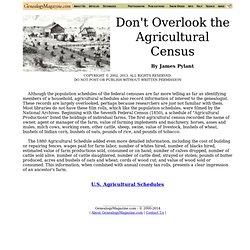 National Archives
Family History Library
Public Records USA: State & County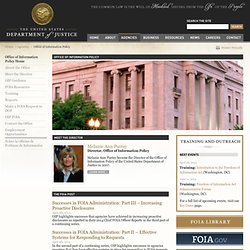 Freedom of Information Act (FOIA)
April 9th, 2014 OIP highlights successes that agencies have achieved in increasing proactive disclosures as reported in their 2014 Chief FOIA Officer Reports in the third part of a continuing series. April 4th, 2014 In the second part of a continuing series, OIP highlights successes in agencies ensuring that they have effective systems in place for responding to FOIA requests as reported in agency 2014 Chief FOIA Officer Reports.
United States Free Public Records
Fast access to United States public record sources at the state level. Additional United States public records links can be found on our United States county and city level pages. United States - Statewide Public Records Links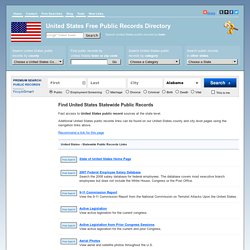 SSDI and Obituaries Social Security Death Index (SSDI) the majority of the records in the Social Security Death Index are for deaths that occurred after about 1962 Obituaries Archive Search
Searchable Death Indexes & Databases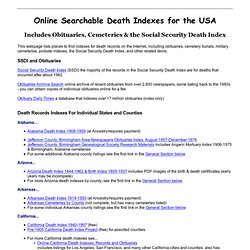 FamilyLink.com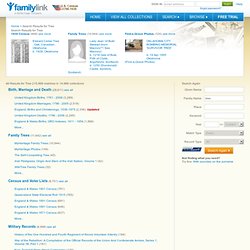 Search Results for Tree All Results for Tree 215,966 matches in 14,966 collections
US Land Records
UK- Ancestry.comSearch Historical Records
Advertisement Welcome to FreeBMD. FreeBMD is an ongoing project, the aim of which is to transcribe the Civil Registration index of births, marriages and deaths for England and Wales, and to provide free Internet access to the transcribed records.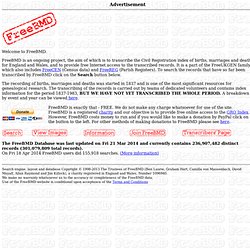 RootsWeb
Welcome - 1940 Census
Genealogy & Family History | Search Family Trees & Vital Records
WorldConnect Project
World Tree - Ancestry.com
- Ancestry.com
Free Genealogy and Family History Online - The USGenWeb Project
Welcome to The USGenWeb Project! We are a group of volunteers working together to provide free genealogy websites for genealogical research in every county and every state of the United States. This Project is non-commercial and fully committed to free genealogy access for everyone. Organization is by county and state, and this website provides you with links to all the state genealogy websites which, in turn, provide gateways to the counties.