College!
Middlebury. Colleges in NYC | Eugene Lang College The New School for Liberal Arts. Study at Lang New_sArt by Lang alum Grace Lang New_s New_s Eugene Lang College The New School for Liberal Arts is the newest and fastest-growing urban liberal arts college in New York—the most sought-after city in the world for college students.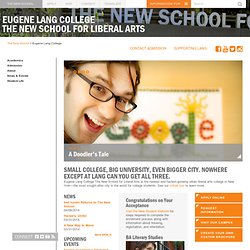 College. Colleges Ranked: Best, Easiest, Most Fun | 17938. When it comes to college, the one that has the best overall academic experience for undergraduates is the University of Chicago, followed by Marlboro College, Reed College, St.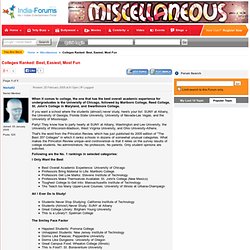 John's College in Maryland, and Swarthmore College. If you want a school where the students (almost) never study, here's your list: SUNY at Albany, the University of Georgia, Florida State University, University of Nevada-Las Vegas, and the University of Mississippi. Party! They know how to party hearty at SUNY at Albany, Washington and Lee University, the University of Wisconsin-Madison, West Virginia University, and Ohio University-Athens. That's the word from the Princeton Review, which has just published its 2005 edition of "The Best 357 Colleges" in which it ranks schools in dozens of somewhat unusual categories. Locations and Maps | Welcome | Pepperdine University. Pepperdine University offers its degree programs at five locations throughout Los Angeles, Orange, and Ventura counties, as well as a learning center in Santa Clara, California.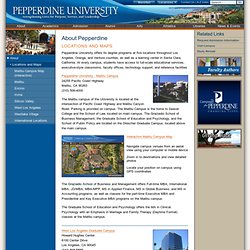 At every campus, students have access to full-scale educational services, executive-style classrooms, faculty offices, technology support, and reference facilities Pepperdine University - Malibu Campus24255 Pacific Coast HighwayMalibu, CA 90263(310) 506-4000 The Malibu campus of the University is located at the intersection of Pacific Coast Highway and Malibu Canyon Road. Academics - Pomona College.
Pomona's curriculum provides a balance between the breadth of a traditional liberal arts education and the depth necessary for advancement in a specific field.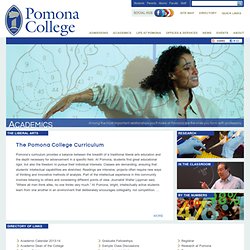 At Pomona, students find great educational rigor, but also the freedom to pursue their individual interests. Classes are demanding, ensuring that students' intellectual capabilities are stretched. Readings are intensive; projects often require new ways of thinking and innovative methods of analysis. Part of the intellectual experience in this community involves listening to others and considering different points of view.
About | The University of the Arts. At the University of the Arts, creativity in all its forms overlaps and converges — like colors combining to form more vibrant hues.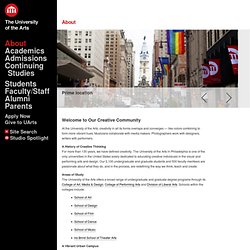 Musicians collaborate with media makers. Photographers work with designers, writers with performers. A History of Creative Thinking For more than 130 years, we have defined creativity. The University of the Arts in Philadelphia is one of the only universities in the United States solely dedicated to educating creative individuals in the visual and performing arts and design. Program Information. University of Ulster - Magee College Location Magee College is located in the city of Londonderry (also called Derry) on a wooded hillside overlooking the River Foyle.
Program Information. Philipps-Universität Marburg Program Snapshot Situated on the river Lahn and surrounded by forests, Marburg welcomes you!
College Personality Quiz: Part 11: Interpreting Your Scores. Scoring and More Information For each category: High Scores: 57 or above Medium Scores: 48 to 56 Low Scores: 47 or less What the scores mean: High scorers anticipate college in a favorable way and are looking forward to the collegiate experience.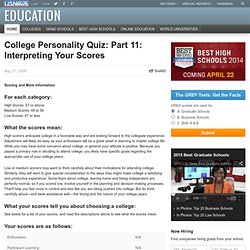 Adjustment will likely be easy as your enthusiasm will be a great asset in learning to master college life. Academics. College | Academics. BGSU :: University Home Page :: Bowling Green State University Home Page. Academic Majors & Programs Alphabetically - Freshmen, Main Campus - BGSU Admissions. UC Davis: University of California: Welcome to UC Davis. College | Resed Housing | Burton. 194 N.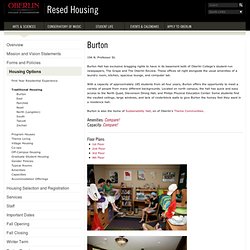 Professor St. Burton Hall has exclusive bragging rights to have in its basement both of Oberlin College's student-run newspapers, The Grape and The Oberlin Review. OSCA - Wilder Hall 402. Overview - Oberlin College. Department Overview Students in the voice department take courses in music theory and aural skills each semester until all requirements are met.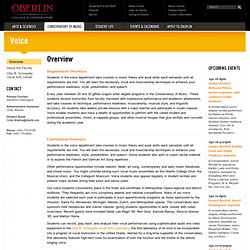 You will learn the necessary vocal and musicianship techniques to enhance your performance readiness, style, presentation, and speech. Every year, between 20 and 30 gifted singers enter degree programs in the Conservatory of Music. These students receive instruction from faculty members with impressive performance and academic attainments, and take courses on technique, performance readiness, musicianship, musical style, and linguistic accuracy. Degrees and Majors - Oberlin College. The Conservatory of Music seeks to educate young musicians at the highest level.
The conservatory offers rigorous programs designed to prepare students for professional lives as performers, composers, scholars, and teachers. We welcome talented music students with demonstrated records of achievement to apply. The conservatory offers private study in 31 applied areas and undergraduate majors in performance, composition, electronic and computer music, jazz studies, music education, music history, music theory, and a double major in piano performance and vocal accompanying.
Oberlin's Double-Degree program, offered jointly between the Conservatory of Music and the College of Arts and Sciences, leads to the Bachelor of Arts and the Bachelor of Music degrees. Students who choose this five-year program enjoy the challenges and breadth of study inherent in a liberal arts program alongside the focused intensity of a pre-professional music program. Program: Musical Studies - Oberlin College - acalog ACMS™
Return to: College of Arts and Sciences The Musical Studies program in the College of Arts and Sciences is overseen by the Musical Studies/Double Degree Committee, a General Faculty committee that consists of faculty members from both the Conservatory and the College of Arts and Sciences. Music for Arts & Science Students CoursesAlthough most courses in the Conservatory are open to qualified students in the College of Arts and Sciences, many Conservatory courses and the schedules of applied music teachers in fact become filled entirely with Conservatory students. Admissions | Majors. B = Bachelor's M = Master's A = Advanced Master's S = Specialist D = Doctoral T = Track within the undergraduate major * = Joint degree All degrees are in bold type and majors within degree programs are indented in plain type.
Degree levels offered are in brackets [ ]. Arts and Sciences, College of. Admissions | Majors. B = Bachelor's M = Master's A = Advanced Master's S = Specialist D = Doctoral T = Track within the undergraduate major * = Joint degree All degrees are in bold type and majors within degree programs are indented in plain type. Degree levels offered are in brackets [ ]. Arts and Sciences, College of. Prospective Students | University of Michigan. UM School of Music, Theatre & Dance - Department of Musical Theatre - Degree Programs. Curriculum The BFA is the four year, professional degree. Students take 75% of their classes in the major area of study and 25% in liberal arts courses. The professional coursework will include intensive studies in Dance (ballet, tap, MT styles & more), Theatre (acting, history, tech & more), Music (voice, piano, theory & more) and most importantly Musical Theatre (performance, history & much more).
UM School of Music, Theatre & Dance - Department of Theatre & Drama - Degree Programs.
---