Stuff
The Technique Zone. Marbled paper how-to with erica domesek! Last month Amy and I hopped in a car and drove out to Montauk to film a DIY video with one of our favorite crafty ladies, Erica Domesek of PS I Made This.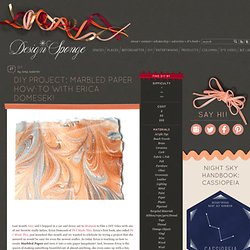 Erica's first book, also called PS I Made This, just launched this month and we wanted to celebrate by trying a project that she assured us would be easy for even the newest crafter. So today Erica is teaching us how to create Marbled Paper and turn it into a cute paper lampshade!
Art
DIY Tetra Pack Wallet. Little guiding stars. Since the new year has started I've been trying to think of ways to be more kind to my self.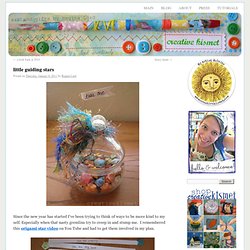 Especially when that nasty gremlins try to creep in and stump me. I remembered this origami star video on You Tube and had to get them involved in my plan. I thought it would be fun to make a whole bunch with kind words and "you are…." phrases inside. I made 60 of them, enough to last me the whole year if I open one a week, plus a few extra just in case. Button Monogram. This is a really COLORFUL & creative way to display your child's initial.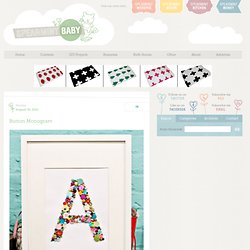 Super easy for sewers & crafters who have lots of extra buttons laying around. Gosh I LOVE buttons… Supplies needed: - Printer (to print out your letter) or a large letter stencil - Scissors - Cardstock (large enough to fit your frame) - Pen or Pencil - Adhesive, Scotch Tape Runner allows you to reposition buttons - Paper Piercer - Buttons and Brads - Frame without glass or shadowbox (this one is from IKEA) Easy peasy D.I.Y - Beyond Beyond | Beyond Beyond. This D.I.Y Revolution will not be televised This D.I.Y revolution will not require you getting up at stupid o'clock and fighting your fellow man tooth and nail for paint and nails This D.I.Y revolution will not require giving up most of your weekend and crying about the flakes of paint in your hair This D.I.Y revolution will not feature Laurence Llewelyn-Bowen or any of the team from Extreme Makeover: Home edition* It will just require you – some card and scissors and you can get your homemade flowers on for full deets on this DIY teach get thee gone to Cardgirl Invitations and see the end result via Dozi Design as Wendy is the original genius behind these.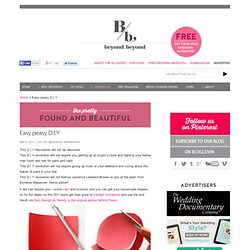 *We would like to offer our sincere apologies to Gil Scott Heron for ruining a classic – but he had to be sacrificed in the name of blogging! About the author I'm the big kahuna with the whole shebang. How to-sday . chevron fingernails. Welcome to my new readers from Pinterest, Shop Ruche, and the internets far and wide!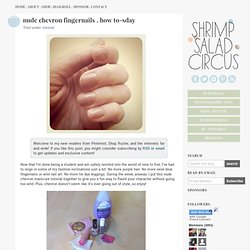 If you like this post, you might consider subscribing by RSS or email to get updates and exclusive content! Now that I'm done being a student and am safely nestled into the world of nine to five, I've had to reign in some of my fashion inclinations just a bit.
---