Symfony
Symfony & NetBeans IDE 6.8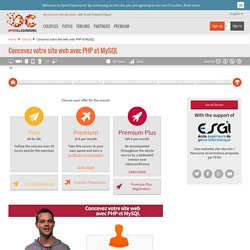 Blogs, réseaux sociaux, pages d'accueil personnalisables... Depuis quelques années, les sites web ont gagné en fonctionnalités et sont devenus dans le même temps de plus en plus complexes. Que le temps de la "page web perso" est loin ! Il y a une époque où l'on pouvait se contenter de créer un site basique.
Doctrine - Doctrine ORM for PHP - YAML Schema Files
Beside being a full-stack framework, Symfony is also a set of decoupled and standalone components. What is a Component? Symfony Components implement common features needed to develop websites.