Shops
Viereck Verlag - start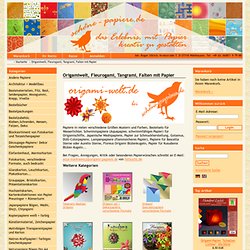 Origamiwelt, Fleurogami, Tangrami, Falten mit Papier
Papiere in vielen verschiedene Größen Mustern und Farben, Bastelsets für Wasserlichter, Schwimmpapiere (Aquapapier, schwimmfähiges Papier) für Origamischiffe, Japanische Washipapiere, Papier zur Schmuckherstellung, Gotamus, DUO-Colorpapiere, Lampenpapiere (flammsicheres Papier), Papiere für Bascetta Sterne oder Aurelio Sterne, Floreus Origami Blütenkugeln, Papier für Kusudama Blüten Kugeln... Bei Fragen, Anregungen, Kritik oder besonderen Papierwünschen schreibt an E-Mail: anja-markiewicz@origami-papiere.de von faltsucht.de Weitere Kategorien
Japan. Das ist für die meisten von uns ein ferner, farbenfroher Kosmos zwischen Tradition und Moderne. Von Anime bis Zen, von Kimono bis Kalligraphie - ....» mehr in diesem Webshop möchten wir Sie auf eine Exkursion in die aktuelle japanische Lebensart mitnehmen und Ihnen die Möglichkeit eröffnen, daran nach eigenem Gusto teilzuhaben. Wir wünschen Ihnen viel Freude beim Stöbern!
Origami Papier & Japan Shop MIYABI Bremen: Origami-Bücher, Kimono, Yukata, Washi-Papier, Sake-Sets, Faltanleitung, Kusudama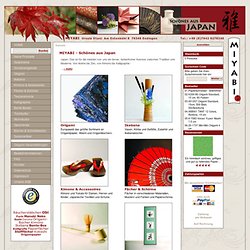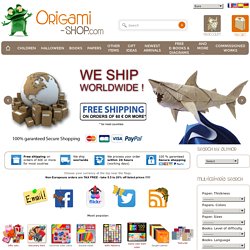 Origami-shop - Bücher, Papiere für Origami, E-books kostenlos
Choose your currency at the top near the flags. Non Europeans orders are TAX FREE - take 5.5 to 19.6% off listed prices !!!!! Most popular: For you, who are simple beginners or confirmed amateurs, I have gathered here a collection of things that will satisfy your passion for origami.