Twitter vs developers
The Twitter Platform's Inflection Point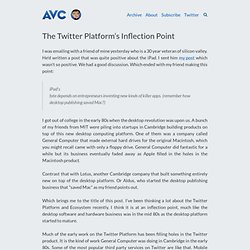 I was emailing with a friend of mine yesterday who is a 30 year veteran of silicon valley. He'd written a post that was quite positive about the iPad. I sent him my post which wasn't so positive. We had a good discussion.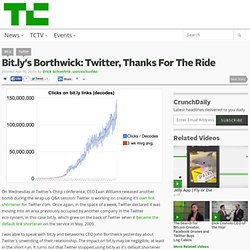 Bit.ly's Borthwick: Twitter, Thanks For The Ride
On Wednesday at Twitter's Chirp conference, CEO Evan Williams released another bomb during the wrap-up Q&A session: Twitter is working on creating it's own link shortener for Twitter.com. Once again, in the space of a week, Twitter declared it was moving into an area previously occupied by another company in the Twitter eco-system, in this case bit.ly, which grew on the back of Twitter when it became the default link shortener on the service in May, 2009. I was able to speak with bit.ly and betaworks CEO John Borthwick yesterday about Twitter's unwinding of their relationship. The impact on bit.ly may be negligible, at least in the short run. It turns out that Twitter stopped using bit.ly as it's default shortener on Twitter.com back in early December, except for one specific use-case.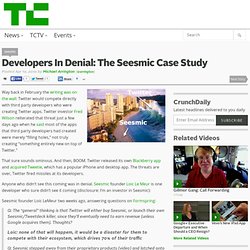 Developers In Denial: The Seesmic Case Study
Way back in February the writing was on the wall: Twitter would compete directly with third party developers who were creating Twitter apps. Twitter investor Fred Wilson reiterated that threat just a few days ago when he said most of the apps that third party developers had created were merely "filling holes," not truly creating "something entirely new on top of Twitter." That sure sounds ominous. And then, BOOM. Twitter released its own Blackberry app and acquired Tweetie, which has a popular iPhone and desktop app. The threats are over, Twitter fired missiles at its developers.
Much of the early work on the Twitter Platform has been filling holes in the Twitter product. It is the kind of work General Computer was doing in Cambridge in the early 80s. Some of the most popular third party services on Twitter are like that. Mobile clients come to mind. Photo sharing services come to mind.
Twitter devs: get over it and build real apps | Irregular Enterp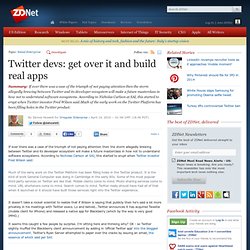 Update: Twitter Employees Cheerlead Top Investor's Bombshell Post, Developers Freak Out Earlier: Twitter could buy or build its own photo-uploader and mobile app, squashing third-party developers in its way, Twitter investor and Union Square Ventures partner Fred Wilson implicitly warned in a post this morning. Fred began his post with a story about how when he got out of college a bunch of his friends joined a startup called General Computer that made hard drives for Apple computers. Fred said that this startup eventually "faded away" because Apple began building hard drives into its computers.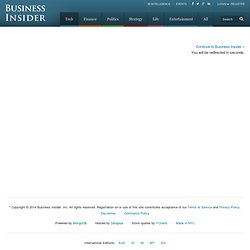 Holy Cow Did Twitter's Top Investor Drop A Bombshell On Twitter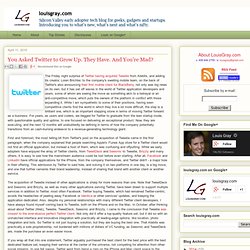 You Asked Twitter to Grow Up. They Have. And You're Mad?
The Friday night surprise of Twitter having acquired Tweetie from Atebits, and adding its creator, Loren Brichter, to the company's swelling mobile team, on the back of Twitter's also announcing their first mobile client for BlackBerry, not only was big news on its own, but it has set off waves in the world of Twitter application developers and users, some of whom are seeing the move as something akin to a betrayal or an anti-competitive move, which puts the owners of the platform in conflict with those expanding it. While I am sympathetic to some of their positions, having seen competitive clients find the world in which they live a lot more difficult, the step is a brilliant one, which is an important stepping stone in terms of moving Twitter forward as a business. For years, as users and coders, we begged for Twitter to graduate from the lean startup mode, with questionable quality and uptime, to one focused on delivering an exceptional product.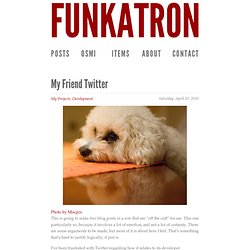 My Friend Twitter
This is going to make two blog posts in a row that are "off the cuff" for me. This one particularly so, because it involves a lot of emotion, and not a lot of certainty. There are some arguments to be made, but most of it is about how I feel. That's something that's hard to justify logically; it just is.
Is Twitter going to pull a bait and switch on developers? | Blog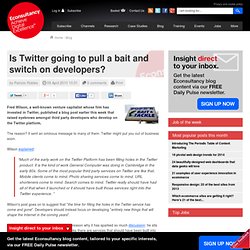 Fred Wilson, a well-known venture capitalist whose firm has invested in Twitter, published a blog post earlier this week that raised eyebrows amongst third party developers who develop on the Twitter platform. The reason? It sent an ominous message to many of them: Twitter might put you out of business soon. Wilson explained: Much of the early work on the Twitter Platform has been filling holes in the Twitter product.
Twitter Developers In Denial: A Teaser Video
made it easy for programmers outside the company to build 70,000 applications that made the microblogging service more usable. Without them, people would not be able to post a photo, shorten a URL, monitor several Twitter accounts at once, easily use the service from a cellphone or search for people to follow. Because of that, Twitter grew so fast that no me-too company could mount a serious challenge.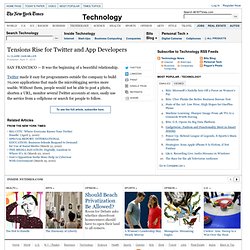 Tensions Rise for Twitter and Outside App Developers - NYTimes.c
"Dear Twitter: Stop Screwing Over Your Developers"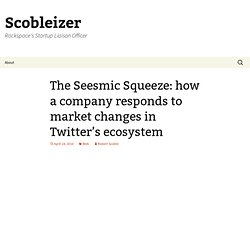 The Seesmic Squeeze: how a company responds to market changes in
Take a pile of carbon and apply enough heat and pressure and you'll get diamonds. Of course you might just not get it right and will end up with a pile of ash. If you talk with Loic Le Meur, CEO of Seesmic, he tells a story of feeling squeezed, just like a batch of carbon.
Of course were hole fillers and why no-one sh
Twitter itself is filling a hole (start here if you don't know what this is all about), the status update craze hole it mostly created. We're filing another hole, if you want to keep in touch with your friends or build your brand you have to share and constantly check all your comments, likes, mentions on all major social software, that's my company Seesmic's hole, our empty space, our opportunity. Any growing startup fills in "empty space" that you can call filling a hole and it's absolutely normal. There is no bomb being dropped and no need to create sensational titles either but I guess it helps getting attention and there is obviously something important about Twitter launching its first "official" Twitter mobile client today, whatever "official means" it's a step towards serious competition with its ecosystem.
You guys are WRONG Twitter will keep getting huge and growing WITH its developers. It's been a really stressful few days for the Twitter developers from the announcements of Friday to this decisive day of Chirp. Chirp started really with a fresh room this morning, ask Ryan Sarver when he said his goal was developer happiness and asked us "are you happy" and a minority answered, obviously still under shock from Twitter competing more with its developers. There were in fact some more bad news for the developers today: Evan Williams confirmed an Android app and hinted that bit.ly would be removed as url shortener as well as the high probability that they will integrate media (photo services come to mind).
F*CK you naysayers. Twitter did NOT f*ck us a
Yesterday we showed a teaser of our conversation with Loic Le Meur of Seesmic, and Nick Halstead of Tweetmeme. Here's the full video, in two parts. This is a debate around the recent decision by Twitter to compete directly with third party developers who are making Twitter applications that Twitter has deemed to be mere "hole fillers."
Seesmic, TweetMeme Say Twitter Ecosystem Is Just Fine, Thank You
Chirp » The Official Twitter Developer Conference
Evan Williams: "Twitter Is the Ecosystem"
Ev Explains Twitter's Move Into Mobile Apps: "Otherwise We Are F
Evan Williams's Message to Twitter Developers - Bits Blog - NYTi
What I Learned at Twitter's First Chirp Conference
Twitter Officially Responds To Developers. Tries To Calm Fears.
I went to Chirp and all I got was this lousy lollypop - Peter Co
Twitter Gets More Features, and Competitors
Twitter Revamps Its Web Site
Twitter To Add "Nifty" Site Features That May Make You Forget Th
Twitter Fills Its First Hole With An Official BlackBerry App
Twitter's Acquisition, Chirp & Managing Developer Relationships
Twitter acquires maker of Tweetie, stoking concern among develop
Twitter 'could build its own client'
Tweetmeme's Button Impressions Collapsed 20% After Twitter's Button Launched
Investors Squeamish About Third-Party Twitter Apps [STATS]