Facebook Groups
New Facebook Groups‬‏
Facebook Groups to offer users more control | Technology
Facebook has launched "groups" – its attempt to mirror the way that people interact in the real world, where we interact with small groups of people such as family, work colleagues and wider friends, rather than everyone at once. Members of groups will be able to swap updates rather than broadcasting them to all of their "friends" on the 500m-strong social network. Announcing Facebook Groups, chief executive Mark Zuckerberg said that groups are "a fundamental building block" and solving how best to implement them is "the biggest problem in social networking". He said that after considering the best way to do it, Facebook had decided that the best implementation would be social – letting users create their own groups, which would be "as simple as inviting your best friends over for dinner". Of the feature, he said: "We think this is going to be a pretty fundamental shift for how people use Facebook ...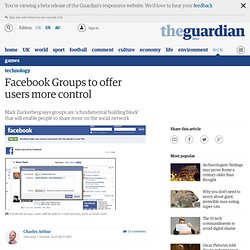 Giving You More Control
The biggest problem in social networking is helping you easily interact with your friends and share information in lots of different contexts. For example, you might want to share photos from a family vacation with just your family, send a video from a party to just the people who were there, invite coworkers to an office event, play a game with a few friends, or use a running website with your friends who like jogging. We've long heard that people would find Facebook more useful if it were easier to connect with smaller groups of their friends instead of always sharing with everyone they know. For some it's their immediate family and for others it's their fantasy football league, but the common concern is always some variant of, "I'd share this thing, but I don't want to bother 250 people.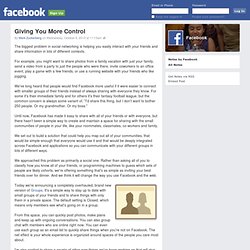 Today during their event, Facebook's Mark Zuckerberg talked about "the biggest problem in social networking". What he means by this is social sharing. You need to be able to map out all of the real world groups that you have in the social graph. If Facebook can do this, Zuckerberg says people will be able to do all the sharing they want to do. And as we hinted earlier, Zuckerberg believes they have done this with the complete overhaul of Facebook Groups.
Facebook Overhauls Groups, A Social Solution To Create "A Pristine Graph"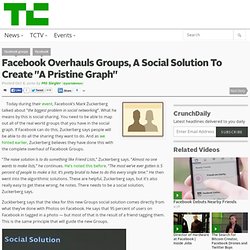 New Facebook Groups Designed to Change the Way You Use Facebook [VIDEO]
Facebook has just revealed a new version of Groups at its live press conference in Palo Alto, California. Facebook Groups are a shared space where members can participate in communal activities like group chat, e-mail lists, document sharing and group photo-tagging. The new Groups product was built from the ground up; Facebook Founder and CEO Mark Zuckerberg says Groups is an entirely new product that only shares the name in common with the old Groups functionality. The old Groups will continue to remain in place, but moving forward members will only be able to create new Groups.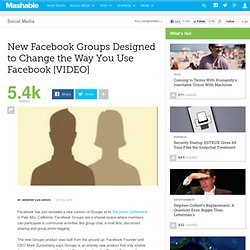 Group - Développeurs Facebook
A Facebook Group. The User, Page and Application objects have groups connections. To read a Group, you need: any valid access_token if the group is public (i.e. the group's privacy setting is OPEN)user_groups permission for a user's non-public groupsfriends_groups permission for a user's friend's non-public groupsGroups for Apps and Games require the use of an App access_token. Example The Facebook Developers Group: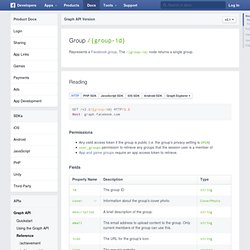 Facebook Groups – A Walkthrough of Group Email, Docs, Chat, and More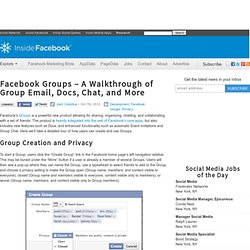 Facebook's Groups is a powerful new product allowing for sharing, organizing, chatting, and collaborating with a set of friends. The product is heavily integrated into the rest of Facebook's core apps, but also includes new features such as Docs, and enhanced functionality such as automatic Event invitations and Group Chat. Here we'll take a detailed tour of how users can create and use Groups. Group Creation and Privacy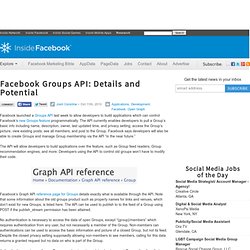 Facebook launched a Groups API last week to allow developers to build applications which can control Facebook's new Groups feature programmatically. The API currently enables developers to pull a Group's basic info including name, description, owner, last updated time, and privacy setting; access the Group's picture, view existing posts; see all members; and post to the Group. Facebook says developers will also be able to create Groups and manage Group membership via the API "in the near future." The API will allow developers to build applications over the feature, such as Group feed readers, Group recommendation engines, and more. Developers using the API to control old groups won't have to modify their code. Facebook's Graph API reference page for Groups details exactly what is available through the API.
Facebook Groups API: Details and Potential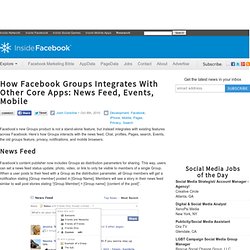 How Facebook Groups Integrates With Other Core Apps: News Feed, Events, Mobile
Facebook's new Groups product is not a stand-alone feature, but instead integrates with existing features across Facebook. Here's how Groups interacts with the news feed, Chat, profiles, Pages, search, Events, the old groups feature, privacy, notifications, and mobile browsers. News Feed Facebook's content publisher now includes Groups as distribution parameters for sharing. This way, users can set a news feed status update, photo, video, or link to only be visible to members of a single Group.