UX
Usability Toolkit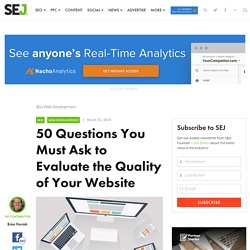 50 Questions to Evaluate the Quality of Your Website
I know, it has been a while since my last post, but I was crazy busy. I have something else that I plan to write about in my queue, but it is not finished yet. But I have something else ready that is also fairly useful in my humble opinion. Here is a long and pretty detailed list of questions that a website owner should asked himself about his own website. If the answer to every question that follows below was answered with yes, you can be very pleased with yourself and consider yourself the top of the crop, because most websites have flaws for a number of different reasons, mostly related to the limitation of resources and sacrifices that must be made as a direct result of the shortage.
The Web Design Usability Series is supported by join.me, an easy way to instantly share your screen with anyone. join.me lets you collaborate on-the-fly, put your heads together super-fast and even just show off. A site's ease of use, or its usability, is an integral part of its success, especially with websites becoming more and more interactive, complex and packed with features. User-centered design is all about building websites that fulfill the goals and desires of its users, and at the heart of this concept is that a user must be able interact with your website effectively.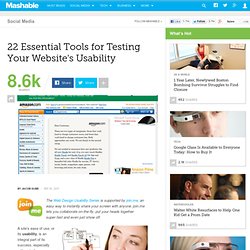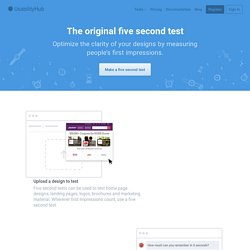 Five second tests can be used for a variety of different purposes. Below are some examples of what you can achieve with a five second test. Test your brand message Make sure users can recall your company slogan or understand what you do from your logo. Test first impressions Identify if your call to action is working by testing what users remember about your websites.
What Customers are Saying: This is a great piece of work that will be useful to a lot of people. John Brooke PhDSystem Usability Scale Creator The SUS calculator and the guide are terrific. I'm not a statistician so tools like this are a God send for me. Randall BlairUsability EngineerImodules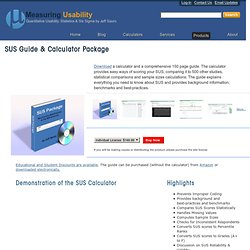 SUS Guide & Calculator Package : Measuring Usability: Measuring Usability