Tools
Monitoring
Hshtags. Social Image Resizer Tool. Resize and crop your images for web use Today there are innumerable uses for photos and images on the web.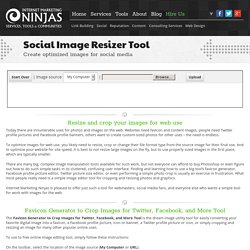 Websites need favicon and content images, people need Twitter profile pictures and Facebook profile banners, others want to create custom-sized photos for other uses – the need is endless. To optimize images for web use, you likely need to resize, crop or change their file format type from the source image for their final use.
Revenue generation
Twitter-specific. Collaboration. Grassroots. Facebook, Twitter, Instagram, Pinterest – Complete Social Media Image Size Guide [INFOGRAPHIC] Social sharing & integration. Event tools. Curation.
Lifestream. Productivity. Analytics & social data.
---