3
Case Studies, Articles & Books. Gladwell Is Right. The Revolution Will Not Be Tweeted. You could almost hear the brows furling across the Twitterverse the day Malcolm Gladwell's "Small Change" article appeared on The New Yorker's website Oct. 4.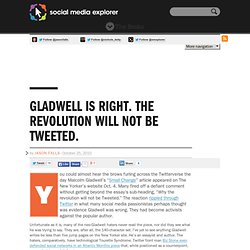 Many fired off a defiant comment without getting beyond the essay's sub-heading, "Why the revolution will not be Tweeted." The reaction rippled through Twitter in what many social media passionistas perhaps thought was evidence Gladwell was wrong. They had become activists against the popular author. Unfortunate as it is, many of the neo-Gladwell haters never read the piece, nor did they see what he was trying to say. They are, after all, the 140-character set. How Social Networking Has Changed Business - Bill George - HBS Faculty. By Bill George | 8:35 AM December 23, 2010 Social networking is the most significant business development of 2010, topping the resurgence of the U.S. automobile industry.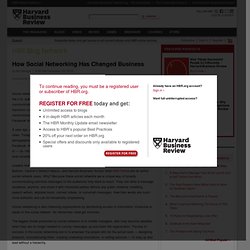 During the year, social networking morphed from a personal communications tool for young people into a new vehicle that business leaders are using to transform communications with their employees and customers, as it shifts from one-way transmission of information to two-way interaction. That's one reason Time magazine just named Facebook founder Mark Zuckerberg Person of the Year. A year ago, many people poked fun at Facebook as a place where kids shared their latest party news. Today more than 600 million users worldwide are active on the site. Six Social Media Trends for 2011 - David Armano - The Conversation. By David Armano | 10:44 AM December 6, 2010 It was a banner year for social media growth and adoption.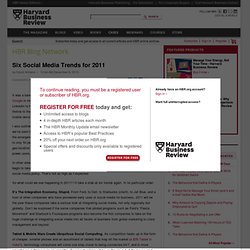 We witnessed Facebook overtake Google in most weekly site traffic, while some surveys reported nearly 95% of companies using LinkedIn to help in recruiting efforts. In my outlook for last year, I cited that mobile would become a lifeline to those looking for their social media fixes, and indeed the use of social media through mobile devices increased in the triple digits. I also outlined how "social media would look less social" or more accurately exclusive, and indeed, we've seen the re-launch of Facebook groups, which focus on niche interactivity, and more recently, the emergence of Path, billed as "the social network for intimate friends" which limits your network to only 50 people.
The Leadership Playlist: Gen X in the workplace: Stuck in the middle - On Leadership at washingtonpost.com. Strategic Planning Failure - strategy, organization, levels, examples, school, model, type, company, hierarchy, business, competitiveness, Recent history of strategic planning. Photo by: Robert Mizerek Strategic management is the process of defining the purpose and pursuits of an organization and the methods for achieving them.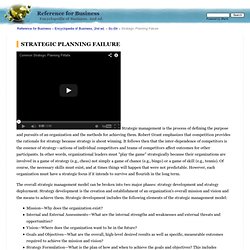 Robert Grant emphasizes that competition provides the rationale for strategy because strategy is about winning. It follows then that the inter-dependence of competitors is the essence of strategy—actions of individual competitors and teams of competitors affect outcomes for other participants.
---