Controls
GDI+: A Primer on Building a Color Picker User Control with GDI+ A Primer on Building a Color Picker User Control with GDI+ in Visual Basic .NET or C# Ken Getz This article assumes you're familiar with C# and Visual Basic .NET Level of Difficulty123 Although most developers and APIs use the RGB scheme when working with colors, it's not the only available way to represent or select colors.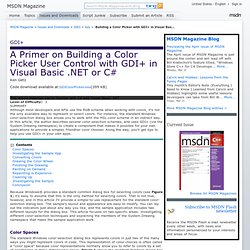 Ron Jacobs : WCF Deployment Challenge. Join me as once again I tackle the learning curve of WCF with a deployment challenge.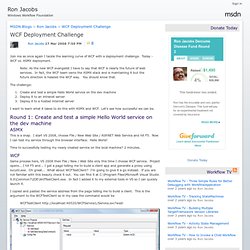 Today - WCF vs. ASMX deployment. Note: As the new WCF evangelist I have to say that WCF is clearly the future of web services. In fact, the WCF team owns the ASMX stack and is maintaining it but the future direction is headed the WCF way. Html Agility Pack. ScottGu's Blog : Tip/Trick: How to Register User Controls a. I've been including this technique in my ASP.NET Tips/Tricks talks the last year, but given how many people are always surprised by its existence I thought it was worth a dedicated tip/trick post to raise the visibility of it (click here to read other posts in my ASP.NET Tips/Tricks series).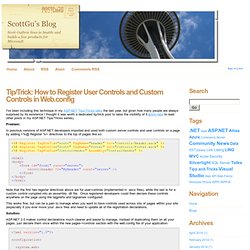 Problem: In previous versions of ASP.NET developers imported and used both custom server controls and user controls on a page by adding <%@ Register %> directives to the top of pages like so: Note that the first two register directives above are for user-controls (implemented in .ascx files), while the last is for a custom control compiled into an assembly .dll file. Once registered developers could then declare these controls anywhere on the page using the tagprefix and tagnames configured. Eric White&#039;s Blog : Query Composition using Functional Prog. Functional Programming (FP) has the potential to reduce program line count by 20% to 50%, reduce bugs and increase robustness, and move us in the direction of taking advantage of multiple core CPUs.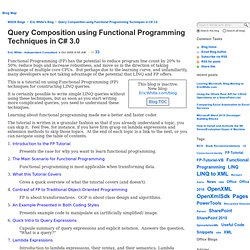 But perhaps due to the learning curve, and unfamiliarity, many developers are not taking advantage of the potential that LINQ and FP offers. This blog is inactive.New blog: EricWhite.com/blogBlog TOCThis is a tutorial on using Functional Programming (FP) techniques for constructing LINQ queries. It is certainly possible to write simple LINQ queries without using these techniques, but as soon as you start writing more complicated queries, you need to understand these techniques. Learning about functional programming made me a better and faster coder. The tutorial is written in a granular fashion so that if you already understand a topic, you can skip it. Custom FindControl Implementation (C#) « Leading the Next Inquis. Anyone who has ever used the native FindControl method built into the System.Web.UI.Page or System.Web.UI.Control classes knows that it pretty much stinks.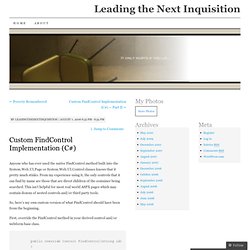 From my experience using it, the only controls that it can find by name are those that are direct children of the container being searched. This isn't helpful for most real world ASPX pages which may contain dozens of nested controls and/or third party tools. So, here's my own custom version of what FindControl should have been from the beginning. HemchanS Uploading... : Inside C#: Chapter 4: Methods - Summary. Give an example of ref parameter. class Color public void GetRGB(ref int red, ref int green, ref int blue) class Class1 static void (string[] args)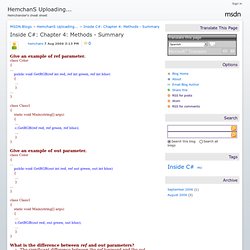 Web App Follies: Keep Sites Running Smoothly By Avoiding These 1. Web App Follies Keep Sites Running Smoothly By Avoiding These 10 Common ASP.NET Pitfalls Jeff Prosise O ne of the reasons ASP.NET is successful is that it lowers the bar for Web developers.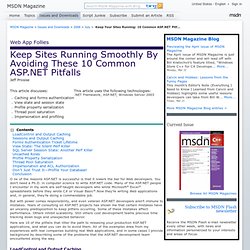 You don't need a Ph.D. in computer science to write ASP.NET code. Many of the ASP.NET people I encounter in my work are self-taught developers who wrote Microsoft® Excel® spreadsheets before they wrote C# or Visual Basic®.Now they're writing Web applications and, in general, they're doing a commendable job.
---