Manualidades
Paper Lanterns. Easy Easter DIY DIY Tutorials - 10 Awesome Ideas! Posted by ScrapHacker.com on måndag, april 2, 2012 · 2 Comments How do you take your eggs?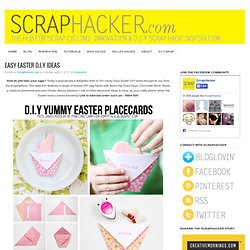 Today's post serves a delightful dish of 10+ hacky Easy Easter DIY ideas brought to you from the blogosphere. The selection features a range of doable DIY egg hacks with Neon Dip Dyed Eggs, Chocolate Birds' Nests, a ready-to-download-and-print Easter Bunny Garland + lots of other awesome ideas to have up your crafty sleeve when the Easter bunny comes knocking! D.I.Y Inspiration from ScrapHacker.com. I ♡ Clothespin Art Seeing overlooked everyday items turned into something cool and beautiful fills me with hacker joy.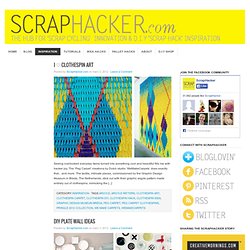 The 'Peg Carpet' creations by Dutch studio 'WeMakeCarpets' does exactly that…and more. Basket Table: Storage on Wheels. 塑料勺子做滴花花 来自小小艾在堆糖网的分享. Christmas Lights in 8 Bedrooms. Diy and Crafts. D.I.Y Inspiration from ScrapHacker.com. Half-painted DIY Hacks Posted by ScrapHacker.com on mars 19, 2012 · 8 Comments Graphic Black/White and natural exposed surfaces of wood and leather has been a coveted combo for a while. "Half-painting" stripes, triangles and chevron pattern is a doable DIY adaptation of the trend, just paint whatever you've got lying around!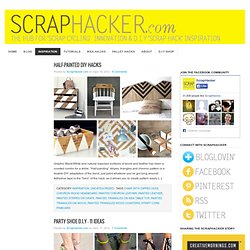 Adhesive tape is the "hero" of the hack, as it allows you to create pattern easily [...] Party Shoe D.I.Y – 11 Ideas. DIY Inspiration from Jonathan Adler NYC Store. Posted by ScrapHacker.com on måndag, april 2, 2012 · 2 Comments Today I'm happy to share some of my snapshots from interior designer Jonathan Adler's N.Y.C Soho Store (47, Greene Street).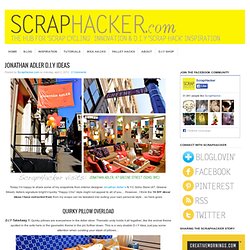 Adlers signature bright'n'quirky "Happy Chic" style might not appeal to all of you… However, I think the 10 DIY décor ideas I have extracted from from my snaps can be tweaked into suiting your own personal style…so here goes: Quirky pillow overload. Addicted 2 Decorating — Budget Friendly DIY & Interior Decorating. The Knotted Headband Tutorial. My husband came home one day with a headband he had found in a parking lot (I know...sooo sanitary) and said "I bet you could make one of these"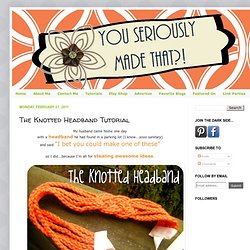 Cheesecake Filled Chocolate Easter Eggs. It's hard to believe Easter is just around the corner.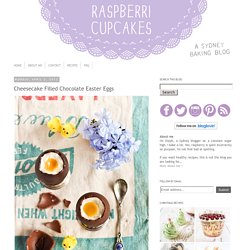 This year is going too fast for me to keep up! I swear it felt like yesterday that I was laughing at how quickly the Easter displays went up to replace the Christmas stuff at the beginning of the year, it has managed to creep up on me. My days are getting busier and busier, so I am easily drawn to the simpler, quicker desserts that I can pull together at the last minute. A Modern Take on the Doily - $850 Lamp for less than $50. A Modern Take on the Doily $850 Lamp for less than $50?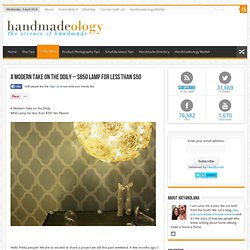 Yes Please! Hello Pretty people! We are so excited to share a project we did this past weekend.
---