Social media
Employees' Facebook Pages Are Private, Until They're Not | Blog | Daily Dose. Even businesses that have an air-tight social media policy can run afoul of the law when employees post on Facebook and other social media platforms.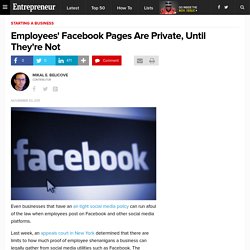 Last week, an appeals court in New York determined that there are limits to how much proof of employee shenanigans a business can legally gather from social media utilities such as Facebook. The Appellate Division of the New York Supreme Court ruled that commercial builder Turner Construction Co. should not have a free hand in searching the Facebook activity of an employee who was seeking compensation in a personal injury suit against the company. The company was attempting to use information from the employee's Facebook account to show that he was not being truthful about the extent of his injuries. Who Owns Your LinkedIn Contacts? A Guide to Generating Leads on LinkedIn. To me, LinkedIn has always seemed like more of a place to hunt for a new gig than anything else.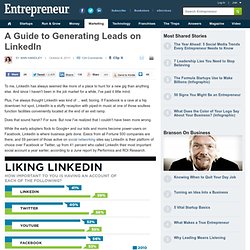 And since I haven't been in the job market for a while, I've paid it little mind. Plus, I've always thought LinkedIn was kind of ... well, boring. A New Definition of Social Media. I have been reading in the blogosphere and in the general press about the need for a better definition of social media.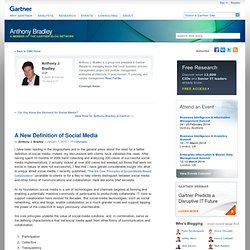 Indeed, my discussions with clients have validated this need. After having spent 10 months of 2009 hand collecting and analyzing 200 cases of successful social media implementations (I actually looked at over 400 cases but weeded out those that were not social in nature or were not successful), I feel that I have gained considerable insight into what is unique about social media. I recently published, "The Six Core Principles of Social-Media-Based Collaboration" (available to clients or for a fee) to help clients distinguish between social media and other forms of communications and collaboration. Here are some brief excerpts. Yes We Can - Barack Obama Music Video. A Lesson in Social Media from Snoop Dogg | Blog | Daily Dose.
In the age of social media, pop stars aren't just burning up the song charts.
Using social media, personalities the likes of Justin Bieber, 50 Cent, Puff Daddy and Kanye West have evolved beyond the music industry into some of the biggest brands online. Through a combination of social platforms including Twitter and Facebook, they've been able to create a conversation around their music and grow their fan base. They've also been able to promote their entrepreneurial ventures from fashion and films to sites and apps. So how does the one and only rap icon Snoop Dogg handle the online game? Carlsberg stunts with bikers in cinema. The 2011 Social Media All Stars [INFOGRAPHIC] Onderstaande Infographic (na de lees meer ..) geeft een overzicht van de meest populaire Social Media sites van 2011.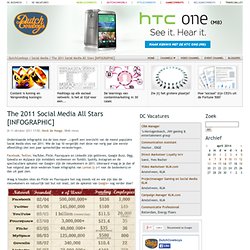 Wie de top 10 vergelijkt met deze van vorig jaar (zie eerste afbeelding) ziet een paar opmerkelijke veranderingen. Facebook, Twitter, YouTube, Flickr, Foursquare en LinkedIn zijn gebleven, Google Buzz, Digg, Gowalla en MySpace zijn inmiddels verdwenen en Tumblr, Spotify, Instagram en de spectaculiare opkomst van Google+ zijn de nieuwkomers in 2011. How the 10 Most Popular Facebook Brands Rank by Engagement [Chart]
Last week, Facebook unveiled a new public metric to gauge the success of a Facebook Page beyond its Like count.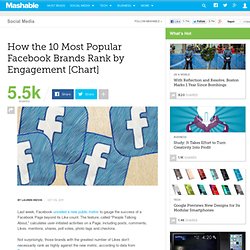 The feature, called "People Talking About," calculates user-initiated activities on a Page, including posts, comments, Likes, mentions, shares, poll votes, photo tags and checkins. Not surprisingly, those brands with the greatest number of Likes don't necessarily rank as highly against the new metric, according to data from Famecount. Here are the top ten consumer brand pages by Likes: Why Recruiters Prefer Facebook for Recruiting Young Professionals.
Despite the challenges social media presents for human resources professionals, it plays a growing role in talent recruitment.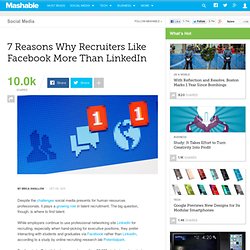 The big question, though, is where to find talent. While employers continue to use professional networking site LinkedIn for recruiting, especially when hand-picking for executive positions, they prefer interacting with students and graduates via Facebook rather than LinkedIn, according to a study by online recruiting research lab Potentialpark. For the study, Potentialpark surveyed more than 30,000 students and graduates worldwide and analyzed the online career presence of more than 500 companies in the U.S., Europe and Asia. Since the data has not yet been published online, Mashable spoke with Potentialpark about its findings. Southwest Airlines Is Playing with Brand Fire - Adam Richardson. By Adam Richardson | 8:24 AM October 10, 2011 Southwest Airlines is often used as a case study for a well-run business: it's consistently more profitable than its competitors, it's very disciplined about how it operates, and its customers are happy. It also has a strong brand, built on the promise of low prices, convenience, and a no-frills-but-pleasant experience. But recent actions are starting to erode the brand and customer happiness, potentially creating a long-term risk. Southwest is my favorite airline: low prices, happy staff, lots of flights were I need to go for most trips, good website, convenient policies. What's not to like? Social Media Screw Ups – A History. Home » News , Social Media News Our editorial and social media training partner, Custom Communication , has gone back through six years of social media and compiled a visual narrative of company misadventures with bloggers, tweeter and other social media voices.
Since 2004 they've identified 37 notable instances where companies have been caught short by social media protests and complaints or where they've shot themselves in the foot with dumb marketing. Here's a snapshot of the history. Given the explosion in social media participation it's not surprising to see a steady year-on-year increase in social media screw ups but while 2006 saw 7 major incidents the 10 recorded so far this year suggests that corporate communicators and marketers are becoming more savvy in how they engage and look after their online reputation.
De 47 slechtste social media cases #fail. Er kan zoveel misgaan als je in de wereld van social media stapt.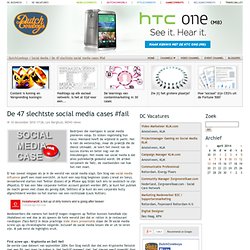 Een blog van social media influence geeft een mooi overzicht. Je kunt een nep-blog beginnen (zoals L'oreal en Sony), onvoorbereid starten met Twitter (Exxon) of je iPhone app blijkt toch iets te sexistisch te zijn (PepsiCo). Er kan een fake corporate twitter account gestart worden (BP), je kunt het publiek de macht geven met chaos als gevolg (GM, Skittles) of je kunt als een corporate bully afgeschilderd worden na het starten van een rechtszaak (Louis Vuitton). Klagen via Twitter: Klantenservice 2.0. Vorige week las ik op Marketingfacts een interessante post waarin onder andere de typering en benaming van de online relatie tussen merken en hun klanten werd besproken. Zijn het wel fans, vrienden, likers en volgers?
En welke kwalificaties (authenticiteit) vraagt dit van hen die namens deze merken op sociale media de communicatie voeren en daarmee 'het gezicht' van het merk vormen? Dit naar aanleiding van de presentatie van de Social Media Monitor van Social Embassy met het thema "Merken worden vrienden". Social Media in 1 minuut. Social Media is niks voor ons! Hoe zorg je dat er positief over je gesproken wordt en je onderdeel wordt van een conversatie? En wellicht nog wel belangrijker voor een bedrijf, hoe zorg je dat er mond-tot-mond-reclame ontstaat? Hoe creëer je zodanig waarde, zodat men het persoonlijke netwerk voor jou als bedrijf openstelt? Topmerken investeren fors in social media. Ruim 90% van de Nederlandse topmerken is de consument gevolgd naar social media zoals Facebook, Hyves en Twitter. Bedrijven investeren fors in social media door een Social Media Manager aan te nemen, tooling en software aan te schaffen of campagnes te voeren.
Het realiseren van 'engagement' blijft vooralsnog lastig in de praktijk voor een gemiddeld merk. Steve Jobs, Father of Social Media - Alexandra Samuel. By Alexandra Samuel | 10:06 AM October 6, 2011 Steve Jobs's passing has been met with a flood of assessments of his legacy. What you won't find amidst the fond remembrance is much about Apple's contribution to social media. After all, social media is widely seen as Apple's Achilles heel: the one area in which Apple didn't get it. Those who revere or fetishize the company's magic touch with both hardware and software have often been mystified by its failure to produce a successful social media offering on the scale of Facebook, WordPress, or Twitter.
The lack of an Apple-branded social media home run should scarcely be taken as evidence that Jobs missed the boat on this key dimension of the digital revolution. Social Media World Forum NY #inspiratie. Social media events zijn hot. Ze schieten als paddenstoelen uit de grond en als je nog nooit bij een dergelijk feestje bent geweest hoor je er niet bij. Toch? Op 1 en 2 november is het tijd voor het Social Media World Forum in New York. Twee dagen vol met workshops, case studies, keynotes, tweet up panels en debatten. Have a break? Video: What Is Search Engine Optimization / SEO In 3 Minutes. Facebook Likejacking : een bijzonder irritant fenomeen. King Kong - Viral Marketing - Eduardo Bottura. Nike & Adidas: Detox the world's water. Clickers and Stickers Make H&M Detox.
Belgian navy sings Don't stop me now by Queen / Belgische marine zingt. Are We Measuring The Wrong Thing in Social Marketing? | CMO Strategy. SlideShare Presentations. Penny Power. Trust" of de gevaren van het internet.
Manage social media
Publish. Communicate. Network. Community. Crowdsourcing, Collaboration.
---