Yugolsav Wars
Sarajevo hosts a concert 20 years after siege - Features. Sarajevo, Bosnia and Herzegovina - On April 6, Sarajevo is marking 20 years since the beginning of the longest siege in modern history, during which Serb forces killed 11,541 of its citizens - more than 1,000 of them children - with grenades and snipers.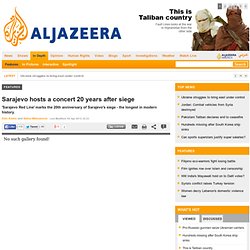 A concert entitled "Sarajevo Red Line" will be held in the memory of those killed during the 1992-1996 siege of Sarajevo. Its organisers want to send a message to the world, not to repeat such slaughter. "This project will serve as a warning to wholesale destruction, firstly the destruction of every person who happened to be under siege," said Sarajevo mayor Alija Behmen. Nobody will sit on the 11,541 chairs placed in Sarajevo's centre. "The chairs being placed over 800 metres will remain empty on April 6, because the people killed during the siege are unable to attend the show. Bosnia remembers: 11,541 empty chairs laid out in Sarajevo in memory of dead 20 years after bloody conflict began. Chair laid out for every man, woman and child killed in conflictSarajevo siege went on for 44 MONTHS By Rob Cooper Published: 14:10 GMT, 6 April 2012 | Updated: 16:26 GMT, 6 April 2012 Empty chairs were laid out in Sarajevo today in honour of the 11,541 people killed in the city during the Bosnian war which began exactly 20 years ago.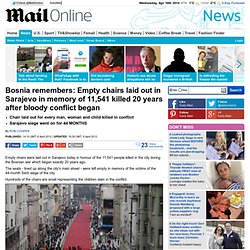 Twenty years on from its siege, Sarajevo still feels the emptiness - Europe - World. Marking the 20th anniversary of the start of the Bosnian war, exhibitions, concerts and performances were held, but the impact of the empty chairs reduced many to tears.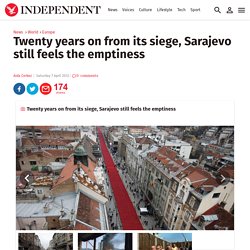 "It's as if the whole tragedy materialised, became visible," said Asja Rasavac, who covered her face with an umbrella, embarrassed at not being able to control her tears. "One cannot even describe the feeling. It's not hatred. AM - Bloody Sarajevo siege remembered 07/04/2012. ELIZABETH JACKSON: In the Bosnian capital, Sarajevo, thousands have turned out to mark the 20th anniversary of the beginning of the siege of their city and a long and bloody war that cost around 100,000 lives.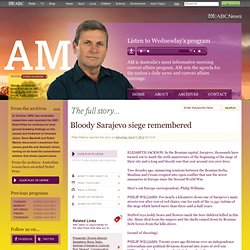 Two decades ago, simmering tensions between the Bosnian Serbs, Muslims and Croats erupted into open conflict that saw the worst massacres in Europe since the Second World War. Here's out Europe correspondent, Philip Williams. Sarajevo : la guerre à travers l'objectif. Sarajevo: A look back at the first few months of the siege. Twenty years ago, the Bosnian war began with the siege of Sarajevo, which over the next 46 months became the longest siege of a city in modern history.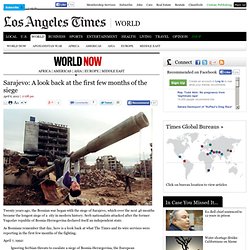 Serb nationalists attacked after the former Yugoslav republic of Bosnia-Herzegovina declared itself an independent state. As Bosnians remember that day, here is a look back at what The Times and its wire services were reporting in the first few months of the fighting. April 7, 1992: Ignoring Serbian threats to escalate a siege of Bosnia-Herzegovina, the European Community announced Monday that it will recognize the independence of this former Yugoslav republic now racked by ethnic clashes and paralyzed by roadblocks. April 9, 1992: Profile: General Philippe Morillon - Bosnia, I am with you: Tony Barber reports from Zvornik on the French general who is bringing hope to a besieged town - Opinion. And there is another reason for the West's reaction: usually, a war, however gruesome, produces one or two heroes, figures from whom we draw the comforting thought that at least some good will eventually emerge from this miserable conflict.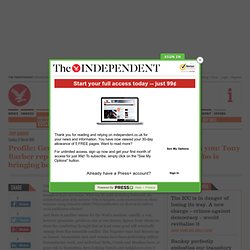 The Yugoslav wars had thrown up no heroes. Anonymous men and women have been performing selfless humanitarian work, and individual Serbs, Croats and Muslims have, at great risk to themselves, been helping friends and neighbours even if they belong to a different nationality. But the political and military leaders have seemed nothing but cynical liars and shameless killers. Now, just possibly, a hero is emerging. He is a thin, grey-haired, bespectacled French general, the commander of the UN Protection Force in Bosnia and Croatia. Glance of events that led to Srebrenica massacre | World news. The Associated Press= On July 11, 1995, more than 8,000 Bosnian Muslim men and boys were slaughtered by Bosnian Serb forces in an enclave declared a "safe area" by the United Nations and protected by U.N. peacekeepers.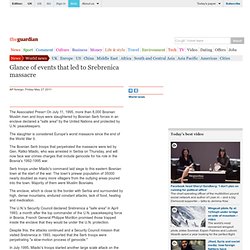 The slaughter is considered Europe's worst massacre since the end of the World War II. The Bosnian Serb troops that perpetrated the massacre were led by Gen. Ratko Mladic, who was arrested in Serbia on Thursday, and will now face war crimes charges that include genocide for his role in the Bosnia's 1992-1995 war. Serb troops under Mladic's command laid siege to this eastern Bosnian town at the start of the war. The town's prewar population of 35000 nearly doubled as many more villagers from the outlying areas poured into the town.
---