Yugolsav Wars
Sarajevo hosts a concert 20 years after siege - Features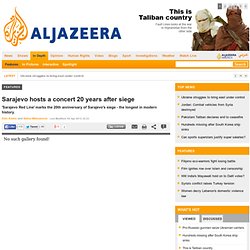 Sarajevo, Bosnia and Herzegovina - On April 6, Sarajevo is marking 20 years since the beginning of the longest siege in modern history, during which Serb forces killed 11,541 of its citizens - more than 1,000 of them children - with grenades and snipers. A concert entitled "Sarajevo Red Line" will be held in the memory of those killed during the 1992-1996 siege of Sarajevo.
Chair laid out for every man, woman and child killed in conflict Sarajevo siege went on for 44 MONTHS
Bosnia remembers: 11,541 empty chairs laid out in Sarajevo in memory of dead 20 years after bloody conflict began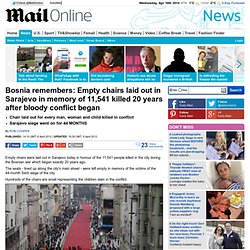 Twenty years on from its siege, Sarajevo still feels the emptiness - Europe - World
Marking the 20th anniversary of the start of the Bosnian war, exhibitions, concerts and performances were held, but the impact of the empty chairs reduced many to tears.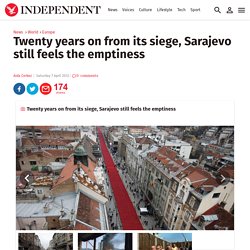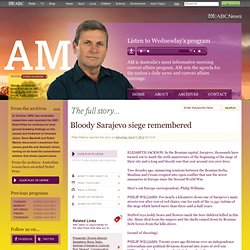 ELIZABETH JACKSON: In the Bosnian capital, Sarajevo, thousands have turned out to mark the 20th anniversary of the beginning of the siege of their city and a long and bloody war that cost around 100,000 lives. Two decades ago, simmering tensions between the Bosnian Serbs, Muslims and Croats erupted into open conflict that saw the worst massacres in Europe since the Second World War. Here's out Europe correspondent, Philip Williams.
AM - Bloody Sarajevo siege remembered 07/04/2012
Sarajevo : la guerre à travers l'objectif
Twenty years ago, the Bosnian war began with the siege of Sarajevo, which over the next 46 months became the longest siege of a city in modern history. Serb nationalists attacked after the former Yugoslav republic of Bosnia-Herzegovina declared itself an independent state.
Sarajevo: A look back at the first few months of the siege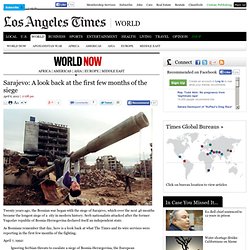 Articles about Philippe Morillon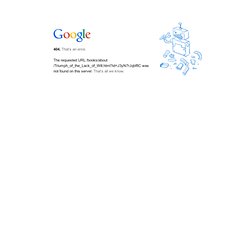 More Mark Danner - The New York Review of Books Triumph of the Lack of Will: International Diplomacy and the Yugoslav War by James Gow.
Triumph of the Lack of Will: International Diplomacy and the Yugoslav War - James Gow
Profile: General Philippe Morillon - Bosnia, I am with you: Tony Barber reports from Zvornik on the French general who is bringing hope to a besieged town - Opinion
And there is another reason for the West's reaction: usually, a war, however gruesome, produces one or two heroes, figures from whom we draw the comforting thought that at least some good will eventually emerge from this miserable conflict. The Yugoslav wars had thrown up no heroes.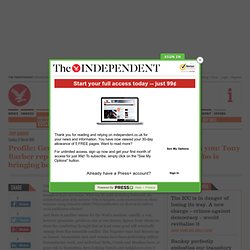 Glance of events that led to Srebrenica massacre | World news