#wikileaks citicisms
A counter-productive WikiLeak | Analysis & Opinion | Bernd Debusmann is a Reuters columnist.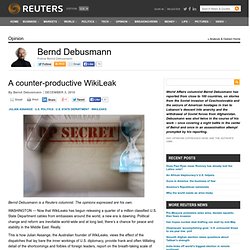 The opinions expressed are his own. WASHINGTON — Now that WikiLeaks has begun releasing a quarter of a million classified U.S. Reporters Sans Frontières - Open letter to Wikileaks founder Julian Assange: ''A bad precedent for the Internet's future'' Julian Assange Founder Wikileaks Dear Mr.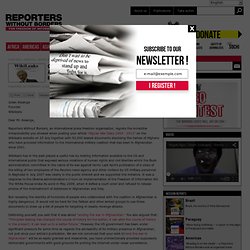 Assange, Reporters Without Borders, an international press freedom organisation, regrets the incredible irresponsibility you showed when posting your article "Afghan War Diary 2004 - 2010" on the Wikileaks website on 25 July together with 92,000 leaked documents disclosing the names of Afghans who have provided information to the international military coalition that has been in Afghanistan since 2001. Wikileaks has in the past played a useful role by making information available to the US and international public that exposed serious violations of human rights and civil liberties which the Bush administration committed in the name of its war against terror.
Last April's publication of a video of the killing of two employees of the Reuters news agency and other civilians by US military personnel in Baghdad in July 2007 was clearly in the public interest and we supported this initiative. 12 Theses on Wikileaks. These 0.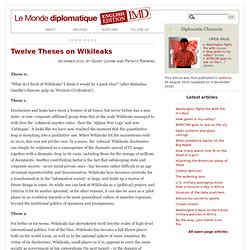 "What do I think of Wikileaks? I think it would be a good idea!" (after Mahatma Gandhi's famous quip on 'Western Civilisation') These 1. Cult of transparency. Iceland-based Wikileaks is in the middle of "the largest intelligence leak in history."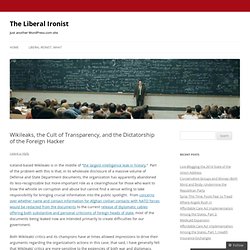 Part of the problem with this is that, in its wholesale disclosure of a massive volume of Defense and State Department documents, the organization has apparently abandoned its less-recognizable but more-important role as a clearinghouse for those who want to blow the whistle on corruption and abuse but cannot find a venue willing to take responsibility for bringing crucial information into the public spotlight. From concerns over whether name and contact information for Afghan civilian contacts with NATO forces would be redacted from the documents to the current release of diplomatic cables offering both substantive and personal criticisms of foreign heads of state, most of the documents being leaked now are intended primarily to create difficulties for our government.
WikiLeaks just made the world more repressive. I am an aid worker, the kind who rants about transparency, open governments and reforming the United Nations.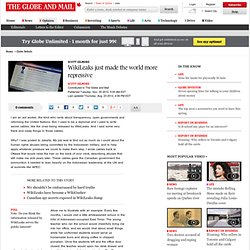 But, I used to be a diplomat and I used to write secret cables, like the ones being released by WikiLeaks. And I said some very frank and nasty things in those cables. Why? I was posted to Jakarta. My job was to find out as much as I could about the human rights abuses being committed by the Indonesian military, and to help apply whatever pressure we could to make them stop.
---