Social Media trends
Distraction and issues. WILFING - WILBING. The History of Email [INFOGRAPHIC] Email, you've come a long way, baby.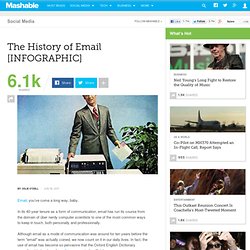 In its 40-year tenure as a form of communication, email has run its course from the domain of über nerdy computer scientists to one of the most common ways to keep in touch, both personally and professionally. Although email as a mode of communication was around for ten years before the term "email" was actually coined, we now count on it in our daily lives. America According to Twitter: U.S. Cities Remixed [INFOGRAPHIC] @pontifex, le plan com' du Vatican. M le magazine du Monde | • Mis à jour le | Par Philippe Ridet Comme toujours, trois plantes vertes tentent – sans succès – d'égayer la tribune. comme toujours, la salle de presse a cet air triste et fonctionnel d'un salon de conférence au sous-sol d'un grand hôtel.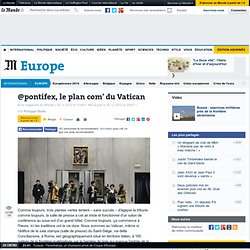 Comme toujours, ça commence à l'heure. Ici les traditions ont la vie dure. Nous sommes au Vatican, même si l'édifice de la sala stampa (salle de presse) du Saint-Siège, via della Conciliazione, à Rome, est géographiquement situé en territoire italien, à 100 mètres de la frontière matérialisée par la barrière de bois qui marque l'entrée de la place Saint-Pierre. Tout le monde s'étonne que @FHDR en ai plein le cul de Twitter et vire sa TL, et s'il l'a fait c'es. In defence of anonymous pricks - Unleashed. Find More Stories In defence of anonymous pricks Chas Licciardello.
Les narcistes Twittstory en une. Les gens de l'Internet aiment à se gargariser de la notion d'INFLUENCE.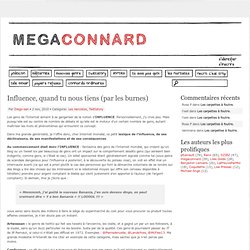 Personnellement, j'y crois peu. Mais puisqu'elle est au centre de nombre de débats et qu'elle est le moteur d'un certain nombre de gens, autant maîtriser les mots et phénomènes qui entourent ce concept. The Way We Live Now - I Tweet, Therefore I Am. Matthew Pillsbury/Bonni Benrubi Gallery I came late to .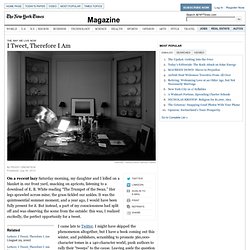 I might have skipped the phenomenon altogether, but I have a book coming out this winter, and publishers, scrambling to promote 360,000-character tomes in a 140-character world, push authors to rally their "tweeps" to the cause. Leaving aside the question of whether that actually boosts sales, I felt pressure to produce. I quickly mastered the Twitterati's unnatural self-consciousness: processing my experience instantaneously, packaging life as I lived it. I learned to be "on" all the time, whether standing behind that woman at the supermarket who sneaked three extra items into the express check-out lane (you know who you are) or despairing over human rights abuses against women in Guatemala.
Newspapers and technology: Network effects. Media140 Sydney 2009. 15 Fascinating Ways to Track Twitter Trends. One of the great things about TwitterTwitter reviews is that it is a great place to track emerging trends.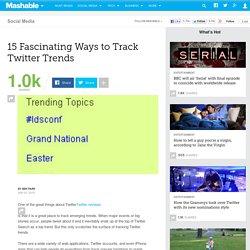 When major events or big stories occur, people tweet about it and it inevitably ends up at the top of Twitter Search as a top trend. But this only scratches the surface of tracking Twitter trends. There are a wide variety of web applications, Twitter accounts, and even iPhone apps that can help people do everything from track popular hashtags to graph out recent Twitter trends.
Facebook the movie
Media140 Sydney 2009 on USTREAM: Future of Journalism in the Soc. Watch without ads Ustream © Search Log in / Sign up With Facebook (faster)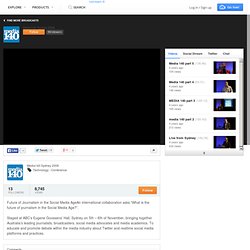 How to say stupid things about social media | Cory Doctorow | A woman checks Twitter on an iPhone Photograph: Sarah Lee Here are some suggested things to say if you want to sound like an idiot when you talk about social media: • It's inconsequential – most of the verbiage on Twitter, Facebook and the like is banal blather Yes, it certainly is.
Web Strategy Matrix: Google Buzz vs Facebook vs MySpace vs Twitt. Lack Of Signal In A Sea of Noise There's an incredible amount of media and blogger noise about social networks, yet most focus on "killer app" hype without an objective point of view.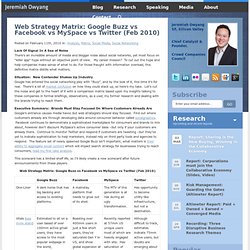 My career mission? To cut out the hype and help companies make sense of what to do. For those fraught with information overload, this definitive matrix distills what matters. Situation: New Contender Shakes Up Industry Google has entered the social networking play with "Buzz", and by the look of it, this time it's for real. Five Reasons Why Corporate Blogs Fail - Technorati Guru. Corporate blogging has become incredibly popular in the business to business (B2B) sector.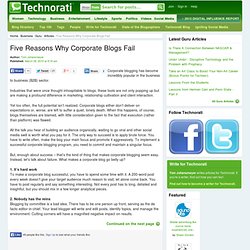 Industries that were once thought inhospitable to blogs, these tools are not only popping up but are making a profound difference in marketing, relationship cultivation and client interaction. Yet too often, the full potential isn't realized. Corporate blogs either don't deliver on expectations or, worse, are left to suffer a quiet, lonely death. When this happens, of course, blogs themselves are blamed, with little consideration given to the fact that execution (rather than platform) was flawed. "90-9-1" Rule for Participation Inequality: Lurkers vs. Contribu. Led by Facebook, Twitter, Global Time Spent on Social Media Site. According to The Nielsen Company, global* consumers spent more than five and half hours on social networking sites like Facebook and Twitter in December 2009, an 82% increase from the same time last year when users were spending just over three hours on social networking sites.
In addition, the overall traffic to social networking sites has grown over the last three years. Globally, social networks and blogs are the most popular online category when ranked by average time spent in December, followed by online games and instant messaging. With 206.9 million unique visitors, Facebook was the No. 1 global social networking destination in December 2009 and 67% of global social media users visited the site during the month. Time on site for Facebook has also been on the rise, with global users spending nearly six hours per month on the site. GigaTweet - Counting the number of twitter messages.
35 Great Social Media Infographics. 35 Great Social Media Infographics [Note: I recently updated this compilation to include some more recent visualizations... you can see it here.] Here's a collection of terrific social media infographics that might come in handy. As you probably know, infographics are visual representations of information, data, or knowledge. They illustrate information that would be unwieldy in text form and they act as a kind of visual shorthand, making information easy to understand and consume.
They are driven by the same information as charts, but they're often a better form of communication because of their pleasant aesthetics — charts and graphs can communicate data, but infographics turn data into information. A new Twitter record - 3282 tweets per second | Social Media Tod. On average Twitter sees 750 tweets per second being sent out says the Blog Herald.
By comparison, a Twitter record was broken twice in succession last week, first during the NBA basketball finals in the States, and second during the Japan / Denmark match in the World Cup. The Los Angeles Lakers / Boston Celtics game saw 3085 tweets per second being posted…but that record was quickly broken during the Japan vs Denmark 1st round World Cup match to see who would qualify for the 2nd round (Japan) when 3282 tweets per second were sent out. Two observations around those stats: 1 - It's another sign of live TV becoming a shared social experience via networks such as Twitter. Even though they might be watching a World Cup match on their own, people are tapping into a wider network of friends online, exchanging comments with them. La crise du lien. Ce post est #oldlink-safe La crise du lien Par Henry Michel Ikezukuri.
---