Responses to EU crisis 2012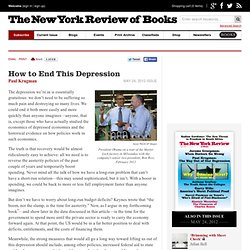 Susan Walsh/AP Images
How to End This Depression by Paul Krugman
Enjoy full access to FT.com's award-winning news, comment and analysis. With over from 500 journalists reporting from over 50 countries, read our trusted news, expert insight and authoritative opinion as it's happening. Access FT.com's 5 year archive of news, comment, analysis, reports and more for all the information on factors affecting your business you need.
You don't need to be a lefty to support Krugman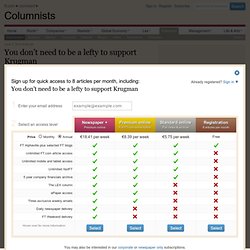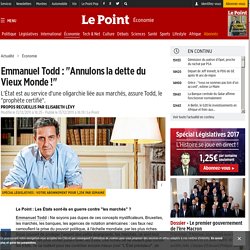 Le Point : Les États sont-ils en guerre contre "les marchés" ? Emmanuel Todd : Ne soyons pas dupes de ces concepts mystificateurs, Bruxelles, les marchés, les banques, les agences de notation américaines : ces faux nez camouflent la prise du pouvoir politique, à l'échelle mondiale, par les plus riches. Sous couvert de protéger l'argent des petits épargnants, les marchés, ce sont tout simplement les plus riches jouant avec les États.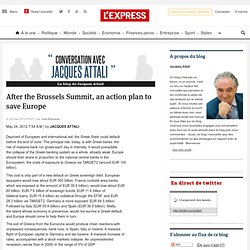 Attali - After the Brussels Summit, an action plan to save Europe
May 24, 2012 7:54 A.M | by JACQUES ATTALI Deprived of European and international aid, the Greek State could default before the end of June. The principal risk, today, is with Greek banks: the risk of massive bank run grows each day in intensity.
European elections: if the left doesn't lead revolt against austerity, others will | Seumas Milne | Comment is free
Syriza's Alexis Tsipras in Athens on 8 May after talks on the 'unlkely prospect of forming a government without new elections'. Photo: Simela Pantzartzi/EPA Revolt against austerity is sweeping Europe.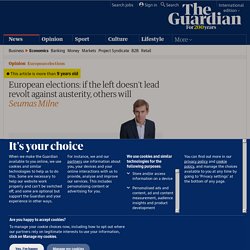 SYRIZA leader Alexis Tsipras at a pre-election rally in Athens Read mainstream accounts of the massive electoral realignment in Greece and you notice a strange use of terminology.
The Greek inferno: First the unravelling, then the rupture – - Left FlankLeft Flank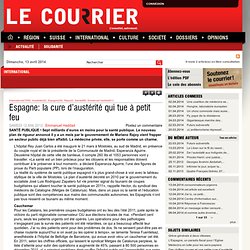 Espagne: la cure d'austérité qui tue à petit feu
SANTÉ PUBLIQUE • Sept milliards d'euros en moins pour la santé publique. Le nouveau plan de rigueur annoncé il y a un mois par le gouvernement de Mariano Rajoy vient frapper un secteur public déjà bien affaibli.
Blockupy Frankfurt Euro Crisis and Debt in Europe
EuroMemo Group - European Economists for an Alternative Economic Policy in Europe
EURO MEMORANDUM 2012 (ESSENTIAL) pdf
Trevor Evans the_so_called_crisis_of_the_euro.pdf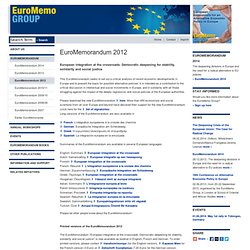 This EuroMemorandum seeks to set out a critical analysis of recent economic developments in Europe and to present the basis for possible alternative policies.
Group - EuroMemorandum 2012
Trevor Evans EU crisis: Causes, Consequences and Policy Responses
Trevor Evans on the new EU fiscal treaty
Trevor Evans @ EU in crisis conference on Vimeo
5 explanations to Fin Crisis (2010)
Finance-dominated_capitalism_in_crisis Global Keynesian New Deal
Crisis Causes exxplanations
the sorrows of young euro unige.ch
EHES political trilemma
The crisis in the eurozone is critically important for Asia. At a distinguished speaker seminar at ADBI on 1 December 2011, three eminent European economists examined the crisis and put forward tentative solutions.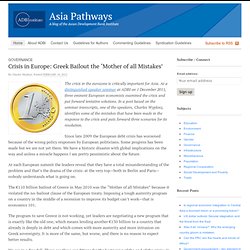 Crisis in Europe: Greek Bailout the 'Mother of all Mistakes' | Asia Pathways
US congress overview Policy resp
IMF Banks+Sovereigns joined at hip
Peut-être avez-vous déjà croisé ce bel infographe sur les L'IIEA en a largement fait sa promotion en le diffusant partout en publicité sur internet. J'ai eu envie de vous le décortiquer en effectuant sa traduction afin de le rendre plus accessible à tous. L'Institute of International and European Affairs (IIEA), www.iiea.com , est une organisation indépendante à but non lucratif irlandaise qui se définit comme un « think tank » (laboratoire d'idées) irlandais et qui réalise des programmes de recherche sur les solutions et les options à apporter aux membres de l'UE afin de les aider dans leurs décisions politiques.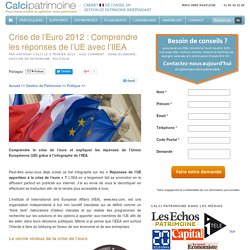 Crise de l'Euro 2012 : Comprendre les réponses de l'UE avec l'IIEA
30 Apr 2012
Maurice Obstfeld VID policy responses in Eu IIEA
Nomura (bank view)
Strategic choices for EU ahead
Calculating the Impact of Cyprus's Bailout
European Debt Crisis
European sovereign debt crisis : Timeline of key events in the European sovereign debt crisis
Grand débat sur la réponse européenne à la crise le 6 mars 2012
La Représentation en France de la Commission européenne, avec l'appui de 8 partenaires (voir ci-dessous), a organisé le 6 mars 2012 un grand débat ouvert à tous sur la réponse européenne à la crise crise économique et financière. Alors que l'Union Européenne fête en 2012 les 10 ans de la mise en circulation de l'euro, il paraissaît indispensable de saisir cette occasion pour prendre le temps d'analyser et d'expliquer ce qui a été fait pour répondre à la crise, de débattre des options possibles pour prolonger ces solutions et de donner des perspectives pour redynamiser l'économie européenne. Liste des intervenants et programme [103 KB] Télécharger les ACTES (Document de 44 pages) [9 MB] Télécharger la synthèse des débats [523 KB]
Crise en Europe: l'heure du débat a sonné! (première partie) · UEfrance
Crise en Europe: l'heure du débat a sonné! (deuxième partie) · jaralive
The European Union's Response To The Euro Crisis
The Euro Crisis Infographic_Flat.png (PNG Image, 2700×4100 pixels)
unfolding Euro implosion utexas.edu