#Occupy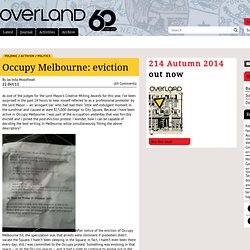 Occupy Melbourne: eviction « Overland literary journal
As one of the judges for the Lord Mayor's Creative Writing Awards for this year, I've been surprised in the past 24 hours to hear myself referred to as a 'professional protester' by the Lord Mayor – an 'arrogant liar' who had had their 'little self-indulgent moment in the sunshine' and 'caused at least $15,000 damage' to City Square. Because I have been active in Occupy Melbourne. I was part of the occupation yesterday that was forcibly evicted and I joined the post-eviction protest.
Occupying the protesters' time
Twitter
A Guide to the Occupy Wall Street API, Or Why the Nerdiest Way to Think About OWS Is So Useful - Alexis Madrigal - Technology
The most fascinating thing about Occupy Wall Street is the way that the protests have spread from Zuccotti Park to real and virtual spaces across the globe.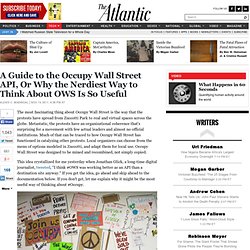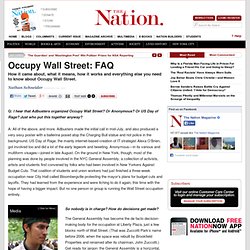 Q: I hear that Adbusters organized Occupy Wall Street? Or Anonymous? Or US Day of Rage?
Occupy Wall Street: FAQ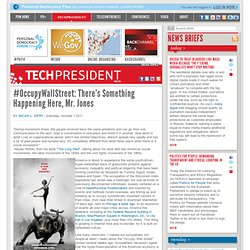 "During movement times, the people involved have the same problems and can go from one communication to the next, start a conversation in one place and finish it in another. Now we're in what I call an organizational period, which has limited objectives, doesn't spread very rapidly and has a lot of paid people and bureaucracy.
#OccupyWallStreet: There's Something Happening Here, Mr. Jones
The Occupy Wall Street protests are one of the most interesting movements that I have seen emerging in recent times from the US.
Hacktivism meets Wall St