Music various
Gil Scott-Heron - 'Where Did The Night Go'
December 13th, 2010
Platform Politricks
the mix tape
After their demise, artists are at the mercy of history. The ones who survive are the ones who are malleable, who can ride the shifting tides of ideology, ideals, theory, fashion, catastrophe, and shibboleth that constitute the zeitgeist. The survivors, however, don't always ride those tides unscathed.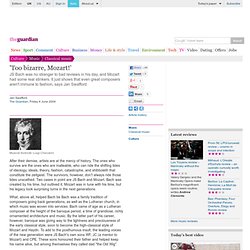 'Too bizarre, Mozart!' | Music
On December 27, 2008, Israel's already crippling siege on the neighbouring Gaza Strip escalated into a brutal war.
MUST WATCH VIDEO: Reflections of war on Gaza, Aljazeera Parts 1-