Kultur - Films
Zero Dark Thirty
"Le Grand Soir" : "Nous sommes tous des punks à chien" LE MONDE | • Mis à jour le | Par Jacques Mandelbaum Honnêtement, qui se serait attendu à ce qu'une paire d'hurluberlus de "Groland" - seule émission du PAF à ressusciter les mânes d'Alfred Jarry - acclimate les moeurs de l'ubuesque "présipauté" au paysage délicat du cinéma français ?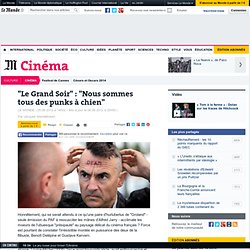 Force est pourtant de constater l'irrésistible montée en puissance des deux de la flibuste, Benoît Delépine et Gustave Kervern.
Politic Fictions Docos
Cher Mathieu Kassovitz. Cher Mathieu Kassovitz, Je viens d'avoir le cinéma français, il n'a rien senti.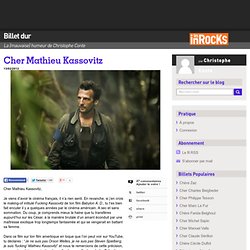 En revanche, si j'en crois le making-of intitulé Fucking Kassovitz de ton film Babylon A. D., tu t'es bien fait enculer il y a quelques années par le cinéma américain. A sec et sans sommation. Du coup, je comprends mieux la haine que tu transfères aujourd'hui sur les César, à la manière brutale d'un amant éconduit par une maîtresse exotique trop longtemps fantasmée et qui se vengerait en battant sa femme. Kassovitz : «Pourquoi faire un film politique dans un pays qui n'en veut pas ?» Le réalisateur de La Haine joue dans La Vie d'une autre, le dernier film de Sylvie Testud.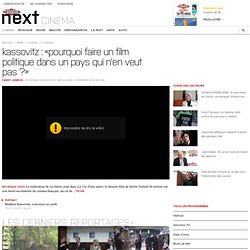 Et revient sur son tweet enculatoire du cinéma français, un cri de colère qu'il ne regrette pas. Il ne comprend toujours pas que son film L'ordre et la morale n'ait reçu qu'une seule nomination aux Césars. Ou plutôt, il le comprend trop bien... Interview : Mathieu Kassovitz - La quotidienne du cinéma.
The 50 Most Memorable Movie Assassinations | Complex.com. Assassinated By: Associates of Billy Blatts, whom Tommy killed Cause of Death: Shot in the back of the head after being tricked into thinking he's about to be "made" For a guy who talks all kinds of shit and shoots people at will, Tommy DeVito (Joe Pesci) should've anticipated retaliation of some kind.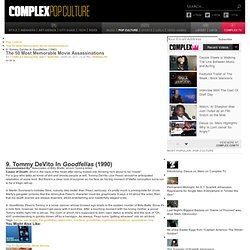 But there's a clear look of surprise on his face as his big moment of Mafia coronation turns out to be a tragic set-up. In Martin Scorsese's mobster films, nobody dies better than Pesci; seriously, it's pretty much a prerequisite for Uncle Marty's gangster pictures that the diminutive Pesci's character must die graphically. It says a lot about the actor, then, that his death scenes are always downers, albeit entertaining and masterfully staged ones. In Goodfellas, Pesci's Tommy is a loose cannon whose bruised ego leads to the sudden murder of Billy Batts. URL creation script. The 10 Best Musician Biopics.
As much as we love music, it always makes the songs a little more interesting to know about the lives that inspired them.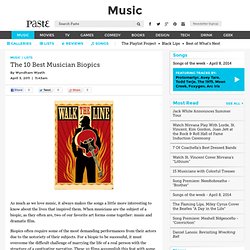 When musicians are the subject of a biopic, as they often are, two of our favorite art forms come together: music and dramatic film. Biopics often require some of the most demanding performances from their actors due to the notoriety of their subjects. For a biopic to be successful, it must overcome the difficult challenge of marrying the life of a real person with the structure of a captivating narrative.
These 10 films accomplish this feat with some of our favorite musicians as their subjects. M. Wall Street 2 trailer. When people think of movies that sum up a decade - or not just that: an attitude and a fixed point in time where capitalism was not only aspirational but hotter than a pair of polyester pants with in-built hot water bottle patches - they turn to Wall Street.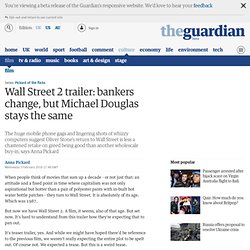 It is absolutely of its age. Which was 1987. But now we have Wall Street 2. A film, it seems, also of that age. But set now.
M. David Lynch 'Return of the Jedi' M.Top 50 Dystopian Movies of All Time. Massive dehumanization, totalitarian government, rampant disease, post-apocalyptic terrains, cyber-genetic technologies, societal chaos and widespread urban violence are some of the common themes in dystopian films which bravely examine the ominous shadow cast by future.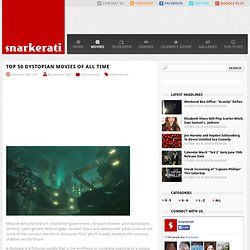 A dystopia is a fictional society that is the antithesis or complete opposite of a utopia, an ideal world with a perfect social, political and technological infrastructure. A world without chaos, strife or hunger. A world where the individual potential and freedom is celebrated and brought to the forefront. In contrast, the dystopian world is undesirable with poverty and unequal domination by specific individuals over others.
Dystopian films often construct a fictional universe and set it in a background which features scenarios such as dehumanizing technological advancements, man-made disasters or class-based revolutions. Compte @ rebours avant extinction ? par Sylvain Guyoton - LeMond. Les êtres humains offriraient-ils à Darwin un cadeau d'anniversaire spécial en provoquant leur retour dans l'arbre de vie duquel ils tentent de sortir depuis des milliers d'années de par leur réflexion et leur inclinaison à penser le passé et le futur ?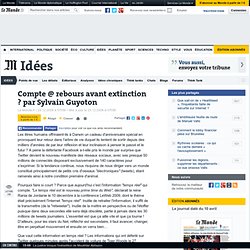 A peine la déferlante Facebook a-t-elle pris le monde par surprise que Twitter devient le nouveau manifeste des réseaux sociaux, avec ses presque 50 millions de connectés disposant exclusivement de 140 caractères pour s'exprimer. Si la tendance continue, nous risquons de nous diriger vers un monde constitué principalement de petits cris d'oiseaux "électroniques" (tweets), étant ramenés ainsi à notre condition première d'animal. PDF Mag | Destructed Magazine - www.destructed.info.
Johannes Jost from Hamburg Nils Kreffter from Hamburg Adriano Batista from Barcelona Jörg Dommel from Wassertrüdingen.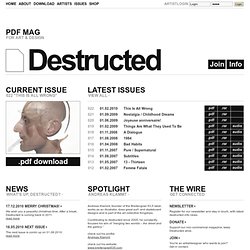 Is Google Making Us Stupid? - The Atlantic (July/August 2008) Illustration by Guy Billout "Dave, stop.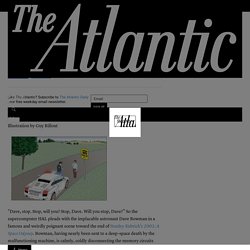 Stop, will you? M. Ingmar Bergman Face to Face. The Financial Services Club's Blog. Rebecca.
---