Intervention? Libya
An open letter to Bernard-Henri Lévy. Bernard-Henri Lévy is internationally known as a public intellectual, philosopher, cultural producer and activist.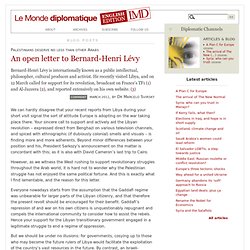 He recently visited Libya, and on 12 March called for support for its revolution, broadcast on France's TF1 (1) and Al-Jazeera (2), and reported extensively on his own website. (3) We can hardly disagree that your recent reports from Libya during your short visit signal the sort of attitude Europe is adopting on the war taking place there. Your sincere call to support and actively aid the Libyan revolution – expressed direct from Benghazi on various television channels, and spiced with ethnographic (if dubiously colonial) smells and visuals – is finding more and more adherents. Beyond minor differences between your position and his, President Sarkozy's announcement on the matter is concordant with this; as it is also with David Cameron's last trip to Cairo. Libya Needs Two-State Solution. Gaddafi: I am not afraid of the planes Libyan leader Muammar Gaddafi addresses a sea of green-clad supporters, condemning international action against his rule. 23, 2011 Now that Western troops and prestige are on the line, we have to make the Libyan intervention a success.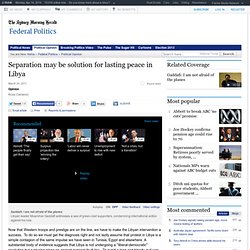 ABC The Drum - Kevin, um, it seems, ah, we (shuffle) sort of, ah, owe you an apology. Updated Fri 18 Mar 2011, 3:54pm AEDT Okay: I'll be the first to say it.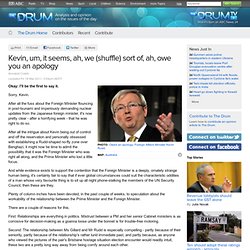 Sorry, Kevin. After all the fuss about the Foreign Minister flouncing in post-tsunami and imperiously demanding nuclear updates from the Japanese foreign minister, it's now pretty clear - after a horrifying week - that he was right to do so. After all the intrigue about Kevin being out of control and off the reservation and personally obsessed with establishing a Rudd-shaped no-fly zone over Benghazi, it might now be time to admit the possibility that it was the Foreign Minister who was right all along, and the Prime Minister who lost a little focus. And while evidence exists to support the contention that the Foreign Minister is a deeply, ornately strange human being, it's certainly fair to say that if ever global circumstances could suit the characteristic oddities of a man whose very favourite thing is to sit up all night phone-stalking the members of the UN Security Council, then these are they.
Libya, the Greens and the fate of Bela Kun « Geoff Robinson. Green enthusiasm for cause of a no-fly zone over Libya attracts much angst is it inconsistent with their pacifist traditions?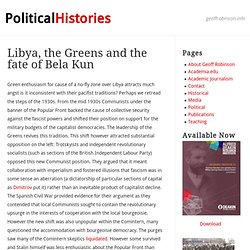 Perhaps we retread the steps of the 1930s. From the mid 1930s Communists under the banner of the Popular Front backed the cause of collective security against the fascist powers and shifted their position on support for the military budgets of the capitalist democracies. The leadership of the Greens revives this tradition. The case against bombing Libya « jonesblog.
The Arab Spring has given way to a cold snap: Tiananmen Square-style massacres of protesters in Yemen, the Saudi invasion of Bahrain and full-blown Western intervention in Libya.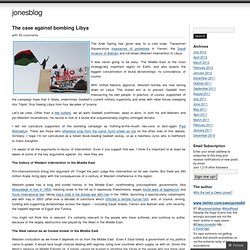 It was never going to be easy. The Middle East is the most strategically important region on Earth, and also boasts the biggest concentration of brutal dictatorships: no coincidence, of course. Libya and its oil: reason enough not to interfere? One thing supporters of liberal intervention in 2003 did, as part of their campaign to convince the left they were right, was try and forget that it was a US neo-con Christian with a history in oil deals taking forces into Iraq.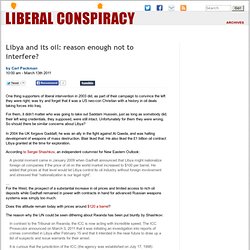 For them, it didn't matter who was going to take out Saddam Hussein, just as long as somebody did; their left wing credentials, they supposed, were still intact. Unfortunately for them they were wrong. So should there be similar concerns about Libya? Saving Libya, Let's Not Forget Lessons of Bosnia, Kosovo, Iraq | Doug Saunders. London The world once again has a global policeman.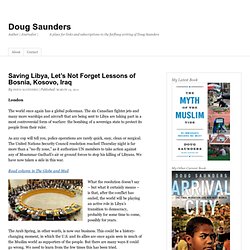 The six Canadian fighter jets and many more warships and aircraft that are being sent to Libya are taking part in a most controversial form of warfare: the bombing of a sovereign state to protect its people from their ruler. As any cop will tell you, police operations are rarely quick, easy, clean or surgical. The United Nations Security Council resolution reached Thursday night is far more than a "no-fly zone," as it authorizes UN members to take action against any of Moammar Gadhafi's air or ground forces to stop his killing of Libyans. 'Humanitarian intervention', the international community and Libya: The leopard has not changed its spots. L'option la moins "belligérante" serait d'armer l'opposition à marche forcée. FRS | • Mis à jour le | Par Jean-François Daguzan, maître de recherche à la Fondation pour la recherche stratégique (FRS) et rédacteur en chef de la revue Maghreb-Machrek D'un point de vue technique, une intervention militaire impliquant les Etats-Unis et les forces de l'Organisation du traité de l'Atlantique Nord (OTAN) ne poserait aucun problème de faisabilité.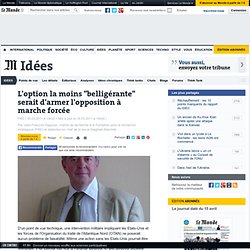 Même une action sans les Etats-Unis pourrait être envisageable pour peu que la France et la Grande-Bretagne en soit parties prenantes. Une intervention internationale ou régionale encadrée par le droit. IRSEM | • Mis à jour le | Par Jean-Paul Pancracio, professeur agrégé des facultés de droit et directeur de domaine à l'Institut de recherche stratégique de l'Ecole militaire (IRSEM Dans un processus de décision relatif à une possible intervention sur un territoire étranger aux fins d'aider un peuple à se libérer de son tyran, le politique, le stratégique, le juridique sont les champs de considérations complémentaires qui entrent en ligne de compte.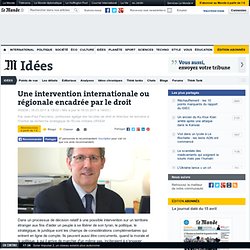 Ils peuvent aussi être concurrents, quand la morale et le politique, à qui il arrive de marcher d'un même pas, inciteraient à s'engager alors que le juridique ne le permet pas ou exige de passer du temps à négocier à la recherche d'un consensus. En l'occurrence, la France tente de convaincre ses partenaires européens d'intervenir en Libye pour appuyer l'opposition au colonel Kadhafi alors que cette dernière cède actuellement du terrain sur le plan militaire.
Une intervention multilatérale et réfléchie sur le long terme. IRIS | • Mis à jour le | Par Pascal Boniface, directeur de l'Institut de relations internationales et stratégique (IRIS) Un moment bousculées, les troupes loyales au colonel Kadhafi semblent être en mesure de reprendre le contrôle d'une grande partie du territoire libyen.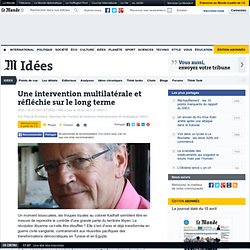 La révolution libyenne va-t-elle être étouffée ? Elle s'est d'ores et déjà transformée en guerre civile sanglante, contrairement aux réussites pacifiques des transformations démocratiques en Tunisie et en Egypte. Faut-il dès lors intervenir militairement, à la fois pour mettre fin à la répression, éviter un bain de sang et par la même occasion mettre fin au régime du colonel Kadhafi ? Revolution, intervention and solidarity -Libya and the 'anti-imperialist' left, part 1 – The Stump. The question of support for the Libyan revolution from any national army may soon become moot – at the moment it appears that the best the rebels can hope for is to maintain a zone in the east, and dig in for civil war; at worst, they will be rapidly overcome, with pretty hideous consequences.
In a couple of previous articles I pointed out how the revolution had shown up any claim by the right commentariat and the pro-Iraq-war left to being in favour of genuine liberation. But the right was ever thus. The left is a different matter. And there is no doubt that the Libyan revolution has taken a reflex 'anti-involvement' position (to use as neutral a term as possible) to the point of crisis. I've got an overview of what that is in today's Crikey.
---