#GFC snapshots
Darth Vader Opens WallStreet. Nicolas Sarkozy : Discours de Toulon. Reconnaissant que la crise « aura des conséquences dans les mois qui viennent sur la croissance, sur le chômage, sur le pouvoir d'achat, » Nicolas Sarkozy constate que « l'idée que les marchés ont toujours raison était une idée folle, » et juge que « le laissez-faire, c'est fini. » Mais attention : « la crise financière n'est pas la crise du capitalisme. » C'est la crise d'un système qui s'est éloigné de ses « valeurs les plus fondamentales ».
Que faire ? Trouver un « nouvel équilibre entre l'état et le marché, » réguler la finance, réformer le système monétaire international lors d'un nouveau Bretton Woods, bousculer les dogmes de l'Europe. Laissez-faire' capitalism is finished, says France. Both France and Germany on Thursday (25 September) said the current financial crisis would leave important marks on the world economy, with French president Nicolas Sarkozy declaring that the under-regulated system we once knew is now "finished," and German finance minister Peer Steinbruck saying the crisis marks the beginning of a multi-polar world, where the US is no longer a superpower.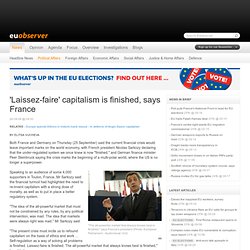 "The all-powerful market that always knows best is finished," says France's president (Photo: European Parliament - Audiovisual Unit) Speaking to an audience of some 4,000 supporters in Toulon, France, Mr Sarkozy said the financial turmoil had highlighted the need to re-invent capitalism with a strong dose of morality, as well as to put in place a better regulatory system.
"The idea of the all-powerful market that must not be constrained by any rules, by any political intervention, was mad. Nicolas Sarkozy Discours Toulon 25 sept 2008 - une vidéo Actu et.
---