French House / Electro 1990s
The Mighty Bop - Feeling good
Alan Braxe - Vertigo
Cassius - 1999
motorbass - ezio (cassius remix)
I:Cube - Adore
The Mighty Bop - Sans Remission (La Funk Mob Remix)
Gran Popo Football Club - La Poesie cést fini
ETIENNE DE CRECY (etiennedecrecy) on Twitter
As everyone learns, history can be cruel. Back at the dawn of the 1990s, the embryonic French dance scene (sometimes known as "French Touch") was built by a bizarrely sparse tangle of hands: Daft Punk's Thomas Bangalter, Air, Phillipe Zdar aka Cassius, Bob Sinclair. Yet there's one producer who's been pitilessly overlooked. Étienne Bernard Marie de Crécy was a draughtsman whose foundations still prop up the likes of Justice and the Ed Banger label with frictional aplomb. De Crécy has been behind some of the most urgent, delirious and downright seductive house music ever to escape from across the channel. Readers of a certain vintage might, when reading or hearing the name Superdiscount, experience spontaneous pupil dilation.
Music - Review of Étienne de Crécy - My Contribution to the Global Warming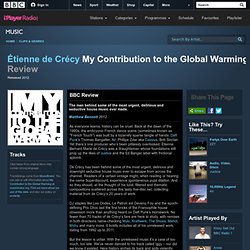 MY CONTRIBUTION TO THE GLOBAL WARMING on Vimeo
Etienne de Crécy : My contribution To Global Warming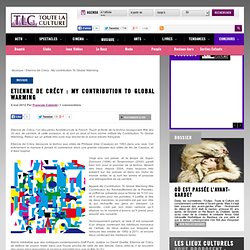 Etienne de Crécy, l'un des pères fondateurs de la French Touch et fierté de la techno hexagonale fête ses 20 ans de carrière. A cette occasion, le dj sort un best of hors norme intitulé My Contribution To Global Warming. Retour sur un artiste très voire trop discret de la scène electro française.
Etienne de Crécy is without doubt one of the most influential producers in electronic dance music, having been around for more than twenty years now. Next week will see the release of a monumental 5 CD box set sarcastically titled My Contribution To The Global Warning, consisting of two CDs with his remixes from 1995 to 2012, two CDs with previously unreleased tracks from 1992 to 2012 and last but not least one CD with essential classics. Massive!
Etienne de Crécy – My Contribution To The Global Warming [5 CD box set] | Disco Demons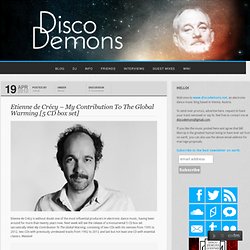 Etienne de Crecy - Super Discount
Etienne de Crecy - All Right
Etienne de Crecy - Funk
Dimitri from Paris - Sacre Francais long version
Dimitri From Paris - Not Quite Disco
Dimitri from Paris - Reach Inside
Dimitri From Paris - Une Very Stylish Fille
Air - Sexy Boy
air - all I need
Air - La Femme D'Argent
St Germain - Deep In It
SO FLUTE - ST. GERMAIN
St Germain - Rose Rouge
St Germain Sure Thing
Laurent Garnier - Flashback
Laurent Garnier - Acid Eiffel