TEST
Speed Test. Asociación de Internautas. Test de Velocidad de bajada y subida de ADSL Ayuda. Nota sobre el rendimiento de las conexiones El rendimiento de una conexión nunca es del 100%.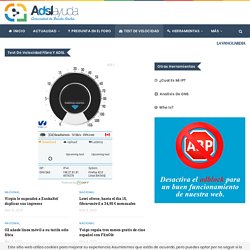 Hay que tener en cuenta que en estos tipos de conexiones (módem analógico, RDSI, ADSL, etc) se utilizan diversos protocolos (PPP, TCP/IP) que ocupan ancho de banda (entre un 2% y un 20% del 100% del total, según el tipo de conexión, protocolo utilizado), con lo que se reduce el ancho de banda útil para la descarga de datos. El resultado que se muestra en este test se corresponde con el ancho de banda útil, esto es, equivale a la velocidad de transferencia de información, y no a la velocidad de acceso. Adicionalmente, existen otros factores no medibles que pueden contribuir a reducir la velocidad de la conexión, como son la congestión en la red, interferencias electromagnéticas, etc., que también influyen el resultado final. Website Information, Analysis & Research Tool. MyIP.es - Cual es mi ip? My ip? Direccion ip? GTmetrix | Website Speed and Performance Optimization.
Down For Everyone Or Just Me -> Check if your website is down or up? Revise compatibilidad con Navegadores, Prueba de navegadores a través de plataformas - Browsershots. Speedtest.net - The Global Broadband Speed Test.
---