TEST
Asociación de Internautas
Nota sobre el rendimiento de las conexiones El rendimiento de una conexión nunca es del 100%. Hay que tener en cuenta que en estos tipos de conexiones (módem analógico, RDSI, ADSL, etc) se utilizan diversos protocolos (PPP, TCP/IP) que ocupan ancho de banda (entre un 2% y un 20% del 100% del total, según el tipo de conexión, protocolo utilizado), con lo que se reduce el ancho de banda útil para la descarga de datos. El resultado que se muestra en este test se corresponde con el ancho de banda útil, esto es, equivale a la velocidad de transferencia de información, y no a la velocidad de acceso. Adicionalmente, existen otros factores no medibles que pueden contribuir a reducir la velocidad de la conexión, como son la congestión en la red, interferencias electromagnéticas, etc., que también influyen el resultado final.
Test de Velocidad de bajada y subida de ADSL Ayuda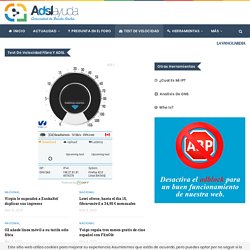 Dirección IP: 198.27.81.81País: CanadaCiudad: MontréalLatitud: 45.5078Longitud: -73.5804 Map DataMap data ©2014 Google Imagery ©2014 TerraMetrics Map Data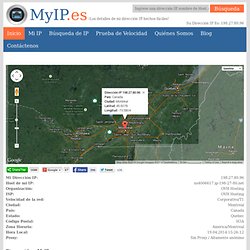 MyIP.es - Cual es mi ip? My ip? Direccion ip?
Everybody deserves a fast web experience. GTmetrix can help you develop a faster, more efficient, and all-around improved website experience for your users. Your users will love you for it.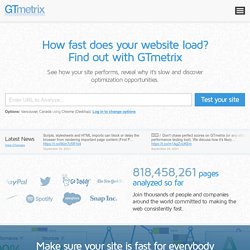 Browsershots makes screenshots of your web design in different operating systems and browsers. It is a free open-source online web application providing developers a convenient way to test their website's browser compatibility in one place. When you submit your web address, it will be added to the job queue. A number of distributed computers will open your website in their browser. Then they will make screenshots and upload them to our central dedicated server for your review.