INFOGRAFICAS
armement-frise-rouge-V3-gf.jpg (2200×1483)
schiste.jpg (1000×1010)
What is Your Water Footprint?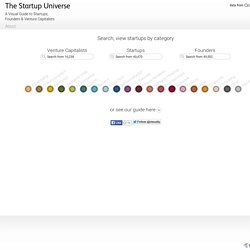 The Startup Universe displays and explores the relationships between startup companies and their founders and investors (Venture Capitalists) since 1990. Startups are grouped into 19 categories, based on the type of products or services they deliver. Each category is represented by an unique color. In addition to that, startups are visually sized according to the amount of financing they have raised, with each individual round displayed as well. Startups are positioned within the main interface on a horizontal interactive timeline, based on the year they were founded. Details about each company are provided below the timeline.
vizbox/startup-universe/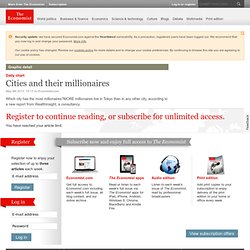 Daily chart: Cities and their millionaires
Which city has the most millionaires? MORE millionaires live in Tokyo than in any other city, according to a new report from WealthInsight, a consultancy. The city, which boasts 460,700 individuals with net assets of $1m or more (excluding their primary residences), is home to over a fifth of Japan's millionaires. You might think that anyone interested in rubbing shoulders with the rich should therefore head to Tokyo. You would be wrong: Frankfurt, where there are 75 millionaires per 1,000 people, would be a better bet.
</h3>*} En pleno proceso de reestructuración de sus subsidiarias, Petróleos Mexicanos (Pemex) decide consolidar su red empresarial "privada". Se trata del Grupo PMI, conformado por 13 compañías y la filial PMI Comercio Internacional, consideradas por el gobierno federal como "privadas no paraestatales" a pesar de que han sido constituidas con recursos públicos tanto en México como en el extranjero, algunas, incluso, en paraísos fiscales.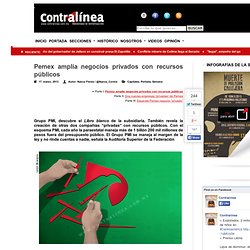 Pemex amplía negocios privados con recursos públicos
The good news is that each one of us can also make the world a little more water secure, ready to face the needs of our peak population future. How? The answer lies in our shopping baskets.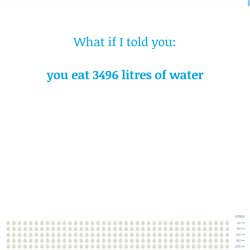 America's Cancer Clusters
Mapa de la guerra contra el narcotráfico
Bomb Sight - Mapping the World War 2 London Blitz Bomb Census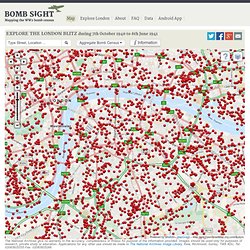 With Bomb Sight you can discover what it was like in London, during WW2 Luftwaffe Blitz bombing raids, exploring maps, images and memories. The Bomb Sight web map and mobile app reveals WW2 bomb census maps between 7/10/1940 and 06/06/1941, previously available only by viewing them in the Reading Room of The National Archives. How to use the Map Use the search box to find a street or postcode of interest You can move around the map by clicking on the pan controls Use the zoom controls to change the detail on the map: Click the plus (+) to see more detail and click the minus (-) to see less map detail Use the layer button in the top left to explore the different types of map information that is available Click on individual bomb icons to find out more information Click on the to have a look at the map legend (this button is not available when viewing the website on a small screen)
A Handsome Atlas: Wildly Awesome Data Visualizations from the Nineteenth Century
Code Imitating Art It's all well and good to love visualizations from the past, but it's another thing to bring them into the present. With the Ultimate Power of the Web! (and I'm not talking about A Handsome Atlas, either.) check it out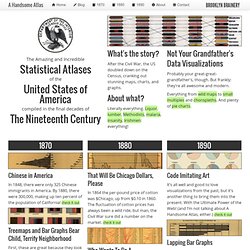 Generosidad Infografía
Wal-Mart World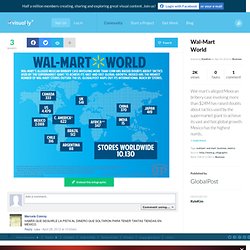 Thank you for subscribing. We sent an email, please click the link to complete Tell your story visually before December 31st and get a free iPad Air!* The holidays are a great time to tell your brand story.
Wood Dimensional Changes
São Paulo. September 3, 2012. Wood is a hygroscopic material, i.e. it exchanges moisture with its surrounding environment. As a piece of wood loses moisture it shrinks and as wood gains moisture back it swells.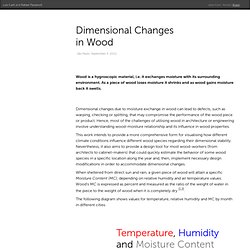 ilovecharts: Effective Retirement Age vs.
Immigration Nation
WorldGivingIndex2010
Cómo accedemos a Internet y quién lo controla #infografia #infographic #internet « TICs y Formación
Affording Health Care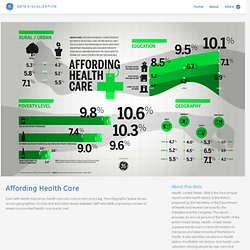 Even with health insurance, health care can cost an arm and a leg. The infographic below shows across geographies, income and education levels, between 1997 and 2006, a growing number of Americans avoided health care due to cost. About this data
Terrorism in Nigeria
Transparency: The Most Dangerous Cities for Walking - Transportation
PBS Frontline has published the interactive data visualization, NFL Concussion Watch 2013 to summarize all of the player concussions reported in the NFL. Every week in the National Football League, a player is sidelined by a head injury. In some cases, their symptoms are clearly visible and they exit the game. Other times, less obvious warning signs can mean a missed diagnosis and a return to the field. Either way, research indicates that the long-term health effects of such injuries — including memory loss, depression and even dementia — can pose problems for players long after retirement.Concussion Watch is an effort to monitor the NFL's response to the persistent risk of head injury in professional football. To do so, FRONTLINE will track which players are being removed from games after a hit to the head — and which players are not — and keep score of how long they are kept from the field following a concussion.
Cool Infographics - Blog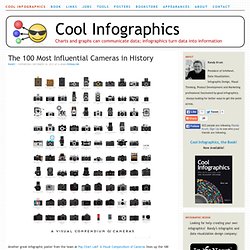 Todos los tamaños disponibles | Envelhecimento molecular (2010) | Flickr: ¡Intercambio de fotos!
2010: Deadliest for natural
Corporate taxes around the world
Twitter Dots - Beautiful map rendering of realtime Twitter tweets