FOTOGRAFOS
Lothar Wolleh. Steven Benson. A Single Photograph by Bela Borsodi Looks Like Four Separate Images. Paul Nicklen Photography. Mapplethorpe fotógrafo. Marsel van Oosten. Fotógrafo de la naturaleza y la vida salvaje. Fotógrafo de la naturaleza y la vida salvaje Largas pestañas naturales del elefante.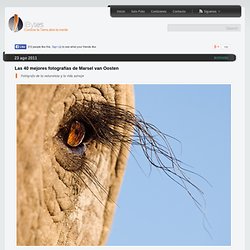 Marsel van Oosten Marsel van Oosten es un fotógrafo de la naturaleza reconocido en todo el mundo. Sus fotografías son famosas por su magistral dominio de la composición, iluminación, color y perspectiva. Yuri Ovchinnikov. Fundación Pedro Meyer.
Livia corona. Pedro Meyer. Navid Baraty Photography. Mario De Leo's Photostream. Creative Photography by Navid Baraty. Arild Heitmann. Arild Heitmann Photography. Frans Lanting. Antigorod. Yuri Ovchinnikov. Tony Kuyper. Iceland Photo Gallery. ColinDub.com. Photo Gallery from Altitude over 8000 m - Wild and Beautiful Places - Large Format Images. Marianna Safronova. Photographer's Request for Critique --Marianna Safronova Frozen in stone Comments are welcome!
BEST TO VIEW LARGE. Paul Nicklen. La fotografía millonaria de Andreas Gursky. Philip Peynerdjiev. Escaping the Storm. Emilio Parra Cañas. Noah grey. Abelardo Morell. Martin Klimas Photography. Phillip W. Cohen. Prabuddha Dasgupta.
Yuri Kozyrev. Matt Hoyle. Gary Land.
---