TI
O Pulo do Gato – tecnologia, empreendedorismo, inovação. ReadWriteWeb Brasil - Tendências, Apps, Internet, e Startups. Dia a dia, bit a bit… por Silvio Meira. Ruby on Rails.
Notícias TI
Meira.com. Envisioning Development: What is Affordable Housing? 10 Amazing Augmented Reality iPhone Apps. While Lawnmower Man may have led us to believe the future was a virtual one, it seems that in fact augmented reality (the overlaying of digital data on the real world) is where we're headed.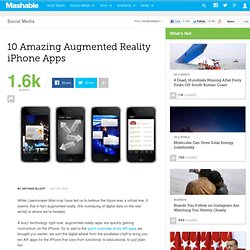 A buzz technology right now, augmented reality apps are quickly gaining momentum on the iPhone. So to add to the quick overview of six AR apps we brought you earlier, we sort the digital wheat from the pixellated chaff to bring you ten AR apps for the iPhone that vary from functional, to educational, to just plain fun. 1. Le Bar Guide Although the wisdom of getting drunk people to wave their iPhones around on today's mean streets is questionable, if you drink responsibly, as this Stella Artois-backed app urges you to, this could be a handy tool.
The Internet of Things - McKinsey Quarterly - High Tech - Hardwa. In most organizations, information travels along familiar routes.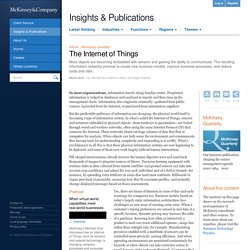 Proprietary information is lodged in databases and analyzed in reports and then rises up the management chain. Information also originates externally—gathered from public sources, harvested from the Internet, or purchased from information suppliers. But the predictable pathways of information are changing: the physical world itself is becoming a type of information system. In what's called the Internet of Things, sensors and actuators embedded in physical objects—from roadways to pacemakers—are linked through wired and wireless networks, often using the same Internet Protocol (IP) that connects the Internet.
Tech-Recipes | Tech-Recipes. Hospedagem de Sites e Serviços de Internet - Locaweb. Realidade Aumentada Mod Negócios. 2Simple Software - Making simple, powerful & creative educationa. AkitaOnRails.com. A design and usability blog: Signal vs. Noise (by 37signals) Andrew Chen (@andrew_chen) Miguel da Rocha Cavalcanti.
---
criativos_by_silviobraz Aug 12 2011

oi maciel adicionei sua perola nas minhas..vc tem skype? ...vms falar sobre PEARLTREES..trocar info...vlw..afinal de contas é dificil achar brasileiros por aqui.. por enquanto
---