TI
Para tomar decisões acertadas O sucesso ou insucesso de sua empresa depende de apenas um fator: as decisões que você irá tomar a cada dia! Caso você tome decisões certas, tem grandes chances de alcançar o sucesso. Agora, se tomar decisões erradas, o mais provável é que seu empreendimento entre para as estatísticas de negócios que fecharam as portas nos primeiros anos de vida.
O Pulo do Gato – tecnologia, empreendedorismo, inovação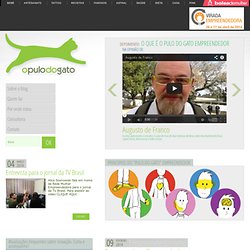 ReadWriteWeb Brasil - Tendências, Apps, Internet, e Startups
Ruby on Rails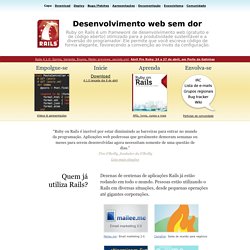 "Ruby on Rails é incrível por estar diminuindo as barreiras para entrar no mundo da programação. Aplicações web poderosas que geralmente demoram semanas ou meses para serem desenvolvidas agora necessitam somente de uma questão de dias." -Tim O'Reilly, fundador da O'Reilly Leia mais citações "Rails é o framework de desenvolvimento web mais bem bolado que eu já utilizei. E já faz mais de uma década que faço aplicações web para sobreviver.
meira.com
While Lawnmower Man may have led us to believe the future was a virtual one, it seems that in fact augmented reality (the overlaying of digital data on the real world) is where we're headed. A buzz technology right now, augmented reality apps are quickly gaining momentum on the iPhone. So to add to the quick overview of six AR apps we brought you earlier, we sort the digital wheat from the pixellated chaff to bring you ten AR apps for the iPhone that vary from functional, to educational, to just plain fun. 1. Le Bar Guide Although the wisdom of getting drunk people to wave their iPhones around on today's mean streets is questionable, if you drink responsibly, as this Stella Artois-backed app urges you to, this could be a handy tool.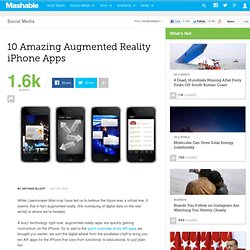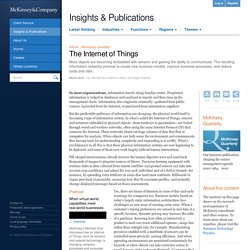 In most organizations, information travels along familiar routes. Proprietary information is lodged in databases and analyzed in reports and then rises up the management chain. Information also originates externally—gathered from public sources, harvested from the Internet, or purchased from information suppliers. But the predictable pathways of information are changing: the physical world itself is becoming a type of information system. In what's called the Internet of Things, sensors and actuators embedded in physical objects—from roadways to pacemakers—are linked through wired and wireless networks, often using the same Internet Protocol (IP) that connects the Internet.
Even though Illustrator's default shortcuts are helpful, users may still find the need to modify them to suit their workflow. To keep others from spending too much time setting up the necessary keyboard shortcuts, many designers share their own shortcuts sets in a special format that can be imported back to Illustrator later. If you have just downloaded a shortcuts set file, read on to find out how to import and use it in Illustrator. Continue Reading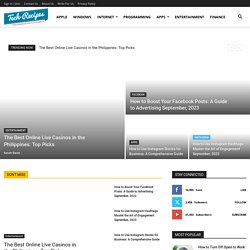 Hospedagem de Sites e Serviços de Internet - Locaweb
Realidade Aumentada Mod Negócios
Qualquer apresentação para potenciais investidores da sua startup, é necessário elaborar um slide deck de qualidade. Ele é extremamente importante para complementar e guiar sua apresentação, além de poder ser um excelente cartão de visita para sua startup, se elaborado corretamente. Veja só: Pouca informação Esta dica hoje já é quase lugar-comum, mas é tão importante que não custa repetir: não encha os slides de texto. Foque no que realmente importante e priorize conteúdo visual ao texto. Deixe os detalhes para depois, use frases curtas, diretas e organize as informações por tópicos, a última coisa que você quer é deixar…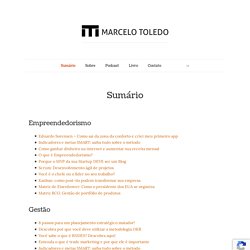 Marcelo Toledo
2Simple Software - Making simple, powerful & creative educationa
AkitaOnRails.com
Atualização (29/03/14): Publiquei um post em Outubro de 2013 que colocar argumentos muito mais detalhados sobre este tema. Leia "Matemática, Trolls, Haters e Discussões de Internet". O ano foi 2001.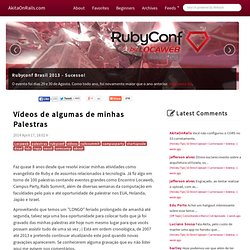 Much intellectual capital is spent examining the logical advantages and disadvantages of our programming tools. Much ego invested in becoming completely objective examiners of productivity. The exalted ideal: To have no emotional connection to the workbench.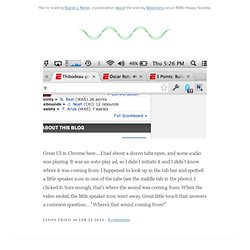 Get my newsletter, usually once a week – it features long-form essays on what's going on here in Silicon Valley. I've written 550+ essays which have been featured and quoted in The New York Times, Fortune, Wired, and WSJ. The topics range from mobile product design to fundraising to "growth hacking." Andrew is one of the smartest geeks in Silicon Valley, and a brilliant and comprehensive virtuoso on a broad array of tech and non-tech topics including internet advertising, viral marketing, web analytics, social networks, online games, and all kinds of web glitter.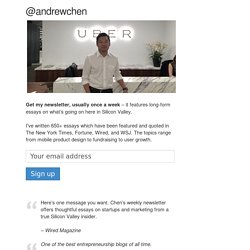 Miguel da Rocha Cavalcanti
No episódio 43 do Man in the Arena, conversamos com Marcio Waldman, fundador e CEO do PetLove, maior pet shop online do país. A empresa recebeu aportes da Monashees Capital, Tiger Global e Kaszek Ventures. A marca, o primeiro e-commerce do segmento no Brasil, nasceu com o nome de PetSupermarket e foi reposicionada no mercado brasileiro em 2012.