TI
O Pulo do Gato – tecnologia, empreendedorismo, inovação
ReadWriteWeb Brasil - Tendências, Apps, Internet, e Startups
dia a dia, bit a bit… por Silvio Meira
Ruby on Rails
meira.com
While Lawnmower Man may have led us to believe the future was a virtual one, it seems that in fact augmented reality (the overlaying of digital data on the real world) is where we're headed. A buzz technology right now, augmented reality apps are quickly gaining momentum on the iPhone. So to add to the quick overview of six AR apps we brought you earlier, we sort the digital wheat from the pixellated chaff to bring you ten AR apps for the iPhone that vary from functional, to educational, to just plain fun. 1. Le Bar Guide Although the wisdom of getting drunk people to wave their iPhones around on today's mean streets is questionable, if you drink responsibly, as this Stella Artois-backed app urges you to, this could be a handy tool.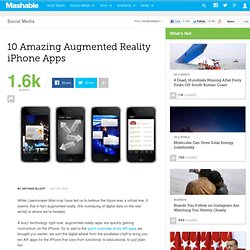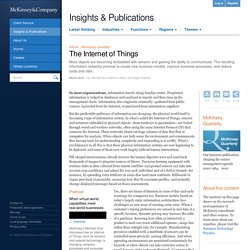 In most organizations, information travels along familiar routes. Proprietary information is lodged in databases and analyzed in reports and then rises up the management chain. Information also originates externally—gathered from public sources, harvested from the Internet, or purchased from information suppliers. But the predictable pathways of information are changing: the physical world itself is becoming a type of information system. In what's called the Internet of Things, sensors and actuators embedded in physical objects—from roadways to pacemakers—are linked through wired and wireless networks, often using the same Internet Protocol (IP) that connects the Internet.
Hospedagem de Sites e Serviços de Internet - Locaweb
Realidade Aumentada Mod Negócios
Marcelo Toledo
2Simple Software - Making simple, powerful & creative educationa
AkitaOnRails.com
We knew we needed it. Integration with Google Docs was a super-popular feature request, and usage in general is on the rise. Since Basecamp is a repository for everything project-related, it made sense to show the same love to Google Docs we show to any other type of file you can store in a Basecamp project. Problem was, we don't really use Google Docs ourselves. And we're kind of notorious for scratching our own itch and not building shit we don't need.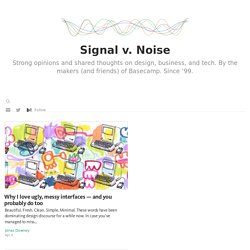 Miguel da Rocha Cavalcanti