TI
O Pulo do Gato – tecnologia, empreendedorismo, inovação
ReadWriteWeb Brasil - Tendências, Apps, Internet, e Startups
Ao conectar-se com sua conta do Facebook, você está tornando sua experiência no Terra muito mais social e divertida. Compartilhe seus interesses Nas páginas onde a Barra Terra está presente, o título dos artigos que você vistar é publicado no Facebook, ajudando você a indicar conteúdos interessantes para os seus amigos. Chamamos este recurso de Leitura Social.
dia a dia, bit a bit… por Silvio Meira
Ruby on Rails
meira.com
While Lawnmower Man may have led us to believe the future was a virtual one, it seems that in fact augmented reality (the overlaying of digital data on the real world) is where we're headed. A buzz technology right now, augmented reality apps are quickly gaining momentum on the iPhone. So to add to the quick overview of six AR apps we brought you earlier, we sort the digital wheat from the pixellated chaff to bring you ten AR apps for the iPhone that vary from functional, to educational, to just plain fun. 1. Le Bar Guide Although the wisdom of getting drunk people to wave their iPhones around on today's mean streets is questionable, if you drink responsibly, as this Stella Artois-backed app urges you to, this could be a handy tool.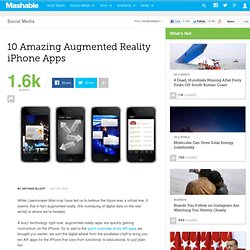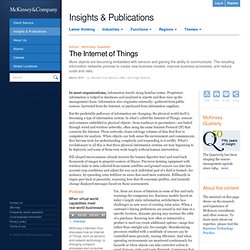 In This Article Exhibit: Six distinct types of applications are emerging in two broad categories: information and analysis and automation and control. Audio is available for this article.
The Internet of Things - McKinsey Quarterly - High Tech - Hardwa
Hospedagem de Sites e Serviços de Internet - Locaweb
Realidade Aumentada Mod Negócios
Marcelo Toledo
2Simple Software - Making simple, powerful & creative educationa
AkitaOnRails.com
Engineering school is about learning how to frame problems. So is data science. I have a degree in mechanical engineering from a good school, but I've never worked a day in my life as an engineer. Instead, I've dedicated my career to "data science" — I help people solve business problems using data. Despite never working as a mechanical engineer, that education dramatically shapes how I do my job today.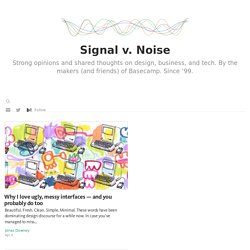 Miguel da Rocha Cavalcanti