Tiddlywiki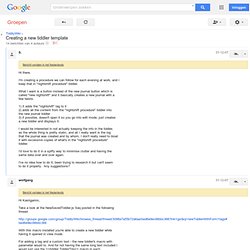 Creating a new tiddler template - TiddlyWiki
> This both adds the procedure as an instance, and adds a checkmark > which will tag the tiddler "done" (or "búið") - I'd really just like > to add that clicking the checkbox also saves the TW as I'm using CCTW > and need to manually save after checking the box. Did you try my update to CheckboxPlugin, yet? *IF* you can invoke the CCTW save processing via a javascript function, then you can define an 'onClickAfter' handler for the checkbox, so that checking "done" (and setting the tag) also saves the file to CCTW.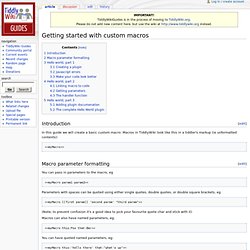 Getting started with custom macros - TiddlyWikiGuides
From TiddlyWikiGuides [edit] Introduction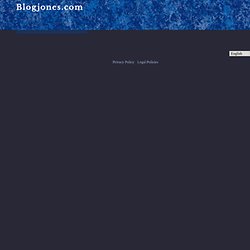 TiddlyWikiTutorial - Learn the Basics of TiddlyWiki
[[Welcome]]\nNewFeatures\nWhereToFindHelp One of the best features of TiddlyWiki is that it's very portable.
Note, we are phasing out the use of trac and subversion. The TiddlyWiki community wiki is now at http://tiddlywiki.tiddlyspace.com/
Trac
Release 2.6.2 ¶
History - TiddlyWiki - Trac
November 05, 2007 (8:00:00 AM) - 6 years, 2 months ago By: Dmitri Popov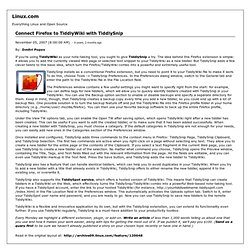 Connect Firefox to TiddlyWiki with TiddlySnip
GTD | thinkerlog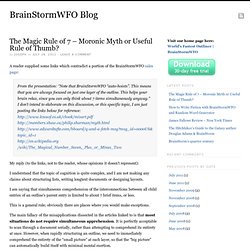 Recently, I was talking with someone who has trouble with writing. She's great at talking and is very articulate. Somehow, when it comes to writing, she has issues.
MonkeyGTD - gtd inspired task manager powered by tiddlywiki
novakid:tiddlywiki
Tiddler Toddler - an absolute beginner's guide to TiddlyWiki
asdf config.options.chkHttpReadOnly = false;\n
MonkeyGTD - gtd inspired task manager powered by tiddlywiki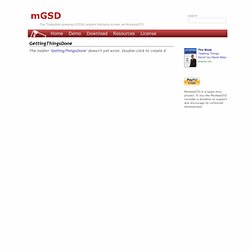 TiddlyWikiFAQ - a collection of frequently asked questions about tiddlywiki