hPDA
D*I*Y Planner Hipster PDA Edition. Welcome to the D*I*Y Planner Hipster PDA Edition 3.0, a series of approximately one hundred free productivity forms designed for printing onto index cards (a.k.a., the Hipster PDA).
Designed especially for the D*I*Y Planner project by Douglas Johnston, the package includes a wide array of cards covering life management, project planning, calendars, notetaking, business development, and creative uses like writing, storyboards, mind mapping, and photography. These are a subset of our regular D*I*Y Planner forms, completely re-designed for the smaller size, and may be used in conjunction with a full-sized planner, alongside a notebook like a Moleskine, or as a stand-alone system. Although chiefly inspired by David Allen's Getting Things Done, an emphasis has been placed upon tweakability, multiple methodologies, and tinkering (endlessly!)
With ideas. The package includes: Hipster PDA. From 43FoldersWiki Hipster Stage 1 Hipster Stage 2 Hipster Stage 3 [edit] Description The Hipster PDA (Parietal Disgorgement Aid) is a fully extensible system for coordinating incoming and outgoing data for any aspect of your life and work.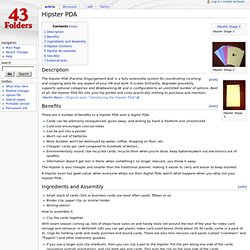 Stack of index card links. A quick Google search yesterday afternoon ended up turning into an index card surfin' safari.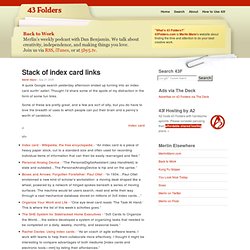 Thought I'd share some of the spoils of my distraction in the form of some fun links. Some of these are pretty great, and a few are sort of silly, but you do have to love the breadth of uses to which people can put their brain and a penny's worth of cardstock. ul> Index card - Wikipedia, the free encyclopedia - "An index card is a piece of heavy paper stock, cut to a standard size and often used for recording individual items of information that can then be easily rearranged and filed." 3 x 5 Business Travel Organizer - Personal Organizer, Card Holder. 3 x 5 Leather-Rope Accordion File - Index Card Folder. 3 x 5 Leather-Rope Accordion File - Index Card Folder.
3 x 5 Note Cards - Index Cards, Personalized Note Cards, 3 x 5 Cards. John-norris.net — Containers of Information. John Norris. Active Voice Writing & Editorial Services in Baltimore -- Downloads. PaperJamming templates help you manage your files on the fly by distilling professional information management practices into clear, easy-to-grasp guidelines.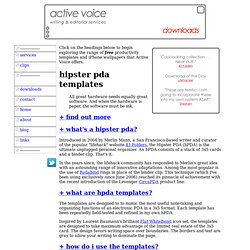 Templates are available for Core Files (permanent files that you keep to fulfill legal, business, and contractual requirements), Administrative files (standardized files that support your business functions, such as templates and forms, timesheets and invoices, and some types of correspondence), Project files (files of every type related to specific projects that you're working on), and Reference files (things that you did not create yourself, but collected to assist with a Core, Administrative, or Project activity, such as a magazine or book). Templates come pre-loaded with guidelines for the most common types of files created and used by freelancers.
---