GuildWars
Get flash to fully experience Pearltrees
IncGamers Latest News: Browse IncGamers Channels Page not Found
Story and Plot of GuildWars
From Guild Wars Wiki This article is about the storybook item type . For other "book" items , see Book . A storybook is any item that opens up a window depicting a book of tasks.
From Guild Wars Wiki Elite Missions are difficult missions designed for high level and well organized parties . They tend to take a long time to complete and are usually filled with high-level foes. They play much like typical campaign missions, but they are not required to complete the campaign nor to progress the Protector titles.
From Guild Wars Wiki This article is about the version of the Underworld accessed through the Voice of Grenth . For other versions of the Underworld, see the Underworld (disambiguation) . The Underworld is the realm of Grenth .
From Guild Wars Wiki This article is about a mission . This name is also used for an outpost .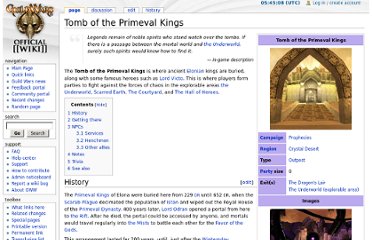 From Guild Wars Wiki " Legends remain of noble spirits who stand watch over the tombs. If there is a passage between the mortal world and the Underworld , surely such spirits would know how to find it. — in-game description The Tomb of the Primeval Kings is where ancient Elonian kings are buried, along with some famous heroes such as Lord Victo . This is where players form parties to fight against the forces of chaos in the explorable areas the Underworld , Scarred Earth , The Courtyard , and The Hall of Heroes .
From Guild Wars Wiki The Fissure of Woe , also called the Realm of War , is the realm of Balthazar . It is divided into nine known sections and is full of wreckage, battlefields, and fiery landscapes; the sole exception to this is the Forest of the Wailing Lord . In this realm, the god of war and his Eternals are engaged in a battle with Menzies and his Shadow Army . According to Admiral Saidon the Eternal , the Fissure of Woe will always be in conflict. [ edit ] Getting there