Story
Hawaiian surfer breaks world record by riding 78ft wave off Portugal | Sport. The Guinness World Records has recognised a 44-year-old professional surfer from Hawaii for catching a 78ft wave off the coast of Portugal, saying the November feat beats a 2008 record for the biggest ridden by more than 12 inches.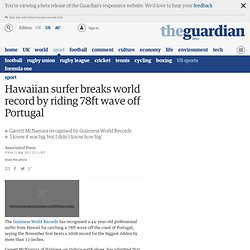 Garrett McNamara of Haleiwa, on Oahu's north shore, has admitted that the ride of his life was a fluke, however. He said he originally did not want to attempt the waves that day after wiping out numerous times on even bigger swells in the same spot, above an undersea canyon known as one of the biggest wave-generators in the world. "I was really beat-up that morning," he said. "This day, I did not want to get out of bed. " He changed his mind at the urging of friends. Benjaman Kyle. Benjaman Kyle is the pseudonym adopted by a man who has dissociative amnesia.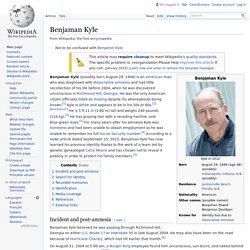 He was discovered unconscious on August 31, 2004, in Richmond Hill, Georgia,[1][2] and is believed to be about 64 years old.[3] He had been unable to obtain employment without a Social Security number.[4] He is the only American citizen officially listed as missing despite his whereabouts being known.[5] Appearance[edit] Kyle is white and appears to be in his 50s or 60s.[3] He is 5 ft 11 in (1.80 m) tall and weighs 240 pounds (110 kg).[1] He has graying hair with a receding hairline, and blue-green eyes.[3] Search for identity[edit] There have been major efforts to identify Kyle, but as of March 2014, none of them have been completely successful.
JonQ.com. Marriage Proposal with an Android App On November 2nd I proposed to my girlfriend of over 2 years, Meghan.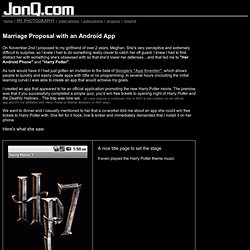 She's very perceptive and extremely difficult to surprise, so I knew I had to do something really clever to catch her off guard.
---