Story
Hawaiian surfer breaks world record by riding 78ft wave off Portugal | Sport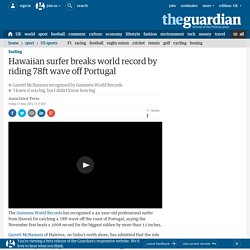 Hawaiian surfer catches the wave of a lifetime while tackling the Nazare Canyon off Portugal. Link to video: Garrett McNamara surfs 90ft wave The Guinness World Records has recognised a 44-year-old professional surfer from Hawaii for catching a 78ft wave off the coast of Portugal, saying the November feat beats a 2008 record for the biggest ridden by more than 12 inches. Garrett McNamara of Haleiwa, on Oahu's north shore, has admitted that the ride of his life was a fluke, however.
Benjaman Kyle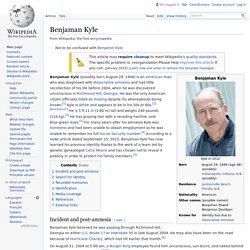 Benjaman Kyle is the pseudonym adopted by a man who has dissociative amnesia . He was discovered unconscious on August 31, 2004, in Richmond Hill, Georgia [ 1 ] [ 2 ] and is believed to be about 64 years old. [ 3 ] He had been unable to obtain employment without a Social Security number . [ 4 ] He is the only American citizen officially listed as missing despite his whereabouts being known. [ 5 ] [ edit ] Discovery Around 6:00 AM EDT on August 31, 2004, a man now living under the name Benjaman Kyle was discovered behind a Burger King at the intersection of Interstate 95 and Highway 17 in Richmond Hill, Georgia . He was found by the managers of the restaurant, lying on the ground inside the stone wall enclosing the dumpsters, in a space between the dumpsters that is accessed by a walk-through used for trash disposal. The dumpster enclosure was behind the Burger King in an area hidden from view from all directions except from the restaurant parking lot.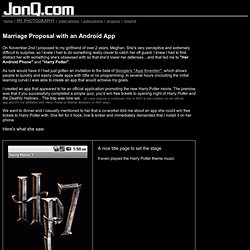 JonQ.com
Marriage Proposal with an Android App On November 2nd I proposed to my girlfriend of over 2 years, Meghan. She's very perceptive and extremely difficult to surprise, so I knew I had to do something really clever to catch her off guard.