Facebook products
The following commentary comes from an independent investor or market observer as part of TheStreet's guest contributor program, which is separate from the company's news coverage. NEW YORK ( Trefis ) -- Facebook , the largest social network in the world with over 850 million users, is making a big push into the virtual goods industry. Up to now, text and display advertising is its most valuable business, accounting for a major portion of its revenue. However, revenue from transactions related to virtual goods has become an important revenue stream for Facebook, which offers a virtual currency called Facebook Credits that can be used to conduct economic transactions on Facebook. It takes a 30% cut off all such transactions on its network.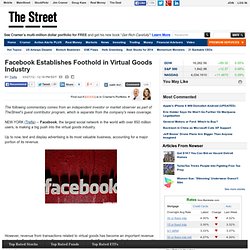 Facebook Establishes Foothold in Virtual Goods Industry
Facebook on Wednesday introduced a new set of Timeline actions that will allow users to carry out app-specific behaviors from within the Facebook News Feed, Ticker or Timeline. So, saving a favorite Foursquare place, "fave"-ing a Fab.com product or making other changes with the so-called " action links " will reflect on the apps outside of the Facebook environment. The move is one in a string of efforts to more fully integrate third-party apps into the Facebook ecosystem. Welcome to AllThingsD's new Livefyre commenting system. For more information, read about it here .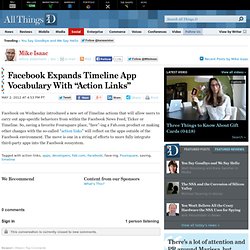 Facebook Expands Timeline App Vocabulary With 'Action Links' - Mike Isaac - Social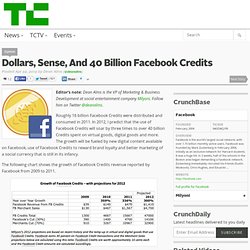 Editor's note: Dean Alms is the VP of Marketing & Business Development at social entertainment company Milyoni . Follow him on Twitter @deanalms . Roughly 16 billion Facebook Credits were distributed and consumed in 2011. In 2012, I predict that the use of Facebook Credits will soar by three times to over 40 billion Credits spent on virtual goods, digital goods and more. The growth will be fueled by new digital content available on Facebook, use of Facebook Credits to reward brand loyalty and better marketing of a social currency that is still in its infancy.
Dollars, Sense, And 40 Billion Facebook Credits
Facebook Adds Action Links To Timeline
Tranform[R] by Nurun
L'infographie du jour s'intéresse au boum du Social Gaming . Si vous n'avez jamais ensemencé les champs de carottes de votre voisin ni même implanté une bibliothèque au coeur du quartier résidentiel de votre ville, vous y viendrez ! Car même si vous n'avez jamais joué à Cityville sur facebook, vous avez certainement reçu des invitations ou subi les posts épidémiques de vos amis concernant ce jeu qui vous propose de bâtir, gérer et faire croitre votre ville et de la comparer à celles de vos voisins. L'explosion du Social Gaming via les réseaux sociaux s'explique d'abord par la qualité de réalisation de ceux-ci couplée à la viralité qu'ils imposent pour évoluer dans le jeu. Plus vous recrutez d'amis, plus vite vous progressez.
Le succès du Social Gaming en infographie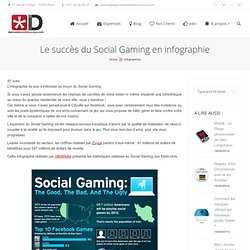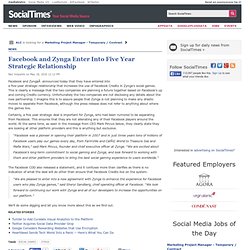 Facebook and Zynga Enter Into Five Year Strategic Relationship
Facebook and Zynga announced today that they have entered into a five-year strategic relationship that increases the use of Facebook Credits in Zynga's social games. This is clearly a message that the two companies are planning a future together based on Facebook's up and coming Credits currency. Unfortunately the two companies are not disclosing any details about the new partnership.
Le "Facebook chinois" lance sa carte de crédit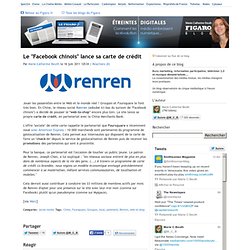 Jouer les passerelles entre le Web et le monde réel ? Groupon et Foursquare le font très bien. En Chine, le réseau social Renren (adoubé ici-bas du surnom de "Facebook chinois") a décidé de pousser le "web-to-shop" encore plus loin. Le site lance sa propre carte de crédit , en partenariat avec la China Merchants Bank. L'offre "sociale" de cette carte rappelle le partenariat que Foursquare a récemment noué avec American Express : 10 000 marchands sont partenaires du programme de géolocalisation de Renren. Cela permet aux internautes qui disposent de la carte de faire un " check-in " depuis le service de géolocalisation de Renren puis de recevoir les promotions des partenaires qui sont à proximité.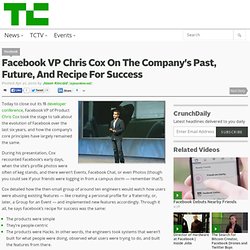 Facebook VP Chris Cox On The Company's Past, Future, And Recipe
Today to close out its f8 developer conference , Facebook VP of Product Chris Cox took the stage to talk about the evolution of Facebook over the last six years, and how the company's core principles have largely remained the same. During his presentation, Cox recounted Facebook's early days, when the site's profile photos were often of keg stands, and there weren't Events, Facebook Chat, or even Photos (though you could see if your friends were logging in from a campus dorm — remember that?). Cox detailed how the then-small group of around ten engineers would watch how users were abusing existing features — like creating a personal profile for a fraternity, or, later, a Group for an Event — and implemented new features accordingly.
Sans avoir l'air d'y toucher, Facebook est en train de mettre le Web sous sa coupe. Ce mardi, le réseau social a porté un premier coup à l'encyclopédie collaborative Wikipédia en annonçant le lancement d'un nouveau service appelé «Pages Communauté». Il consiste à mettre en réseau les membres du site qui partagent un centre d'intérêt -par exemple la cuisine- en les associant à une «page» dédiée au sujet. Celle-ci centralisera les contenus publiés à ce sujet sur Facebook . «Notre but à long terme est d'en faire la meilleure collection de savoirs partagés sur un sujet», s'enthousiasme Facebook sur son blog officiel .
Médias & Publicité : Facebook étend son emprise sur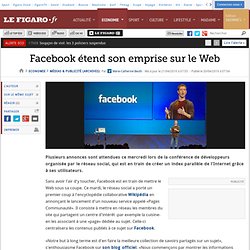 Facebook Announces Plan To Infiltrate The Entire Web
Facebook about to launch Actions, the final piece of its plan for frictionless sharing
Facebook's ambitious plan to weave various actions we take across the web into the social network via "frictionless" sharing is finally ready to be deployed, VentureBeat has learned. The remaining pieces of Facebook's new Open Graph are in the final stages of testing and are nearing release, a source familiar with the matter told VentureBeat. The social networking company is quickly working to validate partners and could turn on the latest element, Facebook Actions, any day now or, at the most, in a few weeks, the source said. The new Open Graph , unveiled at Facebook's f8 developer conference in September, consists of three key elements: Timeline , Ticker and Actions.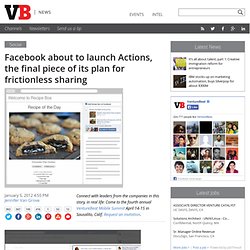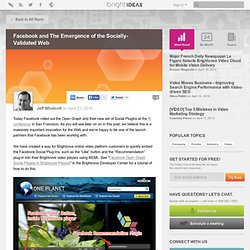 Facebook and The Emergence of the Socially-Validated Web | Brigh
Today Facebook rolled out the Open Graph and their new set of Social Plugins at the f8 conference in San Francisco. As you will see later on on in this post, we believe this is a massively important innovation for the Web and we're happy to be one of the launch partners that Facebook has been working with. We have created a way for Brightcove online video platform customers to quickly embed the Facebook Social Plug-Ins, such as the "Like" button and the "Recommendation" plug-in into their Brightcove video players using BEML. See " Facebook Open Graph Social Plugins in Brightcove Players " in the Brightcove Developer Center for a tutorial of how to do this. Having this functionality implemented in the player itself is both important and cool because it means that the social plug-ins travel with the video content wherever it goes. If an end-user grabs the embed code and puts it their blog, the social plug-ins will be there.
Facebook Presence - nearly a step into location services | Media
The tune Facebook chose to play at the end of Mark Zuckerberg's speech today said it all: Coldplay's 'When I Rule the World'. While Coldplay doesn't have much of a chance ruling anything, Facebook might be onto something. The annual F8 developer conference has become the event when the founder and chief executive takes to the stage and (generally) delights developers by revealing the most major and strategic improvements to the site. He also talks about the 'social graph' a lot. Much of today's announcements were leaked before the event , but there was something interesting kept under wraps; Facebook Presence. This was presented as a bit of a gimmick to the developers and journalists at F8, giving each of them a Facebook RFID tag that they could use to 'check-in' at points around the conference venue.
Inside Facebook · Facebook Adds More Activity and Sponsored Stories to Ticker
Hey Facebook, Where's That Timeline and Open Graph You Promised? - Liz Gannes - Social
Two and a half months after Facebook promised that a huge revision of its self-expression and sharing tools were coming soon, users and developers are still waiting. Way back in September, Facebook told the world it was launching two major changes to its service: A revision of user profiles, called Timeline, that would make them more substantive and beautiful records of people's lives; and "Open Graph" tools for developers to automatically share activity by logged-in Facebook users to their Timelines and friends. Facebook didn't give a firm date for the new launches, though it indicated they would be ready soon. "We're going to roll [Timeline] out widely over the next few weeks as we polish all the edges," Facebook CEO Mark Zuckerberg told developers and press attendees in his keynote at f8 on Sept. 22.
Facebook To Launch A Subscribe Button For Websites
Facebook subscriptions are about to blow up! At Le Web, Joanna Shields , VP and Managing Director for Facebook Europe, Middle East and Africa (EMEA), announced that the company is planning to roll out a "Subscribe" plugin for all websites. The plugin will allow a website's visitors a one-click way to begin following all of the news from an individual reporter, public figure, politician, celebrity, or anyone else who wants to post public updates via their Facebook user profile. You may recall that Facebook launched its "subscriptions" feature earlier this fall at its annual f8 conference. The button, available as an optional addition to your Facebook user profile, introduced a Twitter-like functionality to the social networking service. It introduced one-way friendships (at last!)
Some users are seeing a "Suggested Events" feature that recommends events based on pages they like and places they've been, as first reported by TechCrunch . This replaces and expands upon the "Friends' Events" section that listed events to which others had RSVP'd. [ Update 12/23/11 10:45 a.m.
Inside Facebook · Facebook Testing 'Suggested Events' Based on Pages and Places
Facebook To Launch 'Relationships' At f8, Teams With Zynga To Sp
Facebook pages for artists now include 'listen' button