Wikipedia & Related Sites
The European Organization for Nuclear Research, known as CERN, has its offices on the outskirts of Geneva, in an area once devoted to dairy farms and now given over to sprawl.
Crash Course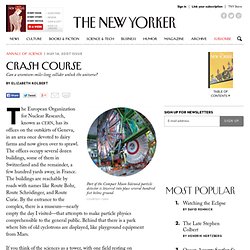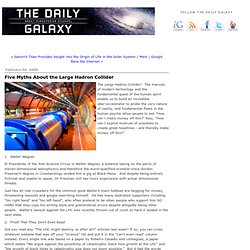 The Large Hadron Collider!
Five Myths About the Large Hadron Collider
Coordinates: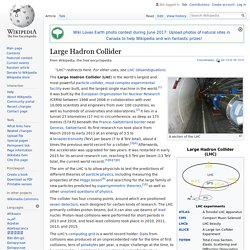 Some of the first tracks of particles created by protons colliding show toward the center of this computer view of an LHC experiment called Atlas.
LHC experiments run at highest energy level yet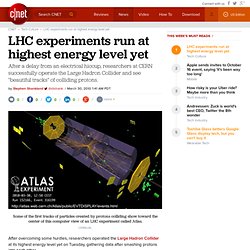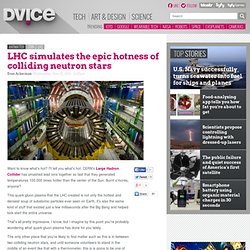 LHC simulates the epic hotness of colliding neutron stars
Want to know what's hot? I'll tell you what's hot. CERN's Large Hadron Collider has smashed lead ions together so fast that they generated temperatures 100,000 times hotter than the center of the Sun. Burnt s'mores, anyone? This quark gluon plasma that the LHC created is not only the hottest and densest soup of subatomic particles ever seen on Earth, it's also the same kind of stuff that existed just a few milliseconds after the Big Bang and helped kick-start the entire universe. That's all pretty impressive, I know, but I imagine by this point you're probably wondering what quark gluon plasma has done for you lately.
The Large Hadron Collider (LHC) is the world's largest and most powerful particle accelerator. It first started up on 10 September 2008, and remains the latest addition to CERN's accelerator complex. The LHC consists of a 27-kilometre ring of superconducting magnets with a number of accelerating structures to boost the energy of the particles along the way.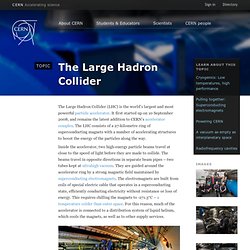 Why a Large Hadron Collider?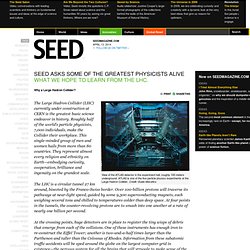 View of the ATLAS detector in the experiment hall, roughly 100 meters underground. ATLAS is one of the five particle physics experiments at the Large Hadron Collider. Credit: Guido Mocafico
LHCsound - The Sound of Science