Psychology
Why Making Comparisons Hurts You More Than It Helps
2013. 2012. 2011. Blogs. Psych Wiki. The Psych Files Podcast. Ending Violence and Abuse. Child sexual abuse. Child sexual abuse or child molestation is a form of child abuse in which an adult or older adolescent uses a child for sexual stimulation.[1][2] Forms of child sexual abuse include asking or pressuring a child to engage in sexual activities (regardless of the outcome), indecent exposure (of the genitals, female nipples, etc.) to a child with intent to gratify their own sexual desires or to intimidate or groom the child, physical sexual contact with a child, or using a child to produce child pornography.[1][3][4] The global prevalence of child sexual abuse has been estimated at 19.7% for females and 7.9% for males, according to a 2009 study published in Clinical Psychology Review that examined 65 studies from 22 countries.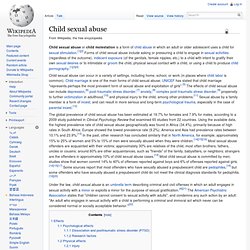 Talking about sexually abused boys, and the men they become. By Richard B.
Gartner, Ph.D. Talking about boyhood sexual abuse and its aftermath for men can be difficult, even painful. But such talk is absolutely essential. Stepping out from the shadows: Senator Brown speaks about childhood sexual abuse. When Senator Scott Brown came forward on 60 Minutes to reveal his history of boyhood sexual abuse, he joined a group of prominent men who have bravely told the world about their childhood experiences of sexual molestation, assault, and/or abuse.
At one time it was virtually unheard of for any man, not to mention a prominent one, to acknowledge having been sexually abused. But over the years a number of well known men have done so. Who are these men? Musicians like Carlos Santana, Jonathan Davis of Korn, Axl Rose of Guns and Roses, Kirk Hammett of Metallica, Chester Bennington of Linkin Park, and Mike Patton of Faith No More. Athletes like NFL player Laveranues Coles, former Stanley Cup champion Theoren Fleury, 3-time Tour de France champion Greg LeMond, NHL player Sheldon Kennedy, and Olympic diving champion Greg Louganis. MaleSurvivor. RAINN - Rape, Abuse and Incest National Network.
1in6 - Male sexual abuse, men with unwanted sexual experiences as boys. Psychology. Neuroscience. Mental Health.