OPEN Act
H.R.3782: OPEN Act
H.R.3782 OPEN Act okwolffcub February 09, 2012 I am writing as your constituent in the 4th Congressional district of Oklahoma. I oppose H.R.3782 - OPEN Act, and am tracking it using OpenCongress.org, the free public resource website for government transparency and accountability. Sincerely, Charles Wolff This bill is unconstitutional, and infringes upon people's RIGHTS to freedom of information. No SOPA, No PIPA, and NO to ANY OTHER form THEREOF!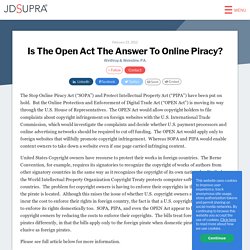 Is The Open Act The Answer To Online Piracy?
The Stop Online Piracy Act ("SOPA") and Protect Intellectual Property Act ("PIPA") have been put on hold. But the Online Protection and Enforcement of Digital Trade Act ("OPEN Act") is moving its way through the U.S. House of Representatives.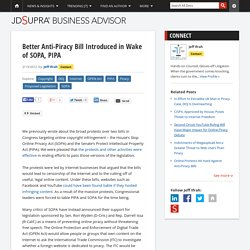 We previously wrote about the broad protests over two bills in Congress targeting online copyright infringement – the House's Stop Online Privacy Act (SOPA) and the Senate's Protect Intellectual Property Act (PIPA). We were pleased that the protests and other activities were effective in ending efforts to pass those versions of the legislation. The protests were led by Internet businesses that argued that the bills would lead to censorship of the Internet and to the cutting off of useful, legal online content. Under these bills, websites such as Facebook and YouTube could have been found liable if they hosted infringing content.
Better Anti-Piracy Bill Introduced in Wake of SOPA, PIPA | Ifrah Law - Strategic Defense in Federal Investigations
Shoe on the other foot: RIAA wants to scrap anti-piracy OPEN Act
The Recording Industry Association of America found itself in an unusual position this week: opposing an anti-piracy bill that's gaining momentum in Congress. "The OPEN Act does nothing" to stop online infringement and "may even make the problem worse," the industry group says in a statement it is circulating on Capitol Hill this week. "It does not establish a workable framework, standards, or remedies. It is not supported by those it purports to protect."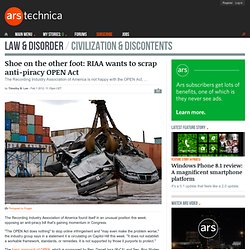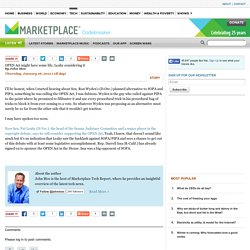 Jump to navigation  Menu 🔊 Listen Marketplace Tech BlogMarketplace Tech Blog Share0Share1Share0
OPEN Act might have some life, Leahy considering it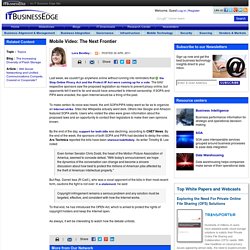 Will OPEN Act Do What SOPA and PIPA Didn't?
Last week, we couldn't go anywhere online without running into reminders that . The bills' respective sponsors saw the proposed legislation as means to prevent piracy online, but opponents felt it went to far and would have amounted to Internet censorship. If SOPA and PIPA were enacted, the open Internet would be a thing of the past. To make certain its voice was heard, the anti-SOPA/PIPA lobby went so far as to organize an .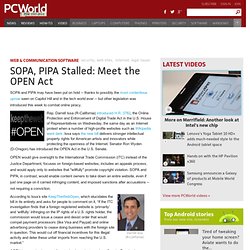 SOPA and PIPA may have been put on hold -- thanks to possibly the most contentious uproar seen on Capitol Hill and in the tech world ever -- but other legislation was introduced this week to combat online piracy. Rep. Darrell Issa (R-California) introduced H.R. 3782, the Online Protection and Enforcement of Digital Trade Act in the U.S. House of Representatives on Wednesday, the same day as an Internet protest when a number of high-profile websites such as Wikipedia went dark. Issa says the new bill delivers stronger intellectual property rights for American artists and innovators while protecting the openness of the Internet. Senator Ron Wyden (D-Oregon) has introduced the OPEN Act in the U.S.
SOPA, PIPA Stalled: Meet the OPEN Act
Keep The Web Open
Bill Sponsor: Rep. Darrell Issa Bill Status: Discussion Draft Released on November 26, 2012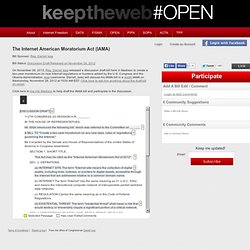 Comparison with SOPA and PIPA/PROTECT IP Act[edit] The OPEN Act was proposed as an alternative to the PROTECT IP Act (PIPA), which was approved by the United States Senate Judiciary Committee in May 2011, and the closely related Stop Online Piracy Act (SOPA), which was introduced by House Judiciary Chairman Lamar Smith (R-TX) in November. After an initial description on December 2 as an outline of possible approaches written by a bipartisan group of eleven lawmakers,[14][15] a draft text was made public on December 8, 2011 in advance of a House Judiciary markup of the SOPA Act the following week. The OPEN Act seeks to stop transfers of money to foreign websites whose primary purpose is piracy or counterfeiting, whereas SOPA and PIPA also seek to require Internet providers and search engines to redirect users away from viewing the sites.
Online Protection and Enforcement of Digital Trade Act