March
TheAnonMessage: URGENT: #Anonymous vs #YouTube
Anonymous: Message to YouTube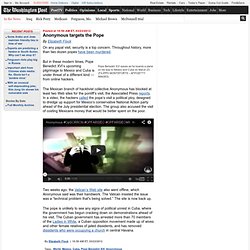 Anonymous targets the Pope
Posted at 10:50 AM ET, 03/23/2012 Mar 23, 2012 02:50 PM EDT TheWashingtonPost On any papal visit, security is a top concern. Throughout history, more than two dozen popes have been murdered. Pope Benedict XVI waves as he boards a plane on his way to Mexico and Cuba on March 23.
Anonymous #OpGORRON #OPFARISEO #OPFARISEOMX #visitapapa
'Anonymous' hacker group releases its own desktop OS [updated]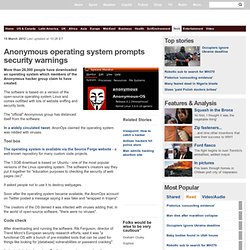 Anonymous operating system prompts security warnings
15 March 2012Last updated at 14:28 GMT More than 26,000 people have downloaded an operating system which members of the Anonymous hacker group claim to have created. The software is based on a version of the open-source operating system Linux and comes outfitted with lots of website sniffing and security tools. The "official" Anonymous group has distanced itself from the software.
Anonymous-OS project response
Anonymous gets documented at SXSW
A documentary chronicling the rise of the hacktivist collective Anonymous has premiered at SXSW in Austin, Texas. The film - titled "We Are Legion: The Story of the Hacktivists" - is directed by Brian Knappenberger and features commentary by Gabriella Coleman, an anthropologist who researches hacktivism. "I [do] think there are a ton of [Anonymous] supporters. Some supporters become participants, others remain fascinated spectators," Coleman told Death and Taxes Magazine in a separate interview.
Attack of the Cybermen
Wikileaks: Secrets and Lies WikiLeaks. Anonymous. Occupy.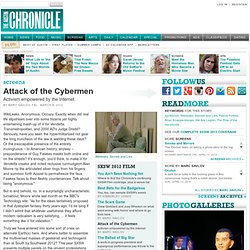 YourAnonNews: AMAZING.
WikiLeaks founder Julian Assange attends a press conference in London, 27 February 2012, about the release of more than 5m emails from private intelligence firm Stratfor. Photograph: Kerim Okten/EPA
Stratfor, WikiLeaks and the Obama administration's war against truth