January
Promo Bay - Paulo Coelho's Blog. Tweets still must flow. One year ago, we posted "The Tweets Must Flow," in which we said, The open exchange of information can have a positive global impact … almost every country in the world agrees that freedom of expression is a human right.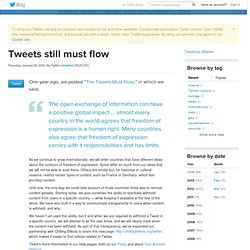 Many countries also agree that freedom of expression carries with it responsibilities and has limits. As we continue to grow internationally, we will enter countries that have different ideas about the contours of freedom of expression. Relax: Twitter's New Censorship Policy Is Actually Good for Activists. A lot of digital ink has been spilled about Twitter's announcement that it can now censor tweets on a country-by-country basis.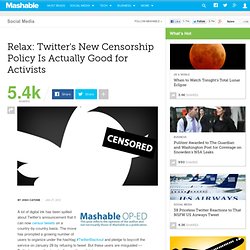 The move has prompted a growing number of users to organize under the hashtag #TwitterBlackout and pledge to boycott the service on January 28 by refusing to tweet. But these users are misguided — Twitter's new policy is actually good for activists. How to Get Around Twitter Restrictions. As we reported, Twitter announced today that it may block specific content on a country-by-country basis if required.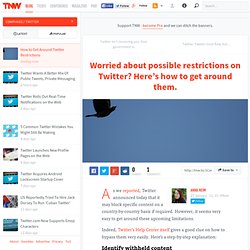 However, it seems very easy to get around these upcoming limitations. Indeed, Twitter's Help Center itself gives a good clue on how to bypass them very easily. SOPA, Internet regulation, and the economics of piracy. Earlier this month, I detailed at some length why claims about the purported economic harms of piracy, offered by supporters of the Stop Online Piracy Act (SOPA) and PROTECT-IP Act (PIPA), ought to be treated with much more skepticism than they generally get from journalists and policymakers.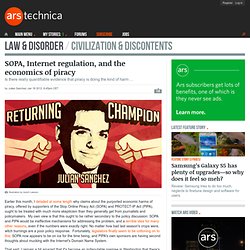 My own view is that this ought to be rather secondary to the policy discussion: SOPA and PIPA would be ineffective mechanisms for addressing the problem, and a terrible idea for many other reasons, even if the numbers were exactly right. No matter how bad last season's crops were, witch burnings are a poor policy response. Fortunately, legislators finally seem to be cottoning on to this: SOPA now appears to be on ice for the time being, and PIPA's own sponsors are having second thoughts about mucking with the Internet's Domain Name System. Filesonic Kills File-Sharing Service After MegaUpload Arrests. Filesonic, one of the Internet's leading cyberlocker services, has taken some drastic measures following the Megaupload shutdown and arrests last week.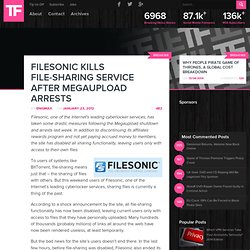 In addition to discontinuing its affiliates rewards program and not yet paying accrued money to members, the site has disabled all sharing functionality, leaving users only with access to their own files. To users of systems like BitTorrent, file-sharing means just that – the sharing of files with others. R.I.P. FileSonic & Uploaded.to. News · So you have no doubt heard about the insanity surrounding the shutting down of MegaUpload, particularly the wild story about how the file-sharing website's founder was arrested in high fashion.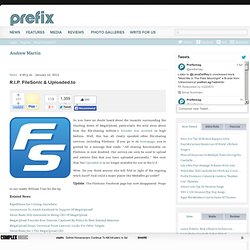 Well, this has all clearly spooked other file-sharing services, including FileSonic. If you go to its homepage, you're greeted by a message that reads: "All sharing functionality on FileSonic is now disabled. Microsoft Calls for Gay Marriage in Washington State. The company argues that it's hard to hire the best people in the world when the state where it's based discriminates against them.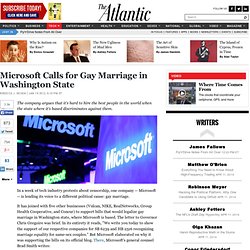 In a week of tech industry protests about censorship, one company -- Microsoft -- is lending its voice to a different political cause: gay marriage. It has joined with five other businesses (Vulcan, NIKE, RealNetworks, Group Health Cooperative, and Concur) to support bills that would legalize gay marriage in Washington state, where Microsoft is based. The letter to Governor Chris Gregoire was brief. In its entirety it reads, "We write you today to show the support of our respective companies for SB 6239 and HB 2516 recognizing marriage equality for same-sex couples.
" But Microsoft elaborated on why it was supporting the bills on its official blog. Marriage Equality in Washington State Would Be Good for Business - The Official Microsoft Blog – News and Perspectives from Microsoft. Today, Microsoft is joining other Northwest employers Concur, Group Health, Nike, RealNetworks and Vulcan Inc. in support of Washington State legislation recognizing marriage equality for same-sex couples.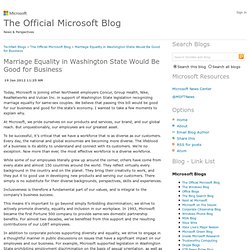 We believe that passing this bill would be good for our business and good for the state's economy. I wanted to take a few moments to explain why. At Microsoft, we pride ourselves on our products and services, our brand, and our global reach. But unquestionably, our employees are our greatest asset. To be successful, it's critical that we have a workforce that is as diverse as our customers. Pirate Bay's brilliant statement about SOPA and PIPA. This template for the SOPA blackout (the one we used) was created by Zachary Johnson.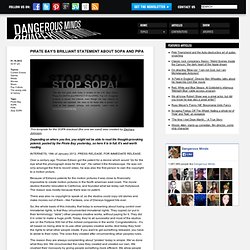 Depending on where you live, you might not be able to read the thought-provoking polemic posted by the Pirate Bay yesterday, so here it is in full. It's well worth reading. 28c3: The coming war on general computation. [Transcript] 28c3: The coming war on general computation.
---