January
We Have Every Right to Be Furious About ACTA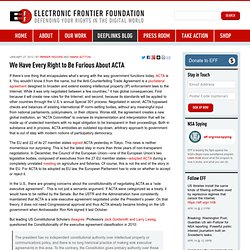 If there's one thing that encapsulates what's wrong with the way government functions today, ACTA is it. You wouldn't know it from the name, but the Anti-Counterfeiting Trade Agreement is a plurilateral agreement designed to broaden and extend existing intellectual property (IP) enforcement laws to the Internet. While it was only negotiated between a few countries, it has global consequences. First because it will create new rules for the Internet, and second, because its standards will be applied to other countries through the U.S.'s annual Special 301 process.
European parliament's ACTA monitor quits in protest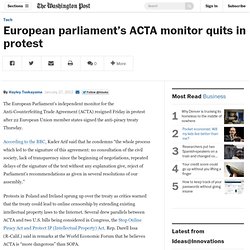 The European Parliament's independent monitor for the Anti-Counterfeiting Trade Agreement (ACTA) resigned Friday in protest after 22 European Union member states signed the anti-piracy treaty Thursday. According to the BBC, Kader Arif said that he condemns "the whole process which led to the signature of this agreement: no consultation of the civil society, lack of transparency since the beginning of negotiations, repeated delays of the signature of the text without any explanation give, reject of Parliament's recommendations as given in several resolutions of our assembly." Protests in Poland and Ireland sprung up over the treaty as critics warned that the treaty could lead to online censorship by extending existing intellectual property laws to the Internet. Several drew parallels between ACTA and two U.S. bills being considered in Congress, the Stop Online Piracy Act and Protect IP (Intellectual Property) Act. Rep.
STOP CENSORSHIP BY GETTING INVOLVED
In the wake of a public outcry against internet regulation bills such as SOPA and PIPA, representatives of the EU have signed a new and far more threatening legislation yesterday in Tokyo. Spearheaded by the governments of the United States and Japan and constructed largely in the absence of public awareness, the measures of the Anti-Counterfeiting Trade Agreement (ACTA) dramatically alter current international legal framework, while introducing the first substantial processes of global internet governance. With complete contempt towards the democratic process, the negotiations of the treaty were exclusively held between industry representatives and government officials, while excluding elected representatives and members of the press from their hearings. Under the guise of protecting intellectual property rights, the treaty introduces measures that would allow the private sector to enforce sweeping central authority over internet content.
The Anti-Counterfeiting Trade Agreement (ACTA): The Corporate Usurpation of the Internet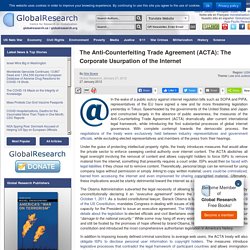 The EU Is Ready To Sign Anti-Piracy ACTA Treaty
IRELAND IS TO sign a controversial international agreement tomorrow which promises a major international crackdown on the trade of counterfeit goods – and illegal internet filesharing. Irish representatives will sign the Anti-Counterfeiting Trade Agreement (ACTA) at a ceremony tomorrow – as will representatives from each of the other 26 European Union member states, and the EU itself. Once the agreement is signed, it can then be formally ratified and adopted into law once it has been cleared by the European Parliament. The treaty will be signed tomorrow in Tokyo by Ireland's ambassador to Japan, John Neary. Although the treaty is primarily aimed at stopping the trade of counterfeited physical goods, it contains provisions which demand that participating countries offer equal protection and enforcement procedures against digital copyright infringement. Read: The Anti-Counterfeiting Trade Agreement (ACTA) in full – PDF >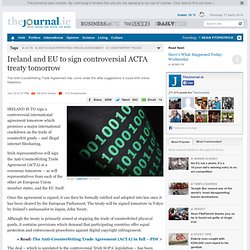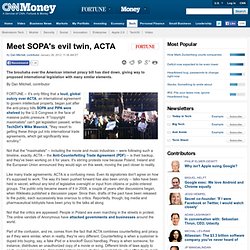 By Dan Mitchell, contributor FORTUNE -- It's only fitting that a loud, global outcry over ACTA, an international agreement to govern intellectual property, began just after the anti-piracy bills SOPA and PIPA were shelved by the U.S Congress in the face of massive public pressure. If "copyright maximalists" can't get legislation passed, writes TechDirt's Mike Masnick, "they resort to getting these things put into international trade agreements, which get significantly less scrutiny." Not that the "maximalists" -- including the movie and music industries -- were following such a timeline, exactly. ACTA -- the Anti-Counterfeiting Trade Agreement (PDF) -- is their backup, and they've been working on it for years.
Meet SOPA's evil twin, ACTA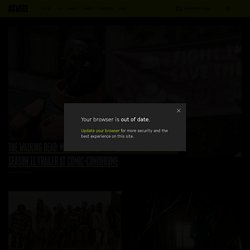 Protests didn't stop Europe from signing off on a SOPA look-a-like
In the U.S., harsh criticism and massive Web protests may have taken SOPA and PIPA down (but not out), but abroad, Anti-Counterfeiting Trade Agreement (aka ACTA) looks like it's picking up steam despite coming under fire. ACTA's noble goal is to establish international standards to better protect intellectual property — yet its detractors say it opens a wide door to Internet censorship. ACTA's not new and it's not a law; it's a trade agreement. That said, if it becomes an international standard, it could seriously influence law, in the U.S. and elsewhere (and, in fact, the U.S. has already signed it). So, why is this acronym causing such a fuss, then?
ACTA has same dangers as PIPA and SOPA
Samantha Barlin, Production Designer If you thought the Stop Online Piracy Act and the Preventing Real Online Threats to Economic Creativity and Theft of Intellectual Property Act were scary, imagine this: There is an international treaty with the same goals and civil rights infringements as its American cousins, crafted in secrecy outside any existing trade organization with the help of industry giants such as the Motion Picture Association of America. The treaty's goal is to ban counterfeit goods and online piracy by requiring Internet Protocol servers and individual websites to monitor and prosecute suspected copyright infringements. But the goal comes packaged with some collateral damage: infringements on individual's civil rights and the creation of a system responsible for widespread, international online censorship.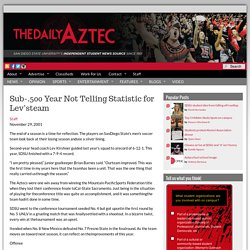 Polish Politicians Don Guy Fawkes/Anonymous Masks To Protest ACTA Signing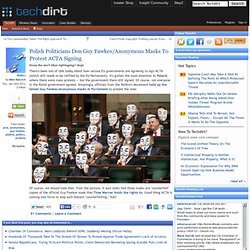 There's been lots of talk today about how various EU governments are agreeing to sign ACTA (which still needs to be ratified by the EU Parliament). It's gotten the most attention in Poland, where there were mass protests -- but the government there still signed. Of course, not everyone in the Polish government agreed. Amazingly, officials from the Palikot's Movement held up the famed Guy Fawkes/Anonymous masks in Parliament to protest the vote: Of course, we should note that, from the picture, it sure looks like those masks are "counterfeit" copies of the official Guy Fawkes mask that Time Warner holds the rights to. Good thing ACTA is coming into force to stop such blatant "counterfeiting," huh?
With SOPA Postponed, Attention Shifts to ACTA - As Activists Try to Keep Momentum Going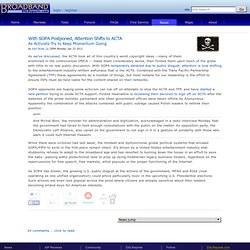 As we've discussed, the ACTA took all of this country's worst copyright ideas --many of them enshrined in the controversial DMCA -- made them considerably worse, then foisted them upon much of the globe with little to no real public discussion. With SOPA temporarily derailed due to public disgust, attention is now shifting to the entertainment-industry-written awfulness that is the ACTA. Combined with the Trans Pacific Partnership Agreement (TPP) these agreements do a number of things, but most notable for our readership is the effort to ensure ISPs must be held liable for the content shared on their networks. SOPA opponents are hoping some activism can rub off on attempts to stop the ACTA and TPP, and have started a new petition trying to erode ACTA support.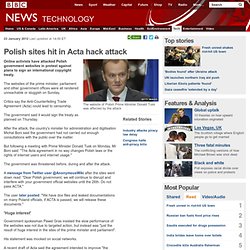 23 January 2012Last updated at 14:00 ET The website of Polish Prime Minister Donald Tusk was affected by the attack Online activists have attacked Polish government websites in protest against plans to sign an international copyright treaty. The websites of the prime minister, parliament and other government offices were all rendered unreachable or sluggish on Sunday.
Polish sites hit in Acta hack attack
To back up their demands for tougher anti-piracy laws, the music industry often promotes statistics that show how drastically sales improve when they have their way. This week the music industry did this again by claiming that the French three-strikes law has been highly effective and has boosted iTunes sales tremendously. But is this really the case? Or have the media and lawmakers been fooled again by the copyright lobby? The majority of the reports and press releases put out by the music industry in the past several years can be summarized in a few words: "Piracy is evil and we lose a lot of money because of it." Even today, when more music is being sold than ever before, the RIAA, IFPI and other music groups still lobby hard for draconian measures to curb piracy.
Anti-Piracy Warnings Have No Effect on iTunes Sales
SOPA, Internet regulation, and the economics of piracy
Earlier this month, I detailed at some length why claims about the purported economic harms of piracy, offered by supporters of the Stop Online Piracy Act (SOPA) and PROTECT-IP Act (PIPA), ought to be treated with much more skepticism than they generally get from journalists and policymakers. My own view is that this ought to be rather secondary to the policy discussion: SOPA and PIPA would be ineffective mechanisms for addressing the problem, and a terrible idea for many other reasons, even if the numbers were exactly right. No matter how bad last season's crops were, witch burnings are a poor policy response. Fortunately, legislators finally seem to be cottoning on to this: SOPA now appears to be on ice for the time being, and PIPA's own sponsors are having second thoughts about mucking with the Internet's Domain Name System.
STOP ACTA – STOP Cenzurze Internetu
ACTA jest "wielostronna" umowa handlowa, ktora obecnie jest przedmiotem negocjacji miedzy USA, Kanada, Japonia, Unia Europejska, Korei Poludniowej, Meksyku, Szwajcarii, Australii i Nowej Zelandii. ACTA oznacza Anti-Counterfeiting Trade Agreement i ma w teorii za zadanie chronic rynek przed zalewem podrobionych towarow oraz piractwa internetowego czy praw autorskich. Pod tym, jak zawsze,niewinnym plaszczykiem kryje sie jednak ogormne ogranicznie wolnosci dzialan w sieci, a takze jej cenzura . Prace na swiecie nad podpisaniem ACTA i przystepowaniem do porozumienia do ostatniej chwili byly ukrywane przed swiatlem dziennym. O ile o SOPA/PIPA w ostatnich dniach bylo glosno o tyle to,jeszcze bardziej zagrazajace obywatelom porozumienie, bylo utrzymywane w tajemnicy. Brak informacji na temat ACTA jest nie tylko wsrod opinii publicznej ale rowniez politykow , z ktorych wielu nadal nie wie czym jest ACTA i jakie sa konsekwencje porozumienia.
With the world still talking about the aftermath of the SOPA/PIPA Blackout Day, Polish netizens are confronted with another backstabbing development in the fight for free Internet. On January 19, 2012, during a meeting with NGOs and business representatives, the Polish government announced [pl] that it would sign the controversial anti-piracy agreement ACTA on January 26. While the governement calls it a success [pl] of the Polish EU Presidency, netizens are outraged with the arbitrary decision and are calling to take action against the proposal. ACTA, the Anti-Counterfeiting Trade Agreement, is a proposed plurilateral agreement for the purpose of establishing international standards on intellectual property rights enforcement.
Poland: Netizens Protest Government's Plan To Sign ACTA Next Week
Polish government websites under apparent attack