Folding@home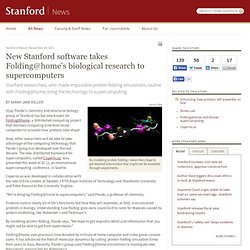 Steve Fyffe By modeling protein folding, researchers hope to get detailed information that might not be available through experiments.
New Stanford software takes Folding@home's biological research to supercomputers
Folding@home client can now run on supercomputers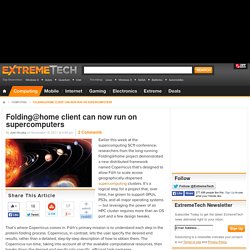 Earlier this week at the supercomputing SC11 conference, researchers from the long-running Folding@home project demonstrated a new distributed framework named Copernicus that's designed to allow F@h to scale across geographically-dispersed supercomputing clusters. It's a logical step for a project that, over time, has grown to support GPUs, PS3s, and all major operating systems — but leveraging the power of an HPC cluster requires more than an OS port and a few design tweaks.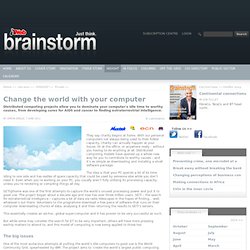 Distributed computing projects allow you to dominate your computer's idle time to worthy causes, from developing cures for AIDS and cancer to finding extraterrestrial intelligence. They say charity begins at home.
Change the world with your computer
Folding@home (FAH or F@h) is a distributed computing project for disease research that simulates protein folding, computational drug design, and other types of molecular dynamics. The project uses the idle processing resources of thousands of personal computers owned by volunteers who have installed the software on their systems.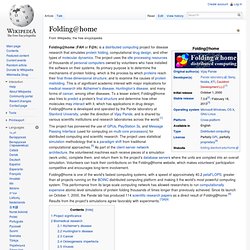 Folding@home
We are proud to announce that our latest GPU core, FahCore 17, was recently moved from beta to advanced testing, the last quality assurance step before a full release.
Folding@home Blog