Folding@home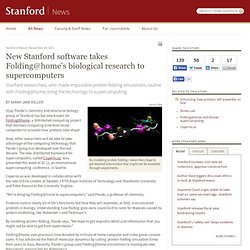 Steve Fyffe By modeling protein folding, researchers hope to get detailed information that might not be available through experiments. Vijay Pande's chemistry and structural biology group at Stanford has become known for Folding@home, a distributed computing project that borrows computing time from home computers to simulate how proteins take shape. Now, other researchers will be able to take advantage of the computing technology that Pande's group has developed over the last decade. The new distributed framework for supercomputers, called Copernicus, was presented this week at SC11, an international supercomputing conference, in Seattle. Copernicus was developed in collaboration with the labs of Erik Lindahl at Sweden's KTH Royal Institute of Technology and Stockholm University and Peter Kasson at the University Virginia.
New Stanford software takes Folding@home's biological research to supercomputers
Folding@home client can now run on supercomputers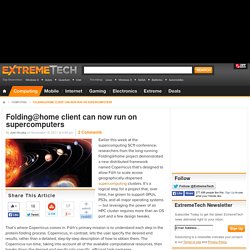 Earlier this week at the supercomputing SC11 conference, researchers from the long-running Folding@home project demonstrated a new distributed framework named Copernicus that's designed to allow F@h to scale across geographically-dispersed supercomputing clusters. It's a logical step for a project that, over time, has grown to support GPUs, PS3s, and all major operating systems — but leveraging the power of an HPC cluster requires more than an OS port and a few design tweaks. That's where Copernicus comes in. F@h's primary mission is to understand each step in the protein-folding process. Copernicus, in contrast, lets the user specify the desired end results, rather than a detailed, step-by-step description of how to obtain them. The Copernicus run-time, taking into account all of the available computational resources, then breaks down the desired end results into specific, efficient task packages.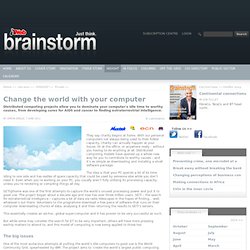 Distributed computing projects allow you to dominate your computer's idle time to worthy causes, from developing cures for AIDS and cancer to finding extraterrestrial intelligence. They say charity begins at home. With our personal computers not always being used to their fullest capacity, charity can actually happen at your house. Or at the office, or anywhere really – without you having to do anything at all. Distributed computing models have opened up a whole new way for you to contribute to worthy causes – and it's as simple as downloading and installing a small software package. The idea is that your PC spends a lot of its time idling to one side and has oodles of spare capacity that could be used by someone else while you don't need it.
Change the world with your computer
The project has pioneered the use of GPUs, PlayStation 3s, and Message Passing Interface (used for computing on multi-core processors) for distributed computing and scientific research. The project uses statistical simulation methodology that is a paradigm shift from traditional computational approaches.[5] As part of the client-server network architecture, the volunteered machines each receive pieces of a simulation (work units), complete them, and return them to the project's database servers where the units are compiled into an overall simulation. Volunteers can track their contributions on the Folding@home website, which makes volunteers' participation competitive and encourages long-term involvement. Folding@home is one of the world's fastest computing systems, with a speed of approximately 40.2 petaFLOPS: greater than all projects running on the BOINC distributed computing platform and making it the world's most powerful computing system.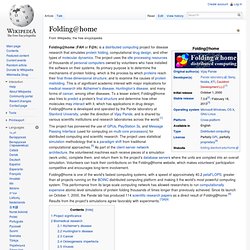 Folding@home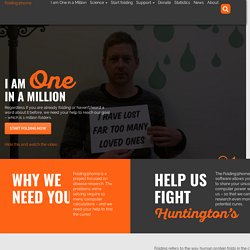 Help Stanford University scientists studying Alzheimer's, Huntington's, Parkinson's, and many cancers by simply running a piece of software on your computer. The problems we are trying to solve require so many calculations, we ask people to donate their unused computer power to crunch some of the numbers. In just 5 minutes ... Add your computer to over 307,000 others around the world outputting 45,000 teraflops of computing power to form the world's largest distributed supercomputer. Step 1.
We are proud to announce that our latest GPU core, FahCore 17, was recently moved from beta to advanced testing, the last quality assurance step before a full release. As we previously mentioned, this core is a significant step for us. FahCore 17 is a complete overhaul from our previous GPU cores. It brings a cleaner and more streamlined codebase, new serialization mechanisms that allow us to set up diverse simulations, and improved stability. Its use of OpenCL has united our development, allowing the single core to run on both Nvidia and AMD cards, and theoretically any OpenCL-capable device.
Folding@home Blog