February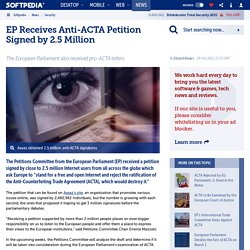 The Petitions Committee from the European Parliament (EP) received a petition signed by close to 2.5 million Internet users from all across the globe which ask Europe to "stand for a free and open Internet and reject the ratification of the Anti-Counterfeiting Trade Agreement (ACTA), which would destroy it."The petition that can be found on Avaaz's site, an organization that promotes various issues online, was signed by 2,460,942 individuals, but the number is growing with each second, the ones that proposed it hoping to get 3 million signatures before the parliamentary debates. "Receiving a petition supported by more than 2 million people places an even bigger responsibility on us to listen to the European people and offer them a place to express their views to the European institutions," said Petitions Committee Chair Eminia Mazzoni.
EP Receives Anti-ACTA Petition Signed by 2.5 Million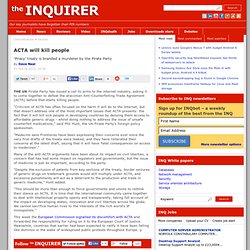 ACTA will kill people
THE UK Pirate Party has issued a call to arms to the internet industry, asking it to come together to defeat the draconian Anti-Counterfeiting Trade Agreement (ACTA) before that starts killing people. "Criticism of ACTA has often focused on the harm it will do to the Internet, but that doesn't address one of the most important issues that ACTA presents: the fact that it will kill sick people in developing countries by denying them access to affordable generic drugs - whilst doing nothing to address the issue of unsafe counterfeit medications," said Phil Hunt, the UK Pirate Party's foreign policy spokesman. "Medecins sans Frontieres have been expressing their concerns ever since the very first drafts of the treaty were leaked, and they have reiterated their concerns at the latest draft, saying that it will have 'fatal consequences on access to medecines'."
Polish Prime Minister Steps Up His Anti-ACTA Efforts After Hosting 7-Hour Open Q&A Via IRC
ACTA referred to European Court of Justice
Is the Anti-Counterfeiting Trade Agreement treaty, otherwise known as ACTA, compatible with what is referred to as the EU's "fundamental rights and freedoms?" Some EU officials are asking that very question, and to help determine the answer, EU trade chief Karel De Gucht indicated the highly-flammable — at least from a social sense — piece of legislation would be referred to the EU's highest court, the European Court of Justice. What happens if, after careful deliberation, the EU court decides that ACTA is not compatible with the rights De Gucht discussed? Does that delay, if not entirely kill the ratification process?
ACTA Referred To European Court of Justice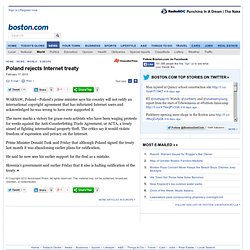 Poland rejects Internet treaty
WARSAW, Poland—Poland's prime minister says his country will not ratify an international copyright agreement that has infuriated Internet users and acknowledged he was wrong to have ever supported it. The move marks a victory for grass-roots activists who have been waging protests for weeks against the Anti-Counterfeiting Trade Agreement, or ACTA, a treaty aimed at fighting international property theft. The critics say it would violate freedom of expression and privacy on the Internet. Prime Minister Donald Tusk said Friday that although Poland signed the treaty last month it was abandoning earlier plans for ratification.
A handful of official U.S. government websites were hacked today in protest of the Anti-Counterfeiting Trade Agreement (ACTA), a highly controversial international trade agreement largely cooked up by media companies to protect their copyrighted content from being pirated online. The hacktivist group Anonymous is believed to be responsible for the attack. According to the International Business Times, the group posted a strongly worded anti-ACTA statement as well as an anti-ACTA PSA video from YouTube (embedded below) to business.ftc.gov, consumer.gov, and the National Consumer Protection Week official site (ncpw.gov). For those who aren't familiar with the trade agreement, ACTA is an international treaty aimed at giving countries the ability to stop copyright infringement and other forms of intellectual property theft — a standard framework so that all countries around the world can charge and prosecute digital piracy.
Anonymous says ACTA must be killed with fire, hacks U.S. government websites
Crossposted from Computerworld UK where it was originally split into two separate articles. It's a sign of the European Commission's increasing desperation over ACTA that it has been forced to send out a document entitled "10 Myths About ACTA" [pdf] that purports to debunk misinformation that is being put around. Unsurprisingly, the EC's document is itself full of misinformation.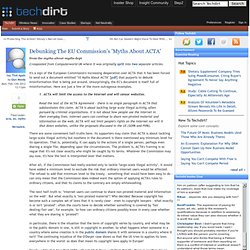 Debunking The EU Commission's 'Myths About ACTA'
Anti-Piracy Agreement ACTA Is Falling Apart in Europe
Bulgaria won't be ratifying the Anti-Counterfeiting Trade Agreement (ACTA) any time soon. On Tuesday, Bulgaria followed some of its European neighbors, including Germany and Poland, in halting approval of the controversial intellectual property treaty. Bulgaria will "practically stop its participation" until it sees a clear and unified European stance on the treaty, according to Traicho Traikov, the Bulgarian economy and energy minister.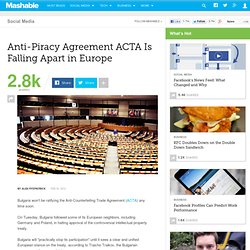 Army of Internet users pack big punch
Bulgaria could suspend vote on trade agreement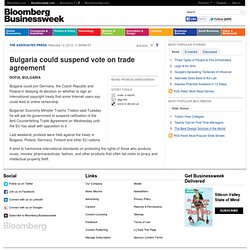 SOFIA, Bulgaria Bulgaria could join Germany, the Czech Republic and Poland in delaying its decision on whether to sign an international copyright treaty that some Internet users say could lead to online censorship. Bulgarian Economy Minister Traicho Traikov said Tuesday he will ask his government to suspend ratification of the Anti-Counterfeiting Trade Agreement on Wednesday until the EU has dealt with opposition to it. Last weekend, protests were held against the treaty in Bulgaria, Poland, Germany, Finland and other EU nations. It aims to harmonize international standards on protecting the rights of those who produce music, movies, pharmaceuticals, fashion, and other products that often fall victim to piracy and intellectual property theft.
The Dutch Lower House has backed a motion from the Green Left party which says the Netherlands should, for the time being, refrain from signing an international treaty designed to combat piracy and counterfeit trade on the Internet. The motion says that there first needs to be clarity about whether the treaty threatens the rights and the privacy of Internet users. The Anti-Counterfeiting Trade Agreement (ACTA) is a treaty between the 27 EU Member States and ten other countries including the US, Canada and Japan. Last weekend, tens of thousands of Europeans in cities across Europe demonstrated against ACTA. They fear it will limit the freedom of internet use.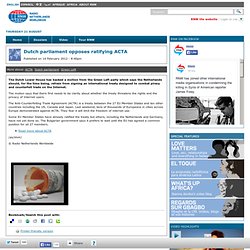 Dutch parliament opposes ratifying ACTA
Acta protests: Thousands take to streets across Europe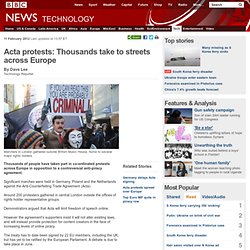 11 February 2012Last updated at 13:57 ET By Dave Lee Technology Reporter Marchers in London gathered outside British Music House, home to several major rights holders Thousands of people have taken part in co-ordinated protests across Europe in opposition to a controversial anti-piracy agreement. Significant marches were held in Germany, Poland and the Netherlands against the Anti-Counterfeiting Trade Agreement (Acta).
Massive Street Protests Wage War On ACTA Anti-Piracy Treaty
The world is witnessing the largest offline protest against copyright legislation today. Massive demonstrations against the draconian anti-piracy treaty ACTA are spanning four continents, with protests in more than 200 European cities alone. Hundreds of thousands of people are taking to the streets to prevent their countries and the European Parliament from putting the free Internet at risk by ratifying ACTA,
On eve of protests, Germany backs away from ACTA
A large group of European nations signed ACTA two weeks ago, sparking outrage across the continent. But not all European nations signed onto the agreement. Several countries, including Germany, had not finished their internal processes for approving the treaty, but vowed to sign on shortly. But on Friday, the German government signaled it was having second thoughts. According to Der Spiegel, the German government now plans to wait and see how the European Parliament votes before Germany makes a decision on the treaty itself. Germany's move comes on the heels of a similar move in Poland last week.
A controversial international trade agreement, which campaigners fear would restrict internet freedom looks likely to be delayed or scrapped, the latest in a string of measures planned to combat online piracy to falter in the face of co-ordinated protests. The Anti-Counterfeiting Trade Agreement, or ACTA, is set to join SOPA and PIPA – the Stop Online Piracy Act and the Protect Intellectual Property Act – two US planned laws designed to boost copyright enforcement, which were shelved last month after sophisticated online campaigns. The fight against ACTA has centred on Europe, even though the US, Australia, Japan and seven others are participants alongside the European Union's 27 governments.
Latest pact on internet piracy set to be derailed
Internet freedom and copyright law: ACTA up
Anger at last month's decision by the European Union and 22 of its member states to sign the Anti-Counterfeiting Trade Agreement (ACTA) has led to widespread protests, hacked Web sites, and legislators backing away from the treaty. The anti-ACTA protests that saw Polish politicians don Guy Fawkes masks in parliament have borne fruit. After experiencing a considerable backlash in Poland, Prime Minister Donald Tusk has suspended ratification of the controversial agreement, acknowledging that the consultation surrounding it was inadequate and that he approached it from a "20th century perspective." The ACTA agreement has been signed already by an EU representative and ambassadors from 22 of the EU's 27 member states. However, due to its potential influence on criminal law, it also needs ratification by the governments of each of those member states.
ACTA on the edge in Europe? Poland suspends ratification, Greece gets hacked
My wife, who is professionally interested in the politics of the Czech Republic, doesn't usually find ways to connect her work and mine. So she was surprised to see this week that the European protests against the Anti-Counterfeiting Trade Agreement (ACTA) have now reached the highest levels of the Czech government. Prime Minister Petr Nečas has announced that the Czech Republic will follow Poland and suspend ratification of ACTA, which has become a local lightning rod after 22 EU countries signed on last month. Ratification still needs to take place in various national parliaments. Anonymous has been attacking government websites, while the Czech Pirate Party has organized street protests in Prague.
Czech, Slovak governments backing away from ACTA, too
Poland Prime Minister Suspends Any Effort To Ratify ACTA; May Kill ACTA In The EU
Czech Government Suspends ACTA Ratification
Anonymous Hacks Greek Ministry of Justice Website in Protest over ACTA
Slovenian Ambassador Makes Incredible ACTA Apology
ACTA signee Slovenia ambassador now calls for mass protest
11 February declared day of action against ACTA
European revolt over ACTA treaty gains ground
Anonymous Message about ACTA and Genocide #OpAntiACTA #OpArmenianGenocide
Acta goes too far, says MEP
US trade rep and hotel caught lying about confidentiality of secret copyright treaty meeting in Hollywood